(MTV) Singer Vesta Williams was found dead on Thursday night in a Los Angeles hotel room.
Although varying sources listed Vesta's age as 48, in a 2010 interview with online series The Couch the Ohio native stated she was 53.
While there has not been an official release from a medical examiner, police officials do not expect foul play.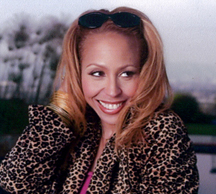 As news of Williams' passing moved throughout daytime radio and the Web, fans and celebrities to took Twitter to remember and honor the singer.
Actress Jackee Harry said via her Twitter page, "[J]ust received truly devastating news: R&B great, and my friend of many yrs, Vesta Williams (@vesta4u), has passed away. #RIPVesta" while fellow actress Sheryl Lee Ralph added, "I am so deeply saddened at the passing of my diva friend Vesta Williams. RIP Vesta."
Comedian Sinbad reflected as well by tweeting, "Our dear sister and one of the sangiest divas ever, Vesta Williams, has passed away. I loved that sister."
Vesta Williams officially began her career in 1977 in a group setting while in Ohio before heading to Los Angeles to launch a solo career. After toiling about as a background and session singer, Vesta was signed to A&M Records and released her first album 'Vesta' in 1986 which featured the mild hit "Once Bitten, Twice Shy". In 1988, her second album 'Vesta 4 U' established the singer as an R&B powerhouse with hits such as "Sweet, Sweet Love", "4 U," and her signature and most recognizable offering "Congratulations".
Armed with an attractive and bubbly personality, Vesta battled with weight issues during the early part of her career – something the singer felt held her back from nationwide fame. However in the 90s, Vesta made headlines from dropping pounds from a reported size 26 to a petite size 6 and became an advocate for obesity and diabetes issues. While her last album 'Distant Lover' was released in 2007, Vesta still managed to work as a session singer and toured moderately across the country – becoming a staple at jazz festivals and the like.
Around the Web