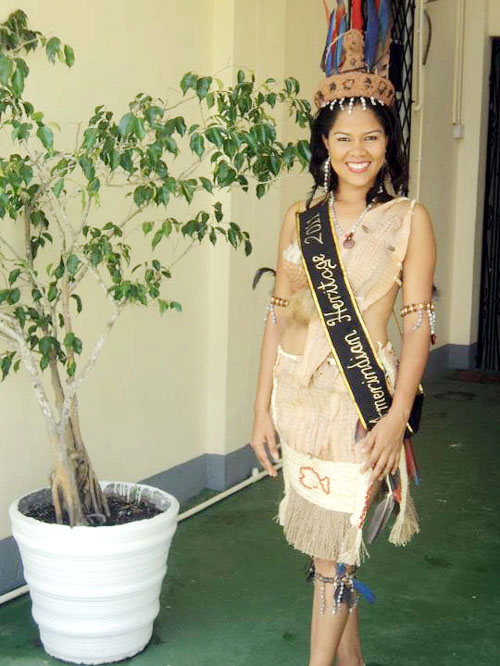 The newly crowned Miss Amerindian Heritage 2011, Naomie Samuels, is a very ambitious individual who is always determined to succeed in every one of her endeavours.
Twenty-five-year-old Naomie is a final-year student at the University of Guyana where she is pursuing a degree in Medical Technology. This beauty is also a Laboratory Aide and says she enjoys her job and she is passionate about giving back to her community.
"I always wanted to contribute to my community especially in the health field and if they provide the facilities in my community I would definitely go back and work there," she said.
Naomie is from Region 3 and grew up in a small village called Santa/Aratack Mission which can be found approximately 15 miles up the Pokerero Creek, a tributary of the Demerara River.
Her village, she said, is not equipped with a hospital, a laboratory, or the equipment she is studying and will soon be working with. She noted that although she wants to help her community, she may very well be forced to seek employment in Georgetown.
Speaking of her platform during the pageant, 'Cervical Cancer among Amerindian Women in Guyana', Naomie explained that research has shown that women of her ethnicity are mostly affected. It is her passion to see less Amerindian women dying of this disease and Naomie said she chose the platform as she wanted to be an advocate and also able to educate people about the illness.
"I wanted to create an impact on the lives of young Amerindian women and also to let them be aware that as an Amerindian woman, your life doesn't end in the interior. There are so many opportunities for you out there. You just have to take each opportunity and make full use of it and work hard towards what you want to achieve in life," Naomie noted as she indicated another reason for her entry into this year's pageant.
She said she was also persuaded by her parents and members of her community to enter the Miss Amerindian Heritage 2011 Pageant, since it showcases the rich Amerindian culture and heritage.
Naomie said it was quite an experience and she had more than a few nerve-wracking moments as she was equipped with no prior experience unlike some of the other contestants.
"I was a little nervous but I was confident because I knew I was putting my all into it and I think [it was] because I was very determined to be successful, even if it was in the top 3, that I came out as the queen," she said with a smile.
Naomie said with the little experience she gained during the qualifying segment and the stiff month-long training offered once she made the cut, she was well prepared for the big night.
The qualifying leg, she said, mirrored that of the actual competition, in the sense of having the participants competing in each required segment.
"The qualifying segment was amongst 3 girls and was held in Santa Mission in a building called the Interactive Centre and this pageant was one with a difference. Never had we had a pageant so exciting and so competitive," Naomie recalled, as she added that they were required to compete in an introductory segment, present a talent piece, display an evening wear and a traditional wear and also answer a final question.
This, she said, helped in her preparation for what she described as a much more competitive pageant.
Naomie walked away with the prize for best talent after she did a tribal dance called the 'Hunter's Dance' where she demonstrated various techniques in hunting.
Such a talent, Naomie explained, would better portray her personality as she was never the type to model. She further stated that she had never even given pageants much thought prior to her participation in this one.
"I used to enjoy swimming in the black water creek, fishing and playing cricket, which I still enjoy, because I love the outdoors and outdoor activities," she said.
Naomie described herself as caring and said this side of her personality is evident in her profession. "I say that I'm caring because it is seen in my profession and on a daily basis, I show concern for others," she said.
The queen said she is also a very friendly person who shuns no one.
And with all her love for the outdoors, Naomie is still girlish. "My favourite colour is pink," she confessed, then added, "I would say pink fascinates me because when I wear it, it reminds me of how blessed I am to be a woman. It also makes me feel loved and reminds me of my profession… the pink ribbon reminds people of hope and awareness of breast cancer so it connects me to my personality and my profession."
Around the Web