Just off of Guyana Fashion Weekend, designer Sonia Noel is set to launch her 2012 collection in the form of live mannequins in St Thomas, US Virgin Islands this month.
Meanwhile, according to a release, GFW 5 received the nod of approval from Eleston Adams, Minister of State in the Ministry of Culture and Civil Aviation in Antigua and Barbuda. Adams said that he was impressed with the level of the event and that he was delighted that he could attend.

The release quoted from a statement he issued, which said, "I was profoundly impressed with the high level of professionalism exhibited by Sonia Noel, her team of models and production staff.
The weekend of fashion clearly demonstrated that the Caribbean is definitely poised to compete on any international stage. Furthermore, I believe that Guyana is prepared and ready to be an integral part of this fashion movement. I am confident that GFW has the rudiments necessary to take fashion to the next level in Guyana and in the region as well."
Special awards were presented to individuals and companies who supported the event from the inception. Award recipients were Donn Thompson, Event Photographer & Technical Director; Olympia Small-Sonoram, Designer; Leon Rutherford of Palace De Leon Apartments; Troy Cadogan of Ansa McAl; Dennis Dias of DD Signs; Ray Rahaman of Rent-A Tent and Mohammed Sattaur of NCN and Creative Director of GFW Richard Young. Young was reduced to tears as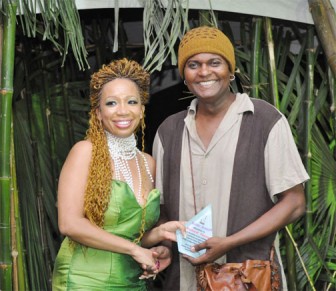 Sonia presented him with the Caribbean Fashion Icon Award in recognition of his invaluable contribution to the industry in the Caribbean.
According to the release, Sonia said she thought it was important to allow partners to know how much they are appreciated and urged corporate Guyana to support initiatives like GFW, which allow positive growth in the community and bring alternative means of foreign exchange to the country.
Around the Web