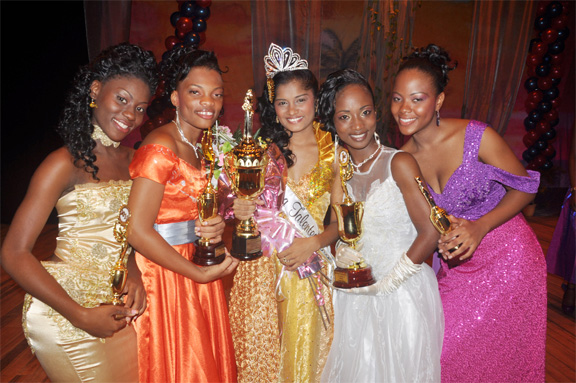 Sharona Haniff loves people, but more than that she projects a humility and genuine quality that many persons twice her age would do well to emulate. These qualities radiate and ricochet right back at her and resulted in her wowing the judges and being crowned Miss Guyana Talented Teen 2011 on Saturday last; winning the pageant from a field of 11 other contestants.
Before speaking to Sharona for the purpose of this story, The Scene had an opportunity to observe her at her job, where she is among the front-line staff and deals with people on a daily basis. If there were a prize for unflappability, Sharona would have won it hands down. She was attending to an indecisive customer the day The Scene visited and never once stopped smiling; she never lost her cool and eventually the customer left satisfied.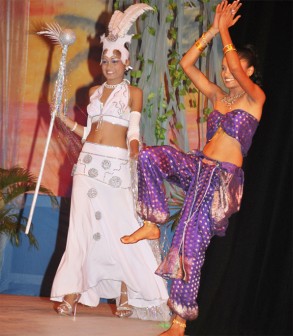 Sharona said she entered the pageant because she wanted to showcase her talents. She loves singing and dancing, but has had no formal training in either discipline. Her favourite music genre is hip-hop and she chose to sing Lady Gaga's "Born This Way" as part of her talent in the pageant. She also did a dance to the song "Dola Re Dola" from the film Devdas. In the film, the dance is led by Madhuri Dixit and Aishwarya Rai, but Sharona said she just took aspects of that choreography and infused her own.
Asked about pre-pageant training, Sharona admits that it was challenging at times. But the 18-year-old, a staunch believer in "whatever you put your mind to you can achieve", did just that.
The former tomboy said the Talented Teen pageant served to put her in touch with her femininity.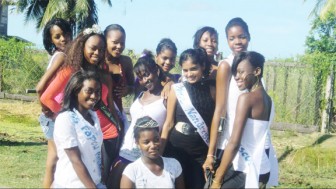 For her, the entire experience was awesome. She learned how to walk, to speak to people, to model in heels, to waltz, to wear makeup, care for her skin and hair, how to project herself positively; she was imbued with self-esteem, confidence and had nothing but fulsome praise for Simple Royal and its owner Pamela Dillon.
"Everyone who was a part of this pageant, this training, was touched in some way or the other… learned something new that could help them to be a better person in some way," she said.
The eldest of three children, her two siblings being a 14-year-old brother and a 6-year-old sister, Sharona is acutely aware that she is regarded as a role model, more so by her little sister. She said the pageant has helped her to be able to offer her sister a much better example of how a young lady should conduct herself.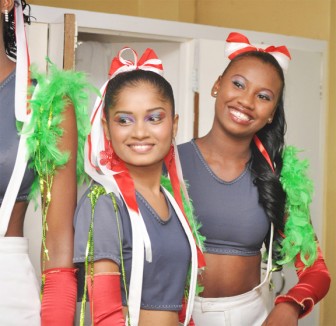 In the run up to the pageant, the Miss Guyana Talented Teen candidates are required to do charitable work. The pageant has worked with the Mahaica Children's Home for years, but this year it chose a disabled teen at Brighton, Corentyne, who was born without any arms. The teenagers visited her taking along toiletries along with other things the average teenager would like to have and spent time interacting with her. Sharona said it is her desire to return and continue helping the teenager during her year of reign and beyond.
Each contestant was required to pull the name of a prominent Guyanese from a bag, do research and then speak about the person on pageant night for one minute. Sharona pulled the name of Andre Sobryan. Her research took her to the organization the late theatre personality co-founded – Artistes In Direct Support – and she was also fortunate to meet and talk with his father. Sharona said she was inspired by Andre's life as she learned among other things that he had a big personality and in many ways, "he was just like me: people oriented".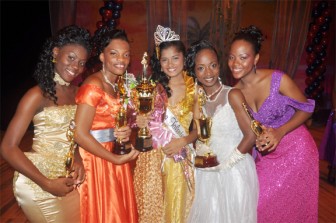 Apart from the talent and presentation segments the pageant involved the evening gown and creative wear segments. Sharona was sponsored by Nandrey's Creations, which is owned by fashion designer Neilson Nurse, who designed all of her pageant wear. For the creative wear segment his all-white design turned her into the 'Goddess of the Water Ways'.
Miss Guyana Talented Teen was Sharona's first pageant and she hinted that it may not be her last. For now however, the aspiring CEO is back to preparing for the CAT exams at the Cacique Accounting Institute and fulfilling her duties as Miss Guyana Talented Teen 2011. She wants to promote the pageant as she believes it is a training ground not only for girls wanting to enter other pageants, but for those whose slightly rough edges need smoothing. "I would use myself as an example," she said.
Around the Web