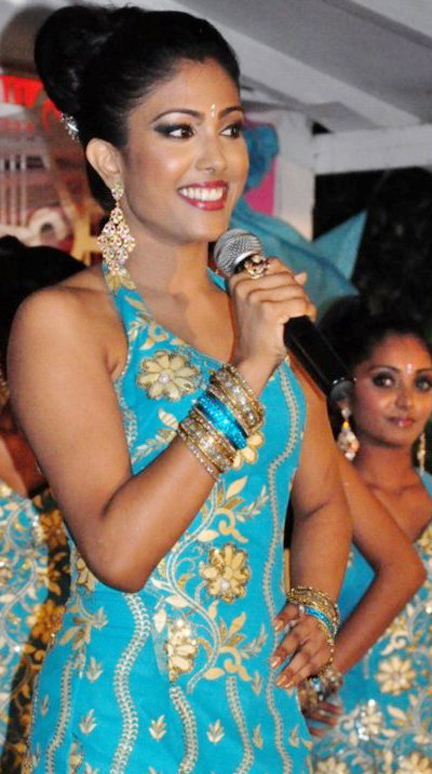 The newly crowned Miss Guyana India, Alana Seebarran, hopes that her recent title win will provide a gateway into the world of Bollywood films as she dreams of one day being an actress in that genre.
"This pageant provides an opportunity to the Bollywood industry," the striking beauty told The Scene in a recent interview.
She explained that one of the prizes for winning the recent crown is a trip to Mumbai where she is expected to make an appearance in a Bollywood television series. And as she represents Guyana at the Miss India World Wide pageant, a hopeful Alana feels that should she win, doors would be opened to Bollywood.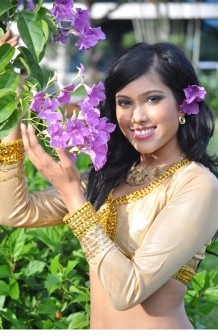 If Bollywood is seeking a beauty, Alana would have no difficulty in that department as she is the kind of woman, who, with or without make-up is refreshingly beautiful. When she walks into a room, with no effort, she is noticed.
But Alana is also refreshingly humble. She told The Scene she was not confident that she would have been crowned the queen even though she thought she had a good chance and she dedicated a lot of her time to preparation.
"Having prepared I knew that I had a very good chance but I didn't know what the outcome would be," Alana said, adding that her confidence has grown since she won the pageant.
Pageantry is very new to the 24-year-old radiant beauty as she confesses that it is dancing she has a "passion for" and dancing is what she has been doing for years. In fact her talent piece for the recently concluded pageant was a dance piece which she explained was a fusion of katak, ballet and Indian filmi.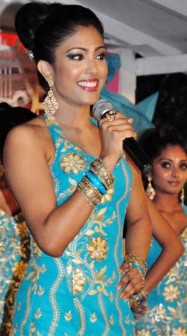 She recalled that she was around 13, when she told her mom she wanted to dance and her mom took her the Guyana Hindu Dharmic Sabha where there was a long line of girls who were hoping to be accepted into the dance school. She duly joined the line and was one of the lucky girls accepted and she has never looked back since.
"I never stopped. I have been performing for Naya Zamana for about ten years," she said proudly.
A former student of the Mae's Primary School and School of Nations, Alana now attends York University in Canada and she is in her final year of a marketing degree.
Dancing followed her to Canada and she was one of about 200 students who auditioned to make the South Asian Alliance Dance team. Even though it was a rigorous process, Alana said, she gave it her all. Giving her best paid off as she became one of the ten girls to be granted a place in the team. Alana also revealed that her university came in second when a cultural competition was held among 15 universities.
The budding actress also got to try her hand at some acting since she auditioned for a small part in a Western Indian film, which had some big names in the industry (she did not meet any of them) but she landed a role as a dancer and was eventually given a few lines by the director.
"I got bumped up to actor and it was such a great experience for me so I think my next step, if everything goes well, would be to probably try some dancing in Bollywood."
Having never entered a pageant before, Alana that had it not been for the support of her close-knit family, she is not sure she would have pulled it off.
"My family was my rock and they really give me the confidence to go out there and shine," she told The Scene.
This pageant was a "now or never" opportunity for her as the new queen pointed out that she is about to finish school and enter the "real world" and then would not have time to be part of any pageant. Miss India World Wide would be her second and last pageant as Alana said she has no intention of entering another pageant.
She does not regret the pageant experience and revealed that being in a pageant is when one realizes how many insecurities women have. According to her all nine of them who competed for the crown had at least one insecurity.
"It was like learning more about yourself; a little more in this process. A lot of young girls out there, they don't understand what it is to be really beautiful on the inside and to really appreciate that the person you are on the inside – that's what shines on the outside."
And the beauty queen revealed that the most interesting thing about her is her "creativity and compassion."
Growing up in Georgetown, Sheriff Street to be exact, Alana admits that she has always being a "girly, girly girl" but one who has also had to deal with three brothers who did not let her off because she is a girl.
"I am the only girl and most people think that that would make me spoilt but [it is not so] actually being the only girl makes you have to work harder. You have to try to fit in with the boys and there is always the bullying," the new queen said.
But in the end she admitted she loves her siblings and when all is said and done they get along very well and most times could be found in one room just chilling. Her brothers may not like this in the pages of a national newspaper but Alana did reveal that they allowed her to dress them up at times.
She is hoping to intertwine her love for business and her interest in helping children in need but for now the details of such a venture will remain a secret.
"I can't give it away, it is sort of a secret – you know, a business in the making," she said laughing when further pressed.
Her wanting to embark on a business venture may not come as a surprise to many who know Alana and her family since her parents are businesspersons and own the well-known Ray's One Stop Auto Parts. (samantha_alleyne2000@yahoo.com)
Around the Web