Though it got off to a late start, the Guyana Telephone and Telegraph Company (GT&T) Jingle and Song competition Bollywood final rocked the National Cultural Centre as competitors went all out to win the hearts of the judges and patrons.
The backup performances also sizzled and the audience after initially being fretful was thoroughly entertained. Hostess Wanita Huburn was her usual charming self.
The show got underway with a hot dance item by the Ishara dancers which changed the entire mood of the audience as some were seen gyrating to the beats of the music.
Judge Rajesh Dubraj then took the crowd back in time with an old version of "Janam Janam Ka Saath Hai", which had the sound hyped up to give it a modern beat which worked well. Taking the audience with him, Dubraj started with a slow wine and then picked up the pace with a fast 'juk' Guyanese style and had the audience screaming for more.
Rihana Guliera, who had a memorable audition after she appeared on stage and told the judges that she knew she could not sing but she could dance and act, and then brilliantly executed a love scene with Judge Joel Ghansham was back. The final saw her and Ghansham enacting another love scene. Much to the audience's delight, Ghansham took off parts of the traditional Indian outfit he was wearing and burst into a dance with Guliera. Cheers hooted around the theatre as the onstage couple danced and lip-synched to the Indian hit song "Mujse Shaadi Karogi" from the film of the same name. They ended their act by covering under the 'dupatta' (veil) and engaging in an apparent kiss scene, which surprised everyone in the audience.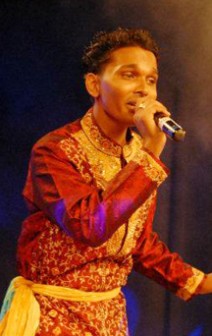 Addressing the audience, GT&T CEO Yog Mahadeo bragged that GT&T is the only company that pays $4 billion in taxes per year and invests US$20 million per year. He thanked his team for a well done job and in response to the ladies in the audience who were screaming "are you available?" he simply responded "I'm free single and disengaged" much to their delight.
The judges then came on the stage all ready for a great competition and dressed for the occasion too. Dubraj and Ajay Baksh both rocked suits and chutney queen Fiona Singh wore a seductive black dress; not forgetting Ghansham who was also dressed in black.
The first finalist up was Somdatt Ramessar (B20) who started off with a slow song and then turned things up a notch with the audience clapping and singing with him. He also was celebrating his birthday, so he ended his performance with a festive Punjabi song. However, some in the audience thought his performance could have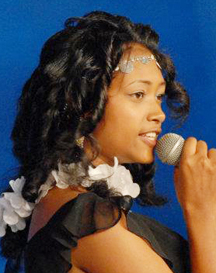 been better if he had actually danced. The judges complimented him; Singh, Baksh and Dubraj thought that it was a job well done while Ghansham was impressed by the genre of music selected which ranged from the slow song "Mere Dholna Sun" to the energetic hyped up beat of "Nagara Nagara".
He was followed by the beautiful Chavela Rampersaud (B21) who seduced the crowd with her melodious voice as she started off with a very popular classic "Julie" and then took the audience to the disco era with her renditions of "Dum Maro Dum" and "Baat Ban Jaye". There were screams from the crowd at her performance; they whistled and sang with her and finished it off with the fiery song "Chudi Chamke". At the end, some were still screaming for more and wanted an encore. All the judges loved it and thanked her for taking them back in time with her choice of songs that suited her voice range perfectly.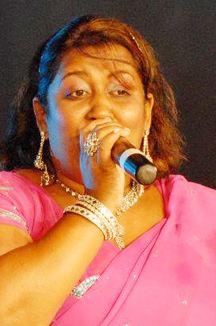 The next performer, Prakash Sadaram (B11), had the crowd at the edge of their seats at the beginning of his performance and got them to their feet with his second rendition "Chahoonga Main Tujhe", which fired the audience into dance mode and even the judges could not contain themselves. Singh and Ghansham got up and gyrated as he sang to their delight. The atmosphere in the theatre was like at a wedding when Sadaram was finished which got him a standing ovation from the judges. Baksh considered him a winner and Dubraj urged him no matter what, that he must become a professional singer. Singh told him she thought that she was at a wedding house and Ghansham described him as a sada roti that does not need a side curry.
Wild card entry Christina Inshanalli (B16) did her thing. Though it was not very entertaining to some in the audience she mastered the songs she chose to perform. Her start was a bit slow and took the audience back in time with her rendition of "Yeh Silsila Hai Pyar Ka" and all the judges thought it was well done and wished her the best.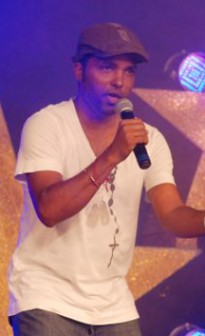 Teacher Gowradai Pooran (B5) was dressed to entice as she performed dance item, Madhuri Dixit's "Aaja Nachle" to the amazement of the judges and audience. She commanded the stage with her performance as she rocked the theatre. The judges loved her and how she did it. Singh said she was always impressed with Pooran's performances.
Leilawattie Budram (B2) sizzled with her numbers, starting with "Kajra Re" and had the crowd rocking at their edge of their seats. She then slipped into a chutney soca mode with "Arey Yeh Tu Bata" and had a few in the audience on their feet shaking to the rhythm. The judges though that it was very impressive and the audience asked for more of her sassy performance. Ghansham described it as a "hot cup of cocoa with marshmallows on top".
Special addition to the final Pandit Balram Persaud Boodhoo  (B3) had a  performance that was described as almost perfect and was told that he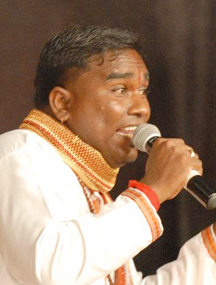 deserved to be in the final. He started with a slow song and then turned things up a notch with every other song and ended his performance with "Har Kisi Ke Dil Mein ek Ladkil" and added "GT&T, I thank you for helping me to live my dream," which was well accepted by the audience. Singh thought that he rocked and had great moves.
Joel Pharous (B1) had a great time on stage with his renditions and even incorporated reggae song "Nah Let Go" and had the audience screaming from start to finish of his performance. He had them on their feet and the ladies were just going crazy and even the judges were dancing in their chairs. Pharous incorporated chutney song "Can't Go No Way" and ended to a standing ovation by the judges. Pharous said the competition has given him the boost that any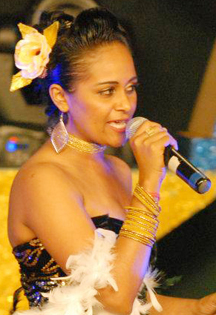 entertainer would want and brought out the side of him he was working on. Win or lose he plans to make Guyana and GT&T proud of him on the international stage.
Next up was Kamal Rattan (B25) who appeared in the middle of the audience and started with a bang. The 18-year old had the crowd going crazy throughout his performance and the judges loved it and identified that he has a passion for singing and urged him to keep up his good work. Rattan said that he has elevated himself as a person by entering the competition and whether he wins or loses he plans to represent himself and Guyana on an international stage. He said he has already set a platform in his life and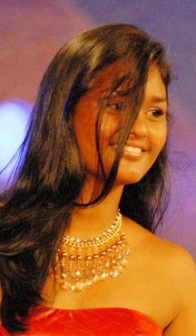 thanked his family for its support throughout the journey.
Gail Ann Singh (B9) had a great time on stage with her performances as she ended with a standing ovation with her renditions of classic wedding house tunes. The judges described it as a "big pot of cook-up rice".
Chait Singh Mohanlall (B24) ended the night off with a rocking performance that captivated and delighted the audience, who requested it once more. Everyone just loved him and he was described as a rocker by the audience and the judges just thought he rocked everything.
Among the audience were Minister of Culture, Youth and Sport Dr Frank Anthony and his family and businessman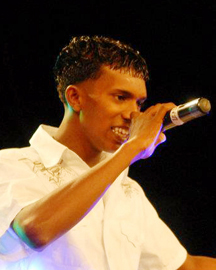 Pradeep Samtani among other familiar faces.
Around the Web