Local rapper Don Gialiani will host a charity event next Friday in aid of two organisations, fulfilling a passion that has been brewing inside him for some time now.
Don Gialiani known for his popular rap hits such as "London Girl" told The Scene recently that a significant portion of the proceeds from his Christmas Ball will go to the Joshua House and Grant a Dream Foundation. The Christmas Ball will be held at the Savanna Suite, Pegasus Hotel from 8 pm. Tickets cost $3000.
He told The Scene that in the future he will "be doing a lot of charity work" with the hope that others will follow inhis footsteps. "It's not hard to give a portion of what you make (as a musician) to someone in need," he stressed.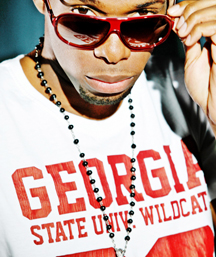 Don Gialiani noted that as an artist a lot of people have supported him and as such hosting a charity event is his way of giving back. "This party is conceptualised not only to specifically provide entertainment but to also exercise charity in the spirit of the season," he explained noting that there will be a Charity Auction of products and/or services provided by sponsors to raise funds for Grant a dream foundation while a portion of the profits will be used to fund a Christmas Day meal for the children of the Joshua House.
He said the classic idea of a ball was chosen because he wanted to bring something unique to the local event market, something that was sophisticated but "still screams Christmas and works well with charity".
He said the intention is to target a particular crowd to let them know that they actually have an opportunity to help the less fortunate.
Besides his music career, Don Gialiani has successfully hosted entertainment events including "Soca Island". He has also co-hosted a charity sporting event called the Celebrity Basketball Game hosted by the Knights Basketball club's president Kester Gomes. Annually the Knights club would choose a different charity and donated proceeds from the celebrity game to that organisation.
Don Gialiani has just released his new single, "Look At Us Now" featuring Hayley May. The music video is slated to be released soon.
Around the Web