Overseas-based Guyanese Ahmad Ally, popularly known as Prince Ally, has returned home to launch his 15th album, a compilation of gospel selections.
In an interview with The Scene, he explained that this is his first gospel album as he is very versatile and has been producing a number of genres of music such as soul, reggae and even blues.
In launching this CD, Prince Ally will be doing several shows in Berbice and is hoping to perform live in Georgetown as well. However, this has not yet been confirmed.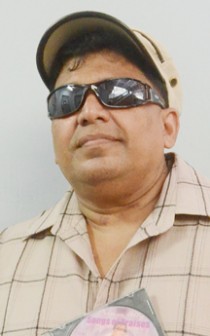 He explained that his first show is scheduled for December 20; while there will be others in Berbice on Christmas Eve, Boxing Day and New Year's day.
When asked why he made the decision to launch his CD in Guyana, Ally said it is being done in an effort to connect with the people of his homeland and simply, for the love of it.
He said he is also hoping to do a few shows from which all proceeds will be given to charity. "I want to donate some money to the orphanage and children's hospitals, things like that… I figure it wouldn't take much out of me to do that," he said.
Prince Ally, who has been in the music industry for some 3 decades, indicated that he was the first individual of Indian decent to have been awarded in Canada, where he is now based, with the Reggae Music Award, Chutney Achievement Award, the Habeeb Khan recognition award among others.
He expressed interest in creating a new image as he intends on going solo from here onwards.
Ally said that his love for music developed as a child and he performed at school for stage shows and other such events. He stated that he was also very active in his church choir but only got in the limelight after migrating to Canada.
Once there, he said, collaborations with acts like Sammy Baksh, Anne Murray and a few artistes from Jamaica were done. He noted that at events such as Caribana, it is always a privilege to share the stage with local singers such as Jomo and Natural Black.
Ally explained that he is now involved in his own music distribution, a business based in Toronto, Canada. "I wanna let the people know what's going on," he said, adding that he has even been able to produce other singers such as Mark Holder and Pamela Maynard who are both Guyanese.
Around the Web