Hi Everyone, if you like Raisin Bread, then be prepared to love Antigua's Raisin Bun. Actually, I would go a little further and say that you might forsake the Raisin Bread for the Raisin Bun. Really, it is that good.
Baked fresh daily and sold throughout Antigua, the Raisin Bun is eaten morning, noon and night and anytime in between. For Antiguans this bun is a real taste of home. As soon as they return home, bun and cheese (that's how they call it), is the first thing on their minds. You're not really home until you've started off with bun and cheese.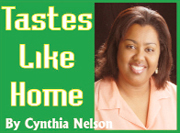 Bun and cheese is also a favourite and a big hit with visitors to Antigua and Barbuda. You would not believe the amount of requests I get for the Antiguan Raisin Bun.
According to the locals, what really makes the bun and cheese authentic is the use of the very popular Jamaican Tastee Cheese that is served with the Raisin Bun. Tastee Cheese is the brand name and it is actually a cheese spread. Tastee Cheese is wildly popular in Jamaica and it is a must-have with many things, including the Jamaican Spice Bun and Easter Bun (more on those in another column).  Not to be outdone is the Raisin Bun eaten with New Zealand's Anchor Cheddar Cheese – this is what I eat my bun with. Let me tell you, the combination of the sweet-spiced bun peppered with raisins and the salty cheese is pure unbridled pleasure. You really have to control yourself. This week, being the beginning of Lent and all, made me feel as if I wanted to go to confession. The other thing is, I like to think that I am a generous person but I noticed how reluctant I was to share the buns I had made with friends and neighbours. My soul needs saving, I need to go to confession!
Buying Buns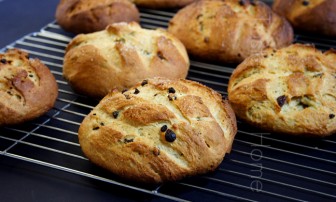 The Antiguan Raisin Bun is not usually made at home. It can be bought from shops, food stores and various bakeries. Most people buy their buns from their favourite local bakeries. Some people pre-order for the weekend and for special occasions. The buns are not sold in set quantities such as how one can purchase a bag of Tennis Rolls or Salt Bread. The buns are sold loose and you can buy as many as you like.
Be warned, these are not baby-sized buns. The Raisin Buns are large, about 6 – 7 inches in Diameter. You can eat one and be completely satisfied but if you make them smaller, like I did on one occasion, then you must eat two to satisfy your desire.
At the shops where the buns are sold, you can buy as is and add your own filling at home or you can purchase it served with butter and cheese, sausages or sausages and cheese.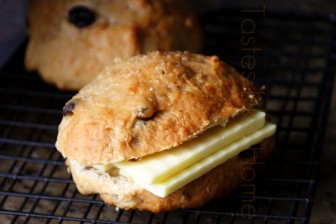 Sorry. I know this seems abrupt, but I am going to have stop talking about this bun now. I am yet to try it with sausages or sausage and cheese and the thought of this combo makes me giddy with excitement. I need to step away from all this Raisin Bun talk and distract myself with some other work so that I am not tempted to march into the kitchen and have some bun and cheese and sausage! Help me!
Antigua's Raisin Bun
Yield: 12
Ingredients
2 cups brown sugar, plus extra for sprinkling
2 tablespoons instant yeast or active dry yeast
1 ½ cups warm water (110 – 115 degrees F)
6 cups all purpose flour, plus extra for dusting
1 teaspoon salt
1 teaspoon grated nutmeg
1 teaspoon ground cinnamon
3 oz vegetable shortening
1 oz butter
1 cup freshly grated coconut (optional)
1 heaped cup raisins
2 teaspoons vanilla essence
Directions
1.  Add 1 teaspoon of the sugar, the yeast and the ½ cup warm water to a bowl and stir to dissolve. Cover and let proof in a warm place for 10 minutes.
2.  Meanwhile, add 5 ½ cups flour to a large bowl along with the salt, nutmeg and cinnamon. Mix.
3.  Rub in shortening and butter to flour mixture.
4.  Stir in coconut (if using) and raisins
5.  Dissolve sugar in the remaining cup of warm water. The mixture will become very thick and the sugar will not melt completely.
6.  Make a well in the centre of the flour; pour in the sugar (scrape the remnants), essence and yeast mixture (scrape the remnants). Mix all of the ingredients to make a dough. The dough will be sticky.
7.  Add the remaining ½ flour to work surface and transfer the dough from the bowl to the work surface and gently knead in the ½ cup flour. Knead for 2 – 3 minutes. Add a light dusting of flour to the board if dough gets sticky as you knead.
8.  Transfer the dough to a large oiled bowl, cover with plastic wrap and put in a warm place to proof for 1 ½ hours our until it has doubled in size.
9.  Dust work surface with flour. Turn out risen dough on to work surface and knead for 1 minute. Cut dough in half and roll each piece into thick logs. Cut each log into 6 equal pieces and shape into rounds.
10.  Place the formed buns, seam-side down on parchment-lined baking sheets with adequate space in-between each bun. Cover with plastic wrap and let rise in a warm place for 45 minutes.
11.  Heat oven to 350 degrees F (turn on oven after dough has been proofing for 25 minutes).
12.  Brush buns lightly with water, sprinkle with sugar and bake for 20 – 25 minutes or until brown. The bottom should sound hollow when rapped.
13.  Cool on wire racks, serve warm or at room temperature – as is, with butter and cheese, sausage or sausage and cheese.
14.  The buns are best when served the same day and 1 day later. After that, it can be sliced and toasted.
Notes
●    Use a new razor blade to cut a criss-cross design just before adding the buns to the oven.
●    Instead of brushing with plain water, you can brush with sugar-water; this will add a nice glossy look to the buns.
●    This dough will yield 24 smaller buns.
Around the Web