Hi Everyone,
There are many pork buns and pork sandwiches out there, each with its own legion of worshippers and adoring fans, but there is one that has stolen my heart, rendered me helpless and always desperate with longing – Momofuku's Pork Buns.
Momofuku is a set of three famous restaurants owned and operated by Korean-American chef, David Chang in New York City.
It was a warm, cloudy evening in New York's East Village when we slipped onto the bar stools at the communal table at the famous and multi-star-rated Momofoku Noodle Bar. It was a special occasion. It was my best friend Susan's birthday and it was also the first time that I would be meeting another friend, Deborah. Deborah and I had developed a great friendship through email and telephone conversations. We met through this very column, Tastes Like Home.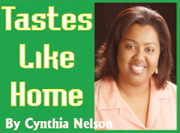 We were lucky to be seated immediately, thanks to our hunger prompting an early evening arrival rather than later. This is a restaurant where people would line up for hours waiting to be seated. Yup, the food is that exceptional but I really think that the pork buns are worth the wait.
Without reading the menu, we ordered the pork buns; their reputation had preceded them. The buns arrived and we simultaneously reached for them. I took my first bite and groaned with pleasure. I took two more bites and the bun was gone. I wanted more.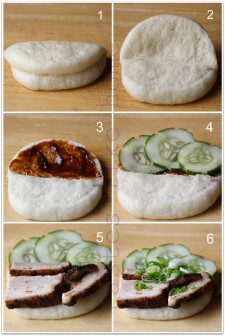 The bun is steamed. It is sweet, tender and pillow-soft. Encased in its gentle fold are slices of slow-cooked pork belly, the fat rendered so perfectly, you could spread it like butter. The pickled cucumber is sweet and salty and a perfect balance for the hoisin sauce that is slathered on one side of the bun. The delicate crunch and onion flavour of wafer-thin slices of green onions put this bun over the top. It is a perfect bite. We unashamedly order another set of the pork buns. The rest of the meal was great, but to date, Susan, Deborah and I still talk about the pork buns.
There are very few things that I have in a restaurant that I want to replicate in my kitchen. The reason I go to restaurants is because I want to eat the chef's food. I want to taste and indulge in their creations. I want to be wowed and wooed by the food, the drinks and the atmosphere. There is a reason why excellent restaurants' food taste the way they do; it's because there are steps, methods, procedures and techniques involved that if we were to attempt them at home, we'd be frustrated. Not to mention what an expensive feat it might turn out to be. But then there are some things that you think that you can make a version of, you know, as a sort of homage to the original. With this in mind I set about making some Momofuku-inspired pork buns.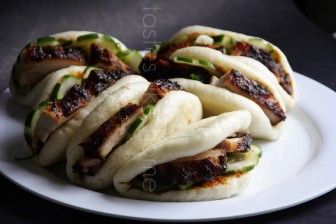 To further illustrate my position about not being interested in replicating restaurant dishes, let me point out what needs to be done in order to recreate Momofuku's famous pork buns.
The meat
●  The pork belly (pork flap) needs to be cured with salt and sugar for at least 6 hours, but no longer than 24 hours.
●  The meat needs to cook for 1 hour at a high temperature with periodic basting. A further 75 minutes of cooking at a lower temperature is required.
●  When the meat is completely cool, it is to be wrapped in plastic wrap or aluminium foil and refrigerated until it is thoroughly chilled and firm. While you can skip this step, it is crucial to getting neat, nice-looking slices.
●  When you are ready to assemble the buns for serving, the meat needs to be reheated.
The buns
While the time needed for the dough to be prepared and rested is similar to making bread, the actual making of the buns is time consuming. The recipe calls for ingredients that make 50, yes, you read right, 50 buns! And guess what, unless you have a very large steamer, you can find yourself standing for at least 2 hours steaming the buns, 4 at a time. Don't talk about the time you have to spend rolling each bun.
The easiest part of the recipe is making the pickles. Mix together salt and sugar and let stand for 10 minutes.
I now present to you, my homage to the Momofuku pork buns. My adaptation has the meat cooked in 1 hour and minus the curing process. The dough for my buns is halved. If you have a large steamer, then you can steam your buns in 1 hour, if not, it will take you 1 hour and 20 minutes, which is still a lot less than 2 hours.
Momofuku-inspired pork buns
(Heavily adapted from Momofuku)
Yield: 24
INGREDIENTS
Meat
2 pounds skinless pork belly (pork flap)
1 tablespoon oyster sauce (substitute with 2 teaspoons salt)
1 tablespoon sweet soy sauce (substitute with 2 teaspoons white sugar)
1 tablespoons all purpose seasoning (if using salt and sugar)
2 tablespoons oil
4 – 5 cups hot water
Buns
2/3 cups warm water (110 – 115 degrees F)
1/3 cup granulated white sugar
1 tablespoon active dry or instant yeast
2 ¼ cups all-purpose flour
⅛ teaspoon salt
½ teaspoon baking soda
1 teaspoon vegetable oil
¾ ounce vegetable shortening, crumbled plus extra for greasing chopstick/skewer
1 chopstick or skewer
24 x 4-inch square pieces of parchment paper
Pickle & garnishes
2 large cucumbers, thinly sliced
1 ½ teaspoons salt
1 ½ teaspoons white sugar
2 teaspoons lime or lemon juice
Hoisin Sauce
¾ cup thinly sliced green onions (white and green parts)
DIRECTIONS
Meat
1.  Season meat with oyster and soy sauce; or with salt, pepper and all-purpose seasoning. Set aside for 15 minutes or longer if you have the time.
2.  Add oil to a pressure cooker and heat until very hot. Place meat fat-side down and let cook for 4 minutes, flip and brown the other side for 4 minutes.
3.  Pour in hot water, use a spoon to scrape the bottom of pan to release bits stuck on. Cover the pressure cooker with knob in place and pressure cook for 30 mins. Time begins from the first whistle.
4.  Preheat oven to 400 degrees F
5.  Remove pressure pot from heat, release valve to let out steam and open pressure cooker. There should still be liquid in the pot, return pot to heat and let cook until all the liquid is dried out. Transfer meat to a baking sheet and cook in oven for 30 minutes.
6.  Remove meat from oven and set aside to cool completely.
7.  Cut into ½-inch thick slices.
Buns
1.  Dissolve sugar in warm water, stir in yeast, cover bowl with plastic wrap and put in a warm place to proof for 10 minutes.
2.  Meanwhile, mix together flour, salt and baking soda in a large bowl.
3.  Make a well in the centre of the flour, add oil and proofed yeast mixture (be sure to scrape any remnants in the bowl). Mix together – at this stage, the dough will still be crumbly.
4.  Mix in shortening; you may need to add a little more water to the dough depending on the location and moisture or lack thereof in the air. However, the dough should not be wet.
5.  Turn dough onto a lightly floured work surface and knead for 5 minutes. Rub dough and bowl with oil. Add dough to bowl, cover and let rise (about 1 ½ hours).
6.  Punch down risen dough and knead for 2 minutes. Cover and let dough rest for 10 minutes.
7.  Cut dough in half and then cut each piece in half again and roll into logs. Cut each log into 6 equal pieces and form into little balls.
8.  Roll each ball into a 4-inch circle.
9.  Grease the chopstick or skewer with vegetable shortening; place the greased stick/skewer in the middle of the circle and lift one end of the dough and fold it onto itself covering the stick/skewer. Withdraw the stick/skewer.
10.  Place the folded dough onto a piece of parchment paper and place on a large baking sheet. Cover with plastic wrap or kitchen towel.
11.  Repeat steps 8 – 10 until all the dough is rolled and shaped. Let dough rest and rise in a warm place for about 45 minutes to 1 hour.
12.  Add 2 – 3 inches of water to a karahi, wok or large pot and bring to a boil.
(Keep a kettle of boiling water on standby to replenish in-between steaming)
13.  Assemble dumplings 3 or 4 at a time in a bamboo steamer, cover, and transfer to pot with boiling water and steam for 10 minutes. Alternately, if you are using a metal steamer, carefully insert 3 – 4 dumplings into the pot/pan, cover and steam for 10 minutes.
14.  Remove cooked buns from steamer and pot; discard parchment and place on wire rack to cool.
15.  Repeat steps 13 & 14 until all the buns are cooked.
Pickle
1.  Add cucumbers to a bowl along with salt, sugar and lime/lemon juice and mix together. Let sit for 10 minutes and then drain in a colander.
Pork bun assembly
1 bun
3 slices pork belly
Hoisin sauce
3 slices pickled cucumbers
Sliced green onions
1.  Open the bun.
2.  Spread a layer of hoisin sauce on one side of the bun using the back of a spoon, small spatula or pastry brush.
3.  Arrange cucumbers on top of hoisin sauce.
4.  Place slices of pork belly on the other side of the bun.
5.  Sprinkle both sides of the bun with green onions. Fold and eat. If you can resist, place assembled bun on a platter and repeat until all the buns are assembled.
6.  Serve with a drizzle of pepper sauce
Around the Web