Hi Everyone,
I think that anyone would be hard-pressed to find a Caribbean person who does not like fried ripe plantains. And oh gosh, if you are a plantain fanatic like I am, you will definitely love what I have to say today. When you love something (or someone), you know the lengths you would go to for it or for that someone. That's the kind of deep love that I have for plantains – green, very ripe and all stages in between.
The other day when I looked down at my ground provision basket I noticed that I had 5 large, very ripe plantains that the skins had already turned black. While I relished the thought of sitting down to a plate of fried ripe plantains, my conscience would not let me tolerate such an idea.
Without boasting, I have to tell you that I do an excellent job at frying ripe plantains without them being greasy. I do this by using a well-seasoned non-stick pan, regulated heat and a little less than a tablespoon of oil per batch. Being vigilant is also important if not things can get out of hand. The high sugar content in ripe plantains means that they can easily burn.
Well on that day, while I had the desire for fried ripe plantains, I did not have the time or patience to stand in front of the stove "babying" fried plantains. Employing the guidelines for roasting vegetables – high heat, a sheet pan and seasoning, flavouring of choice, I set about roasting my very ripe plantains.
The results were phenomenal. The taste was superb – excellent, complex notes of caramelization and tender flesh that melted in my mouth. I had added a little sea salt to my plantains and let me tell you, the salt played off of the sweet like Bud Abbot playing straight man to Lou Costello (oh, I know you remember those old movies!)
I am not the kind of person to say never, but I will tell you this, it will be a while again before I fry ripe plantains. Roasting is definitely the way to go. The benefits are many:
No more spending time to make many slices, cut the plantains in half lengthways and you are good to go.
The thick cut of the plantains means you get a more satisfactory mouth-feel and so you feel satisfied and you are not likely to over eat.
Indulging a little with roast plantains is not a bad thing because they have dramatically less fat than if they had been fried.
You don't have to stand at the stove "nursing" the plantains and watching how they soak up the oil and then feel guilty as you eat them.
Because the plantains are roasted, considerably less fat is used to cook them.
Your family and friends will love you for doing this.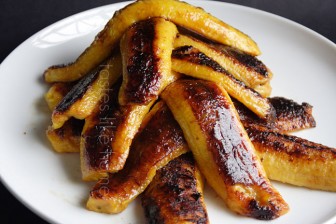 As always, and particularly when I am adapting food preparations, methods, techniques etc. there must be taste-testing involved. I shared the plantains with two people who are obsessed with fried ripe plantains. They could not believe that I got that kind of caramelization on their beloved ripe plantains without frying them. They raved at the thick-cut of the plantains – it was so satisfying, one of them said. Of course they asked for seconds, and kept shaking their heads in disbelief that they could now enjoy a healthy version of fried ripe plantains. The husband said to his wife – "let's buy plantains tomorrow and make this."
Oven-fried Ripe Plantains
Ingredients
2 pounds very ripe plantains (dark skin)
1 tablespoon oil
Coarse sea salt (optional)
Directions
Preheat oven to 400 degrees F.
Line a large sheet pan with aluminium foil and set aside.
Peel and slice plantains in half, lengthways.
Brush the lined pan with oil and brush the plantains all over with oil.
Arrange plantains on pan (cut side down or the other side); sprinkle lightly with sea salt, if using.
Roast in oven for 30 minutes. Remove from oven and let cool to room temperature and serve caramelized-side, up.
Note
If you can get non-stick aluminium foil, that would be great; however, if using regular aluminium foil, try not to remove the plantains from the pan when they are hot out of the oven because they will stick. Wait until they cool to room temperature to remove the plantains.
Enjoy!
Around the Web