Hi Everyone,
"This is a cultural thing, you know. I been buying from this one shop here for more than 40 years now." Stabroek Market cook-shop customer.
The above is a quote taken from an article published in the business section of Stabroek News on Friday July 15, 2011. The headline read: Stabroek Market cook-shops struggle to stay afloat.
One of my many missions is to preserve and document the rich culinary culture and heritage of Guyana and the Caribbean. When I saw this story, I knew immediately that I must use whatever influence I have to promote, support, discuss and document this age-old tradition that has been around long before my time.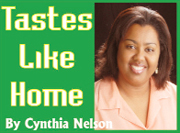 I will be the first to admit that when I lived in Guyana, I never ate at any of these market cook-shops. Sure I'd by a snack such as Salara or Cassava Balls from one of the snackettes within the market but I've never been to the cook-shops, and it was not because of any sort of prejudice. It is just that my mother would quarrel if I did and then not be able to eat the food that she had prepared at home.
I once heard some friends who have since migrated, talk about taking one of their 'big shot' bosses (from GTM) to the market to eat some food. They said that that was the "worse" thing they could have done. "Every day de man asking if we going an eat at de market!" The food was outstanding, the atmosphere electric and the conversations, full of life.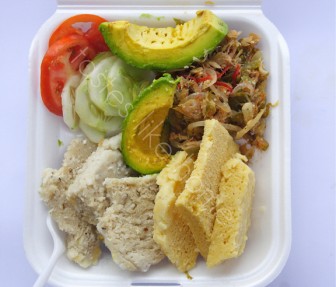 I think we should support this great Guyanese institution. So what am I doing? I am leading a group of friends and readers of this column to Stabroek Market on Friday, October 21 at 11.30 am to feast on the offerings of the Stabroek Market cook-shops. I think we can all get together to show our public support for the great food culture that they are keeping alive despite their challenges. So I am inviting you to come too.
We travel overseas and eat at markets, stalls, roadside vendors and everything in between. We think of it as being novel and as the best places to get a real taste and flavour of the local cuisine. But let's not forget to support our own too. Each week when I go the market here in Barbados, Saturday's breakfast or lunch is always secured. I will invariably bring home delicacies from the market to enjoy at some time during the day. Sometimes it's a fish cutter – a thick piece of steak-cut fish, well seasoned, fried and stuffed into a sliced salt bread. A drizzle of hot pepper sauce along with sliced cucumbers and a homemade fruit drink and I excitedly get back to the car to put down my shopping bags so that I can devour my fish cutter.
On other occasions, it's dumplings and fried salt fish. Sliced fluffy cornmeal and coconut dumplings served with fried salt fish. Sometimes there's boiled cassava and plantains too. If you want stewed chicken, baked pork chops or fried fish, you can have that too. And all this food is being sold at the market, freshly made from as early as 6 in the morning. By 8 am all the food is gone.
Invitation
So here is your formal invitation. I would like you to join me on an eating venture to Stabroek Market. Actually, this is not just an invitation but also a challenge. I am challenging you to step away from your regular eating-spot and meet me so that we can go and eat at the market cook-shops. Meet me at 11.30 am on Friday, October 21 in the Demico car park (opposite Parliament Buildings), outside of St Andrew's Kirk and then we'll walk over to the market for lunch. Don't come alone, bring your family, bring your friends, bring your colleagues, bring whomever you like and treat them to lunch. Let's go eat some good Guyanese food. And let's spread the word. We'll move off at 12 noon and let me tell you, I am a woman that does not like to be kept waiting. If by 12 you are not there – come and find us over at Stabroek Market.
If you have any questions, comments etc. drop me a line at tasteslikehome@gmail.com with the words Market eating in the subject line.
Before I go, let me tell you that I am going to be at Austin's Book Services on Church Street for a Tastes Like Home book signing on Saturday, October 22, from 10 am to 12 noon. I know that many of you bought books after the launch in February and did not get them signed. Well, here's your chance. I look forward to seeing you.
Have a great weekend and I look forward to seeing y'all next weekend!
Around the Web