While Guyana, and the Caribbean as a whole, are yet to make a meaningful mark on the global market for tropical fruit, local fruit growers can take heart from the continually optimistic soundings of the Food and Agricultural Organization (FAO) regarding a growing market for the world's leading tropical fruit, much of which are produced locally.
The FAO says that the global market for tropical fruit continues to grow, bad weather, pests, economic crises,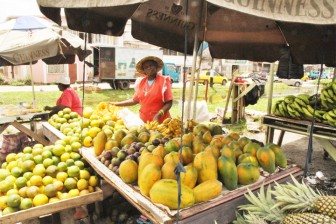 currency turmoil and prohibitive tariffs notwithstanding.
Global production of the world's top four tropical fruits – pineapple, papaya, mango and avocado — has exceeded 5.5 million tons for the last decade, the FAO says, though international trade is affected by food safety issues, which form the bulk of non-tariff barriers that restrict imports.
Most of these tropical fruits are consumed in the countries that grow them, while less than 5 per cent are traded globally. Nonetheless, global tropical fruit imports for the past decade and a half have netted more than US$2.2 billion.
Guyana is currently ill-prepared to make a meaningful mark on the growing global market for tropical fruit. The National Development Strategy (NTS) categorizes mangoes and pineapples as non-traditional crops while no mention is made of the status of papayas and avocados. Moreover, most fruits are grown by a large number of small farmers mostly along the coastal belt and in riverain areas in contrast to the fruit-growing countries of Asia where huge expanses of orchards are to be found.
While modest quantities of locally grown fruit, including mangoes and pineapples are exported to the Caribbean while smaller quantities find their way into West Indian shops in the United States, access to more lucrative markets is restricted mostly by limited production, unreliable supplies and difficulties in meeting quality control standards demanded by reputable food distributors in North America and Europe.
Local fruit-growers, however, may be encouraged by the FAO's prediction of a steady rise in demand for the best-known tropical fruit. Global imports of mango are expected to increase by 53 per cent in the period ahead, while avocado imports are expected to grow by 55 per cent. Papaya and pineapple imports are projected to grow by 46 per cent and 35 per cent, respectively as increasing consumer diet-consciousness in developed countries increase the popularity of tropical fruits at dinner tables.
The FAO's Raw Materials, Tropical and Horticultural Products Services also wants tropical fruit-producing countries, including countries in the region to pursue marketing strategies that enhance the image of locally produced fruit in order to reverse the trend on importation and consumption of the more costly fruit from outside the region.
Around the Web