For 24-year-old Kerry Woolford next month's fourth annual Wedding Expo staged by the Roraima Group of Companies at its Duke Lodge Hotel in Kingston provides an opportunity to broaden a client base that took off after her first time participation in the event last year.
She had spent the previous three years working diligently to break into the beauty and makeup industry and the outcomes had been limited to the patronage of friends and relatives. Her real desire to place the skills she had learnt during a sojourn in New York at the disposal of young women seeking to look their best on their wedding day, had been dogged by the limitations that customarily face small businesses in Guyana. Her home-based operations were not reaping the benefits of the kind of marketing afforded her more established high street competitors.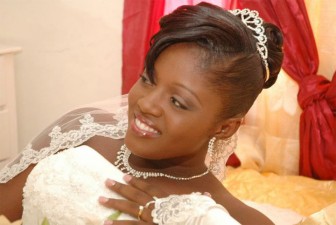 Not that success is guaranteed in one of the fastest growing, most competitive industries in Guyana. A few of the scores of beauty enterprises across coastal Guyana may have benefited from sizeable investments that allowed them to break in close to the top. Most of them, however, have had to start on shoestring budgets that place limits on their investments in equipment, rental of premises and marketing. Eye Do Makeup is one of those emerging businesses that will take time to grow. Last year's Wedding Expo, however, may well have been a launching pad into the big time; at least that is what Woolford hopes.
She had gone to Wedding Expo 2011 hoping to break out of the cycle of limited marketing and, as a consequence, a limited clientele. There, she had benefited from what Roraima Chief Executive Officer Gerry Gouveia had earlier told Stabroek Business was the company's intention to use the Wedding Expo as a platform on which to build what he believes is a potentially lucrative wedding tourism industry. That apart, Gouveia had said Roraima would use the Wedding Expo to help provide a platform for small businesses striving for growth. Eye Do Makeup was one of several participants in last year's Wedding Expo that benefited from concessions offered by Roraima. In the case of Eye Do Makeup the participation fee was waived.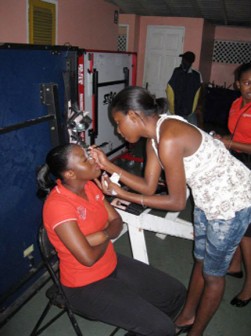 The rewards from the beauty and makeup industry can be considerable. Blushing brides are only a small part of the market. Fashion-conscious Guyanese women are beginning to spend more on makeup to measure up to the expectations of an expanding entertainment industry. Attending to the highly technical and painstaking job of putting 'the best face' on a customer can reap the beautician up to $12,000; sometimes more. Growth, however, requires investment and up until now Eye Do Makeup remains a micro business. The business premises, which is Woolford's focused ambition is yet to materialize. Like other small local entrepreneurs she finds rental costs beyond her reach and her ambition of acquiring her own property and renovating it to meet her particular needs has become a longer-term venture which means that her operations will remain confined to her North Ruimveldt home for some time to come. What energizes her, however, is the fact that she has now secured the break she has been looking for. Prior to last year's Wedding Expo the prospects of growth were shrouded in uncertainty. Since then she has secured bookings for the entire year.
It was her childhood artistic talents that took her into the business of beauty and makeup. After she graduated from the Public School Repository for Theatre Arts and City College, she made her first venture into the business of beauty in 2007 as a consultant with Mary Kay Inc, the 49-year old Texas-based company founded by Mary Kay Ash, which has become a world leader in the marketing of skin care and cosmetics products. It cost her US$100 to acquire a Mary Kay Starter Kit. That was her entry into the industry.
Woolford is hoping that this year's Wedding Expo can bring her as many as 100 bookings and to help her accomplish this she is staging a raffle as part of her presentation that offer as prizes products from the prestigious Mary Kay Line.
The upward turn in business over the past year has energized Woolford. She has already set herself a target of five years within which to own her own premises. Her longer-term vision is to establish a studio on the outskirts and perhaps to add another later.
Her exposure to the makeup and beauty industry in the United States has also provided her with sufficient experience to tutor other young women seeking to make a mark in the industry. The courses she offers cover a range of techniques and applications including toning, highlighting, and eye-colour techniques. These are basic packages which she offers at $30,000. The advanced programme comprising wet applications and other more complex methods are offered at $40,000. Encouraged by the strides she has made Woolford now gives fuller attention to marketing her skills. She has been featured both on local television and in newspapers in both the Caribbean and the USA.
Around the Web