Suriname Airways' April 3 inaugural flight between Georgetown and Miami ushers in what promises to a ground-breaker in the relationship between the two South Ameri-can Republics, the airline's Guyana Repre-sentative Rudi Westerborg told Stabroek Business in an exclusive interview on Wednesday.
Local and Surinamese officials including the airline's Chief Executive Officer Ewald Henshuys and its Marketing Director Clyde Cairo will travel from Paramaribo to the Cheddi Jagan International Airport, Timehri to witness the departure of the 737 aircraft for Miami amidst a growing crisis in the regional aviation industry. And according to Westerborg, Suriname Airways could well be a factor in advancing Paramaribo's interest in strengthening the Caribbean Com-munity's only Dutch-speaking state's relationship with small island states in the region. Suriname Airways celebrates its fiftieth anniversary in August this year.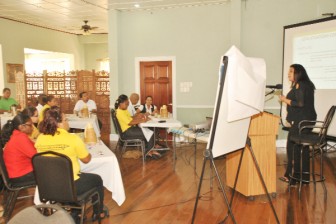 Westerborg told Stabroek Business that the airline's Georgetown to Miami twice weekly service was likely to increase over time depending on how successful it becomes and that the end of 2012 was likely to see the introduction of another service, this time between Georgetown and Toronto by Suriname Airways.
Westerborg said the Georgetown to Toronto service, which was being offered by Suriname Airways at the request of the Government of Guyana, will commence in December with charter flights in the first instance and regular flights by Suriname Airways to Canada's largest province should commence some time during the first quarter of 2013.
Suriname Airways has signed a contract with local service providers Roraima Airways to provide ground handling services for the Georgetown to Paramaribo service and this week the company commenced the training of staff attached to Roraima ground handling staff by Federal Aviation Administration (FAA) – trained Suriname Airways officials. Westerborg said the training which was being conducted at the expense of Suriname Airways and which covered both ground-handling and security procedures was intended to ensure that the service conformed to the standards of the international aviation industry. "We believe that this new service is an important development in relations between Guyana and Suriname and that it will be a success," Westerborg told Stabroek Business.
Meanwhile, in a brief comment on the circumstances confronting the regional airline industry, Westerborg said that in an industry where the market was small and where the various services were being supported by state subsidies, business models that are underpinned by low-fare offers were bound to face serious challenges. He said that Suriname Airways had always been compelled to operate without a state subsidy since the authorities in Paramaribo had taken the position that the operation of the airline should be underpinned by its ability to support itself. Suriname Airways currently has two 737 aircraft serving the region and a third is expected to be added this year while what Westerborg described as the airline's "bread and butter" service between Suriname and Holland utilizes a 317-seat A340 airbus.
Westerborg told Stabroek Business that the forthcoming Georgetown-Miami jet service offered further interesting options to Guyanese travellers. "On the return trip from Miami Guyanese travellers can use the service to travel from Georgetown to Suriname then to Brazil after a one-hour stop in Paramaribo," he said. According to Westerborg, Suriname Airways' service to Holland also offers flight easy connections to several countries in the near and far east.
Meanwhile, Westerborg announced that the Suriname Airways administrative officers in Georgetown are expected to occupy its new premises in Quamina Street shortly and that the airline will be increasing its staff in Georgetown to effectively serve its new commitments.
Around the Web