Evidence of heightened economic activity as reflected in the number of high rise buildings being erected in the New Amsterdam area may be concealing more deep-seated economic problems in parts of Region Six where the too few jobs manifests itself in evidence of idleness particularly among young people.
There are promises of things to come. The Canadian Company CGX which is currently conducting offshore drilling has agreed to invest US$30m in the creation of a deep water harbour which it says will transform the area. Late last year a CGX official said that the completion of the seaport "will result in Guyana becoming a hub port for vessels of any size with the consequent economic benefits not only for east and west Berbice but the country as a whole." That, however, is hardly a current preoccupation for residents of New Amsterdam and neighbouring communities. The promises of a more vibrant economy are very much in the future. It is tomorrow that concerns them.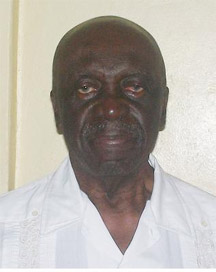 From his New Amsterdam home Honorary Member of the Berbice Chamber of Commerce and retired Chief Labour Officer, Norman Semple agreed to provide our reporter with his own 'take' on aspects of the economic conditions in Berbice which he stressed reflected his own views rather than those of the Chamber.
Perhaps above everything else Semple is concerned with what he says is the wide gap between available jobs and unemployment levels in Berbice. He believes that a point has been reached where additional job creation requires deliberate intervention on the part of central government.
The Tain Campus of the University of Guyana and the New Amsterdam Technical Institute, the two most important training institutions in the region, have had the effect of swelling the number of qualified persons seeking jobs in the Region. Many graduates from these institutions are migrating to Georgetown. Other Berbicians, like Errol Cort, an attorney-at-law and accountant and a native of the Corentyne find their way to the Caribbean. Semple met Cort in Antigua during a visit there on an International Labour Organization (ILO) mission and says that he continues to be amazed at the large numbers of Guyanese, including Berbicians, who reside in other Caribbean countries to which they continue to make valuable contributions while Guyana suffers from a shortage of skills. A recent project funded by the Inter-American Development Bank (IDB) and intended to hone skills in masonry and mechanical engineering allowed graduates to secure apprenticeship attachments at workshops run by two businessmen in New Amsterdam. Semple says that while some of them would have been retained by the business houses as permanent employees others would have had to take their skills into the "unorganized employment market."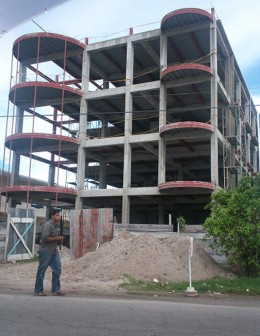 Time was when Pitt Street used to be the trading hub of New Amsterdam. On the face of it there is evidence of a rise from a decline which, over the years has included the closure of businesses on account of two devastating fires. The evidence, from the standpoint of job-creation, may be more imagined than real. Semple says that many of the newly emerging Pitt Street businesses are small family enterprises that have little if any room for hired labour.
Like Georgetown, Berbice has become heavily populated by Chinese businesses. Construction work by the Chinese offers only limited opportunities for Berbicians. The Chinese simply provide their own labour. As far as their shops go cheap imports have become highly competitive in circumstances where local vendors must meet additional costs associated with importing similar goods mostly from the United States. Local small businesses do not always hide their resentment of the Chinese merchants though they cannot resist the retail opportunities afforded by the cheap Chinese imports.
Mara on the East Bank of Berbice is one of the closest farming communities to New Amsterdam. Rice, ground provision and cash crops are among the best known produce of the area. However, according to Semple, the continual deterioration of farm-to-market roads over the years, or more particularly the absence of a maintenance regime has meant that perishable crops cannot be moved to markets in a timely manner. The upshot? Many agricultural commodities are more expensive in the New Amsterdam Market than they really ought to be.
For residents of New Amsterdam and neighbouring communities necessity has been the mother of invention. Ackram Ally, whose woodworking skills have won him a lucrative contract to produce bats, wickets and trophies for GT&T's countrywide ten/10 softball tournament and Shurwin and Letta Forde, two Smythfield residents who have built a thriving snackette and entertainment business are examples. Other evidence of residents turning  to alternative employment in the face of a scarcity of salaried jobs is reflected in the growing number of street vendors in the New Amsterdam area.
Semple says that while self-employment pursuits can be a viable response to the problem of high unemployment, initiatives are constrained by what, in some cases is a lack of motivation and in others the inability to secure startup funding from lending institutions given the lending conditions attached to commercial bank funding. "Most people feel that they need a job and to get that job they have to go around searching here and there.
"One of the great disservices that the government has done to this community is to have abolished the National Service; because some of the better-established people you will find in the society had a start in the National Service. They had the discipline and they learnt certain management skills which have put them in a better position since they were away from the distractions of the coast," Semple says.
Around the Web