Having given up the corporate rigours of an influential directorship of a family shipping company, Farhaud Amin has assumed a quieter, though, arguably no less important role in the local business community as the sole owner of a new enterprise through which, he says, he hopes to contribute to "galvanizing business" in Guyana.
Guyanabusinesslink.com is one of several new internet-driven mass media that provide a fast-growing advertising option for buyers and sellers of goods and services. Like other inves-tors in the emerging sector Amin has opted to seize the opportunity afforded by the steady growth of the local information technology industry to seek to rival the more traditional forms of information dissemination. A month after launching Guyanabusinesslink.com he is entirely satisfied with where his new service is positioned and excited about its potential for growth.
Guyanabusinesslink.com. would probably not have happened had Farhaud not investigated his first preference, that is, employing the print media as a tool with which to bring buyers and sellers together. The idea of a high-quality, full colour magazine dedicated to advertising was set aside after it was found to be both too costly and too cumbersome. With hindsight, he is now persuaded that the vast information superhighway affords advantages in both convenience and cost-effectiveness. Its infinitely greater reach apart, his current business pursuit is much easier to manage either from his modest Mea-dowbank office or from wherever in the world he can be reached by telephone.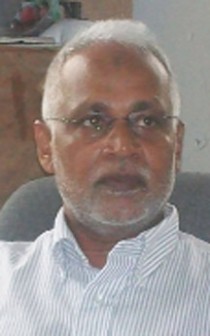 In Amin's view, the proliferation of commercial websites triggered by investments by the Guyana Telephone and Telegraph Company (GT&T) that now offer consumers more generous helpings of bandwidth – coupled with the even greater potential that inheres in the government's pro-mised investment in its own submarine cable – opens up new and significant potential for trade-related communication in the business community. More than that, he believes that by embracing the internet as a business tool, the private sector has opened up a new market for the creation of commercial websites. His belief, he says, is manifested in the response to his own site which has attracted patronage from a broad range of enterprises ranging from fruit and vegetable merchants to corporate entities seeking and offering goods and services that are critical to the growth and expansion of the country's economy. That the site responds to the broadest range of interests, is Amin says, one of his more important objectives.
His promotional leaflet challenges the market to compare what other sites offer "with what we have put together," the selling point being that Guyanabusinesslink.com, has categorized its listings in a manner that enables customers to buy and sell almost anything. More than that, Amin says, Guyanabusinesslink.com has avoided the "middle man" role which other similar sites have embraced. It is concerned with providing an advertising facility and seeks no commission based on the completion of the transaction.
Meadowbank is where the Amin family chose to live having long migrated from Essequibo and for Farhaud the new business pursuit affords him time for his family. There are no distractions associated with time-consuming board meetings and travel commitments.
Guyanabusinesslink.com simply receives it customers' requests and consults with them in the design and placement of their ads. The service includes site visits to meet with customers and to place photographs of goods ranging from cars and combines to agro-produce packed in warehouses and ready for distribution on the website.
Growth, measured in the number of transactions which the site has facilitated, has been steady. Amin estimates that those numbers are now in the region of around 800.
His current focus on expanding the site's market includes the strategic recruitment of representatives in those areas of the country that offer the best potential for growth.He is also contemplating how Guyanabusinesslink.com can best generate meaningful interaction between and among buyers and sellers in a CARICOM single market which, in the view of many, still operates well below its potential.
Those pursuits apart he is excited about the potential which the site offers for significantly enhancing two-way business communication between Guyana and Brazil. "The prospects are there," he says.
Around the Web