Both of the major expatriate investors in Guyana's bauxite industry have announced that they are pumping more money into equipment with a view to taking advantage of anticipated significant increases in demand for the product in the years ahead.
Earlier this month the Russian aluminium giant RUSAL the majority shareholder in the company Bauxite Company Guyana Inc (BCGI) announced that it was investing a further US$21 million in the local company to acquire equipment and vehicles with a view to expanding its production to five million tonnes  by 2015 and 10 million tonnes by 2018. In March the Chinese-owned minerals group Bosai Incorporated disclosed that it was investing US$100 million in its operations at Linden.
While the announcements by the two companies signal their intention to continue to invest in Guyana's mining sector, both have had to face industrial relations and community relations difficulties which, at least in the short term could spill over into operational difficulties.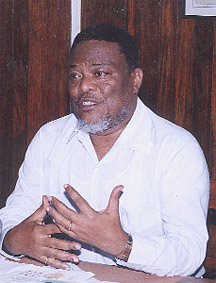 In February, Labour Minister Dr. N.K. Gopaul publicly alluded to what he described as  "brazen disrespect for the country's labour laws by some local and foreign firms," a remark widely believed to have been directed at RUSAL following repeated worker and union protests over what they say is the continued mistreatment of workers by the company's predominantly Russian management. Weeks later, the Labour Minister announced the government was ordering arbitration into repeated claims of what the Guyana Bauxite and General Workers Union (GB&GWU) said are continued attempts by the company's predominantly Russian management to subvert the industrial relations process though the company subsequently moved to the courts to block the move to have the union's claims investigated.
BOSAI, meanwhile, has continued to face increasing pressure from both the Linden community and the town's Local Government Administration over its failure, following several promises, to install a dust extractor system to relieve heavy pollution from the bauxite plant. A point has now been reached where local officials are questioning whether
measures will ever be put in place to rid the town of the problem though the company announced last month that its planned US$100m investment in the sector includes US$57 million for the installation of the extractor system and a new kiln.
Current developments in Guyana's bauxite industry coincide with what global experts predict will be a sharp increase in demand for bauxite in 2012 and in the years ahead, driven by continued expansion of industrial production, particularly in China. About a month ago, sector experts Global Industry Analysts announced that the global market for bauxite is expected to reach 211.3 million tonnes by year 2017, spurred by rising post-recession demand from aluminum end-use applications including automobiles, packaging and construction.           GIA also predicts what it says is likely to be "further robust growth" in the demand for bauxite in developing markets in Asia-Pacific, Latin America and Africa.
Prevailing global conditions on the international bauxite market appear to favour opportunities for increased local earnings from the sector in 2012. Noting that prevailing conditions in the aluminum market play a significant role in the bauxite market GIA says that "the available bauxite resources fall short of the long-term requirements for aluminum" though it points out that the US, China, Brazil Australia and Guinea, some of the world's leading producers of aluminum, have sufficient reserves of bauxite ore to alter the balance while drawing attention to increased output from mines in China, Jamaica and India, among other bauxite-producing countries, which is likely to add weight to overall global production this year.
Just over a week ago, Prime Minister Samuel Hinds, the government's long-standing spokesman for the bauxite industry sought to calm still existing industrial tensions at RUSAL by appealing to workers to avoid conflicts with management and, instead, capitalize on the possible resurgence of the local bauxite industry that could result from the increase in global demand for the product. While the Prime Minister noted that jobs and good wages can only come from profitable companies, union sources have responded to the comment by pointing out that a profitable company can only result from a stable industrial relations climate, a circumstance which they say is currently lacking at BCGI.
Beyond a stable industrial relations climate, the fortunes of Guyana's industry could also turn on the efficiency of local operations and product quality as well as competition on the global market from new sources. Sector reports earlier this week disclosed that the South African-backed Alufer Mining Limited is set to invest up to $US40m in bauxite production by exploiting 3 billion tonnes of bauxite resources in Guinea with production expected to come on stream by late next year or early 2014.
In a recent pronouncement Prime Minister Hinds said that Guyana had paid dearly for the nationalization of the country's bauxite industry, the vast majority of which is now owned by foreign investors. In 2007 China's Bosai Minerals Group acquired 70 per cent of the shares in the Linden bauxite operations previously owned by the Canadian company IAMGOLD at a cost of US$46 million while RUSAL secured a 90 per cent stake in the Berbice operations of what was formerly the Aroaima Mining Company at a cost of US$20 million.
Last year the Canadian company First Bauxite Corporation signed an agreement with the Government of Guyana to develop bauxite resources at Bonasika in the Essequibo River which is believed to hold 1.6 million tonnes of bauxite and expected to yield some 100,000 tonnes annually. A mine is expected to be established next year.
Around the Web