President of the Georgetown Chamber of Commerce and Industry (GCCI) Clinton Urling has set out the Chamber's stall with regard to its independence from external control and influence by pointing to the role the Advocacy Committee will play in formulating and articulating the positions the chamber holds on critical business and national issues.
At his first media briefing held a week ago the restaurateur and now the youngest leader of the local umbrella business organization had alluded to the chamber's intention to establish an Advocacy Committee which will deliberate and pronounce on issues based on the views expressed by the membership.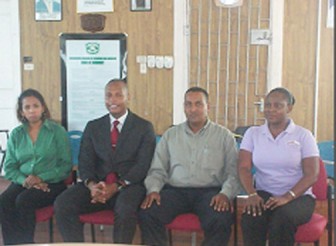 On Wednesday, Urling told Stabroek Business that the imminent establishment of the Com-mittee, which is expected to hold its first meeting in May is designed to ensure that decision-making is not centralized, though he added that members of the chamber's executive are expected to form part of the Advocacy Committee.
The announcement by Urling regarding the establishment of the Advocacy Committee comes in the wake of the frequently expressed view that local business organizations invariably take positions that are supportive of government on national issues. "Our aim is to have an objective chamber which can take independent positions on issues. "The fact that we may take a position that is supportive of an issue today does not necessarily mean that we will be in the same corner tomorrow," Urling said.
On Wednesday the Chamber released its promised Attitudinal Survey 2012 in which 89 per cent of its members polled expressed the view that the current VAT rate of 16% was inappropriate "with the majority indicating that the rate was too high and should be pegged between 10-12 per cent". Asked whether the views of the respondents on VAT could be said to be a chamber position Urling said that this was not the case, though he added that the formulation of a Chamber position had to take account of of "the views of our members."
Asserting that the Advocacy Committee will now become a key institution within the chamber, he said, "We are keen to remove perceptions of partiality."
Meanwhile, according to the survey 84 per cent of the respondents reported "a break even or profit position" at the end of 2011, though 60 per cent of those indicated that the cost associated with doing business in Guyana had increased "significantly" due mainly to high electricity tariffs and high tax rates.
Around the Web