By B.A. Barrington
Ickram Ally also known as "bat man" has turned his passion for making cricket bats into a successful business. His skills, coupled with the significantly increased popularity of softball cricket in recent years have won him sponsors' contracts which have turned his woodworking business around.
Until you hear Ickram's story you might think that the sobriquet 'bat man' is a reference to the well-known super hero of comic book fame. Not so. Ickram might well be the best known bat maker in Guyana, having secured manufacturing contracts with the Trophy Stall outlets in Bourda Market and the City Mall, Tiger Sports at Enmore on the East Coast Demerara, Mike's Pharmacy, Auto Spares at Mahaica and Steve's Jewellery on Church Street.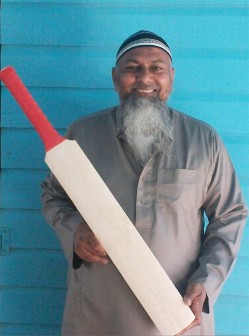 It was his contract with GT&T to supply bats for its 10/10 competition, one of the largest sports events in the country that brought Ickram into the big time. Today, his bats are used in both the GT&T tournament and in the Guyana Floodlight Championship sponsored by GT&T and the Guyana Soft Ball Association. Bats apart, Ickram also manufactures wickets and designs and makes trophies for both the 10/10 and Fastball competitions sponsored by GT&T.
Having grown used to being seen as the man who makes cricket bats, Ickram regards himself as a serious and talented wood designer whose talents place him in the category of a craftsman. He says that he is proud that his skills have brought him both a measure of prominence and, over time, considerable business gains, and, moreover, that his products are fashioned from locally produced woods.
"All the teams that have won so far in the competition have used my bats," he says proudly.
This year, 'the bat man' has once again been charged both with 'kitting out' participating teams in the 10/10 tournament as well as designing the winner's trophy for the event. The design, for the moment, is a closely guarded secret which he declined to disclose to the Stabroek Business though he was prepared to disclose that it will be made from an exotic wood and will be an authentic Guyanese piece that reflects the spirit of the competition.
In 2010 some GT&T members of staff were playing a friendly game of cricket at the Everest Cricket Ground on Carifesta Avenue where Ickram was selling.  One of the participants in the game needed a bat and Ickram offered one of his. It appears that the user gave a good account of himself with Ickram's bat and an invitation was extended for Ickram to attend a meeting at the GT&T office. "Once they use my bat they quickly realize that it a well balanced bat." The rest is history. "Yog Mahadeo and his team shoot me from zero, to where I am today," Ickram says.
A devout Muslim, Ickram spent most of his life at Herstelling, East Bank Demerara. He has been a member of the Farm Masjid Cricket team for almost 30 years and has participated in a number of soft ball tournaments. His passion for the game of cricket and making bats goes back to his childhood days. He made bats, he says, because he couldn't afford to buy them. The first few were made of coconut branches. After that he graduated to wallaba staves and simarupa.
In 2000, while trying to find ways to supplement his income, Ickram decided to make and sell bats. He would go to places where cricket games were played including the National Cultural Centre tarmac, the National Park and the recreational grounds along Carifesta Avenue. "I made a little bit everyday and I never go back home with a bat," he says.
Ickram is the fifth of six siblings and father of seven. One of his sons, who resides in Essequibo has decided to follow in his father's footsteps. He makes smaller bats for younger players.  Every day he travels to Georgetown to market his products.
'Bat man' hopes to expand his business with the acquisition of another wood cutting machine. His planned acquisition will enable him to make round, professional stumps to international standards. He hopes to supply stumps for the entire 10/10 tournament in the future.
Cricket's growing popularity in Berbice caused Ickram to relocate there. He says he now has better access to raw materials and more time to spend in his workshop. He spends five days a week manufacturing bats then travels to Georgetown on weekends where he markets what he made.  "I will continue to make bats.  It's what I love… whenever I see a piece of wood I start calculating how I can make a bat with it," he says.
Comments

The unchanging dilemma of an uncompetitive   local manufacturing sector continues to be manifested in the persistence of high electricity costs coupled with a notoriously unreliable power supply system and high costs of imported raw material inputs, among other things, Former President of the Guyana Manufacturing & Services Association (GMSA) Ramsay Ali who is also Chief Executive Officer of Sterling Products Ltd.

With the global coconut industry now offering numerous potentially lucrative opportunities to the manufacturing and agro-processing sectors, the local company, Sterling Products Ltd is signalling its intention to utilize the sector to enhance its own expansion and diversification programmes.

It had always appeared to be the case that the assurance given the citizenry by Town Clerk Royston King in a statement last week that following the withdrawal of services by City Hall's substantive service providers, Cevons Waste Management and Puran Brothers, the City was putting in place contingency measures to manage, in an environmental friendly manner, the city's waste disposal, was little more than just another example of the municipality getting ahead of itself.

(Trinidad Guardian) China Railway Construction Corporation (CRCC) has been awarded a $221.7 million contract by the National infrastructure Development Company (Nidco) to build the controversial Curepe Interchange, the state company's chairman Herbert George has confirmed.

Gold Prices for the three-day period ending Thursday August 17, 2017 Kitco is a Canadian company that buys and sells precious metals such as gold, copper and silver.