Vilma Da Silva is a hale and hearty-looking 50-year-old resident of the Pomeroon with as fine a business brain as any you might find in the city's corporate community.
A wife of 32 years and proud mother of six children and seven grandchildren, she continues to consolidate her reputation in the Pomeroon and on the Essequibo coast as an astute and ambitious businesswoman.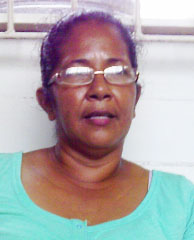 Two years ago, along with her husband Henry, she established Henvil farms, an operation that comprises a 37-acre farm that produces citrus, ground provision and coconuts and an agro-processing plant that manufactures coconut water and an assortment of juices. The farm long predates the manufacturing operation but Vilma's integration of the two into a single operation now means that they complement each other in an enterprise that stands out as an example of shrewd business practice.
An 'old girl' of the Anna Regina Multilateral School, Vilma chose agriculture as a long-term pursuit, working first with the well-known Pomeroon Women's Agro Processors Association. That stint, she says, equipped her with both the knowledge and the confidence to immerse herself in the farming and agro processing enterprise in which she is now engaged.
It was her participation in a Food and Agriculture Organization-funded Workshop in St Lucia that led her to appreciate the commercial potential of agro processing and to recognize that the abundance of coconuts for which the Pomeroon is well-known could provide the basis of a profitable manufacturing enterprise.
An investment of around $2.2 million has yielded an operation that now includes processing and bottle-filling facilities, three storage freezers and a generator. The presence of masks, headgear and gloves at Henvil also points to awareness of the safety and health considerations associated with the manufacture of food products.
The process of harvesting and bottling is itself governed by strict procedures. Vilma explains that properly preserving coconut water can be a challenge so that the nuts must be picked directly from the trees rather than being allowed to fall to the ground. Afterwards, they are washed in a solution of bleach and water to remove pests and bacteria before being 'topped' and the contents quickly bottled.
Henvil produces around 1,000 bottles of coconut water weekly and Vilma's markets are located primarily along the Essequibo Coast and parts of Region One. There are occasions too, when she is favoured with visits from buyers from Trinidad and Tobago, which niche affords her significantly increased orders. Understandably, she is seeking to create an expanded and more reliable export market.
Coconut water apart, Vilma has pressed the various other fruit produced by her farm into service in a smaller agro processing venture that yields supplies of fruit juices the availability of which is seasonal. It is a venture that supplements her larger coconut water operation and which has created the potential for the expansion of her enterprise into the production into a broader range of beverages.
Henvil Farms employs five persons, excluding Vilma and Henry, who are themselves full-time managers of their enterprise. Vilma says she is sufficiently encouraged by the progress which the enterprise has made to contemplate expansion though, like other business owners on the Essequibo she is wary of the scarcity of labour that has resulted from the lure of the goldfields. Still, the issue of growth remains very much on the table.
Her routine as an entrepreneur apart, Vilma still finds time to serve as the Coordinator of the Pomeroon Women's Agro Processors Association and as a councillor on the Region Two Regional Democratic Council.
Around the Web