In March 1995, after six years in the teaching profession and on the verge of entering the Cyril Potter College of Education, Carlotta De Jesus changed her mind about her career.
She wanted to be a businesswoman.
She acquired 20 acres of land on the Soesdyke/Linden Highway and began cultivating oranges and tangerines, which she sold at Bourda Market and to just about anyone who wanted them.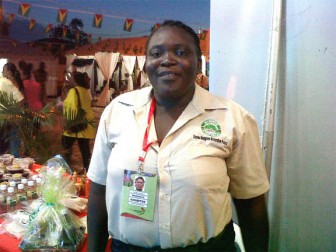 Subsequently, De Jesus joined the Farmers' Crops and Livestock Association with a view to broadening her knowledge of farming. Once she became settled as a farmer she decided to try her hand at other pursuits. She started to attend sewing classes and thereafter offered her services to friends as a seamstress in order to supplement her income. During the break between one academic year and another, the school clothes business was lucrative.
This past holiday period, however, was different. De Jesus did very little sewing. She was far too taken up with her new pursuit of beekeeping.
In 2009, she had attended a Beekeeping Training Programme sponsored by Kingdom Apiaries and the Farmers Crops and Livestock Association. "It was here that I came to understand the value to tending bees," De Jesus said. Along with her husband Colin, she decided that beekeeping was "the way to go".
Since then they have relocated to Victoria, East Coast Demerara where one hive has, over time, turned to 22; 20 at the sea side and two in the 'backdam' area. De Jesus says that the first hive was started with a Queen which they had removed from a hospital in Victoria.
Tending bees, Carlotta says, is tough and technical. She must visit and observe each hive regularly, chiefly to determine whether their food sources are reliable or whether they may be eyeing migration Asked about thieves, she replied, "don't think persons would like to venture there".
She recalls her first experience of removing bees, from a small roof on Robb Street. "It was scary but it was job I had to do. So I braced myself, removed the swarm and felt good after I had done the job." Sometimes, however, things go awry, like the occasion when she and her husband were removing bees in the cemetery and he collapsed without warning, leaving her to remove the bees on her own.
The same occurrence repeated itself subsequently.
January to June is the busiest period for bee removal. Calls are received every day. Sometimes people are not inclined to pay for the service particularly when the bees may be located on vacant land or in empty houses.
Locally, the demand for honey continues to be high, offering every incentive for De Jesus to expand her operation. The current market price is $100 an ounce. Candles, another byproduct can range in price from $500 to $2,000. Her local market includes the Grand Coastal Hotel, Oasis Restaurant and the Visitors' Centre at Victoria. Those customers apart she also offers honey on the open market.
De Jesus is also a member of the Mangrove Restoration Project which is promoting the replanting of mangroves as an environmental protection initiative.
She continues to pay regular visits to her farm on the Soesdyke-Linden Highway and continues to sell her produce to vendors in Bourda Market and in Victoria village, though, these days, she has become thoroughly preoccupied with beekeeping. Following the recent formation of a local Beekeepers Association, De Jesus now serves as its Secretary.
Around the Web