– new aircraft, Timehri hotel on the cards
The acquisition of a new aircraft, the erection of a new hotel at Timehri and the installation of an ultra-modern industrial kitchen at the company's Duke Lodge Hotel are some of the elements of an investment in the "ongoing consolidation" of Roraima Airways Inc, which the company's Chief Executive Officer, Captain Gerry Gouveia, says will cost approximately US$18 million over the next five years.
"What we have in hand at this time is a five-year plan that looks at the development of most of the key entities in the Roraima Group. We are aiming to develop our company in a direction that is consistent with the direction in which the country's economy is going," Gouveia told Stabroek Business.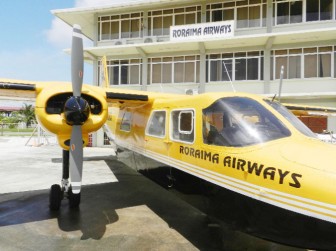 In an exclusive interview with this newspaper which coincides with the unfolding of a programme of activities to mark the company's 20th anniversary, Gouveia said the acquisition of a new aircraft was part of an approximately US$10 million investment that includes the upgrading of the company's hangar and office operations at Ogle. Gouveia said plans for the further shoring up of the aviation services' capacity of the company will also see it investing approximately US$500,000 in its Timehri ground-handling operations.
Upgrading projects associated with the company's Roraima Duke Lodge asset include the addition of a further 30 rooms to the facility, a project which the company's Chief Executive Officer told Stabroek Business will cost the company US$2.5 million. Gouveia said other projects associated with Duke Lodge, which are part of the company's five-year programme include the construction of a new banqueting hall and conference facilities at a cost of US$500,000 and the installation of a new industrial kitchen at a cost of around US$400,000.
Gouveia told Stabroek Business that the company's multi-million-dollar investment initiative was intended to take its operations "to a higher level". He said the enhancements being undertaken at Duke Lodge were "essentially a response to my recognition of the need to qualitatively enhance our hospitality services and provide the kinds of facilities that would attract more guests to our facilities." He said the focus on acquiring a new aircraft and shoring up facilities at both Ogle and Timehri was "reflective of a recognition that Guyana's aviation sector had come of age" and that investment in an enhanced service was necessary.
Gouveia said the company's decision to undertake such a significant investment, "has everything to do with our faith in Guyana, the economy and the tourism industry. We are fortunate to be working with a commercial banking system that includes Republic Bank which affords the business sector the opportunity to make meaningful investments in the Guyana economy."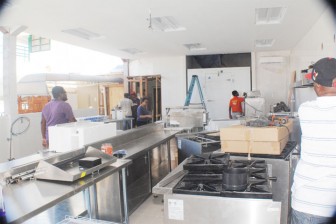 According to Gouveia, the company was gearing itself to "enter a new phase" with the hands-on involvement in the management of Roraima Airways of his two sons, Kevin and Gerry (Jr), both of whom currently reside in Canada. "Our plan has always been for them to return to help manage Roraima and we are moving closer to that stage. My older son, Kevin, is a qualified pilot who has just begun to serve with the Canadian Air Force. My younger son, who is also flying, is likely to be coming into the company in the hospitality sector," he added.
Since its establishment in 1992, Roraima Airways has been an aggressive investor in the hospitality sector. "What we have been doing, primarily, is selling services. It's been a challenge since much of what we offer is not tangible and that very often makes quality more difficult. I believe that one of our consummate accomplishments as a company is the fact that we have been able to meet and in many cases surpass those intangible standards," Gouveia told Stabroek Business.
Comments

The unchanging dilemma of an uncompetitive   local manufacturing sector continues to be manifested in the persistence of high electricity costs coupled with a notoriously unreliable power supply system and high costs of imported raw material inputs, among other things, Former President of the Guyana Manufacturing & Services Association (GMSA) Ramsay Ali who is also Chief Executive Officer of Sterling Products Ltd.

With the global coconut industry now offering numerous potentially lucrative opportunities to the manufacturing and agro-processing sectors, the local company, Sterling Products Ltd is signalling its intention to utilize the sector to enhance its own expansion and diversification programmes.

It had always appeared to be the case that the assurance given the citizenry by Town Clerk Royston King in a statement last week that following the withdrawal of services by City Hall's substantive service providers, Cevons Waste Management and Puran Brothers, the City was putting in place contingency measures to manage, in an environmental friendly manner, the city's waste disposal, was little more than just another example of the municipality getting ahead of itself.

(Trinidad Guardian) China Railway Construction Corporation (CRCC) has been awarded a $221.7 million contract by the National infrastructure Development Company (Nidco) to build the controversial Curepe Interchange, the state company's chairman Herbert George has confirmed.

Gold Prices for the three-day period ending Thursday August 17, 2017 Kitco is a Canadian company that buys and sells precious metals such as gold, copper and silver.