At 24, Lexton Williams believes that his long-held addiction to creating fashion accoutrements out of leather and fabrics is just about beginning to pay dividends.
While the local market for his array of attractive wallets, ladies clutch purses and tiny decorative handbags remains indifferent, Williams says the reception his creations has received in Trinidad and Tobago is more than a little encouraging.
LW's Designs, the name of his company, is a small, still struggling enterprise, situated at Grove, East Bank Demerara. Even so, his talent is already taking him places. His creations have won him a modest local niche market, which he readily concedes is not sufficient to sustain an enterprise. Still, he believes it is something to build on. The Trinidad and Tobago market is his bread and butter.
There is something about the finish of his leather wallets and clutch purses that places his work squarely in the category of fashion rather than craft.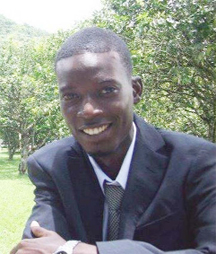 One of his preoccupations is with creating intricate and attractive designs on the fabric prior to the process of cutting by hand then sewing. Over time, the demands of a far more discerning Trinidad and Tobago market have compelled him to continually raise his standards.
The raw insides of compartments must now be lined for effect and the Velcro which he previously used to keep the purses closed has been replaced by attractive metal clasps.
Williams explained that the clasps were acquired with an advance of about TT$5,000, made available to him by one of his clients in Port-of-Spain who loved his work but thought that the Velcro effect was a trifle "tacky".
One of the things the T&T market has done for him, he says, is to make him aware of his limitations. His production level now stands at around 400 pieces per month, a volume which, by his own admission is far too modest to sustain his business. In Trinidad, where the spending power is greater, 400 pieces could be sold in around two weeks. Williams says it could take twice as long, "or more," to dispose of that quantity of stuff in Guyana.
He says the solution to the problem of underproduction lies in the acquisition of a cutting machine that could significantly increase his production. The machine costs in excess of US$50,000, an amount that is out of Williams' reach at this time. Still, he isn't giving up hope.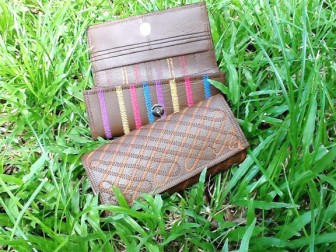 The modest loans he has acquired over time have helped to sustain LW's Designs though he says the aggressive presence of the Chinese merchants does not help. Williams has set his mind on moving into the big time and he believes that what his business requires is a "substantial and well thought out investment". He concedes that in the past his estimates of what it would take to grow his enterprise have been way too modest.
A sense of pride and a desire to popularize his work in Guyana still anchors him to the dream of marketing his work more aggressively in Guyana.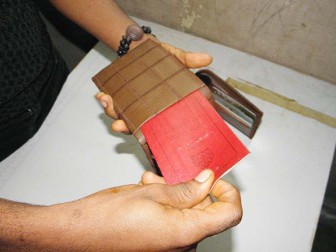 However, he is decidedly disinclined to revert to the practice of walking and selling. While some of the major urban retail outlets carry his creations he is preoccupied with opening his own outlet.
In this regard he is currently engaged in making adjustments to his Grove premises so that it could double as a workshop and a showroom.
"People have been traveling from Georgetown and other places to Grove to buy my work and I am hoping to provide a greater incentive for them to come. I'm thinking of putting on the occasional barbecue and inviting my clients," he says.
Williams subscribes to the view that "if you have a good product you will do well" though he concedes that the limited size of the local market compels him to look further afield. Outside of Trinidad and Tobago he has already tried markets in Barbados and elsewhere in the region. He believes that quality expectations may be keeping him out of those markets.
Diversification is on the cards. LW's Designs is already offering passport and document cases. Messenger Bags, Laptop Bags and IPOD cases are currently on the drawing board.
He understands that the risks are considerable but these days, is far more focused on the rewards.
Comments

The unchanging dilemma of an uncompetitive   local manufacturing sector continues to be manifested in the persistence of high electricity costs coupled with a notoriously unreliable power supply system and high costs of imported raw material inputs, among other things, Former President of the Guyana Manufacturing & Services Association (GMSA) Ramsay Ali who is also Chief Executive Officer of Sterling Products Ltd.

With the global coconut industry now offering numerous potentially lucrative opportunities to the manufacturing and agro-processing sectors, the local company, Sterling Products Ltd is signalling its intention to utilize the sector to enhance its own expansion and diversification programmes.

It had always appeared to be the case that the assurance given the citizenry by Town Clerk Royston King in a statement last week that following the withdrawal of services by City Hall's substantive service providers, Cevons Waste Management and Puran Brothers, the City was putting in place contingency measures to manage, in an environmental friendly manner, the city's waste disposal, was little more than just another example of the municipality getting ahead of itself.

(Trinidad Guardian) China Railway Construction Corporation (CRCC) has been awarded a $221.7 million contract by the National infrastructure Development Company (Nidco) to build the controversial Curepe Interchange, the state company's chairman Herbert George has confirmed.

Gold Prices for the three-day period ending Thursday August 17, 2017 Kitco is a Canadian company that buys and sells precious metals such as gold, copper and silver.