The quiet village of Letter Kenny, about seventeen miles from New Amsterdam on the Corentyne coast, has attracted attention because of its swirl-shaped coconut tree which many think is quite phenomenal. People from all over would stop and take photographs of the tree which is located in the yard of a vacant house. Opposite it, there is a Madras temple.
There are also other temples in the village which is dominated by Hindus, as well as a rice mill, mechanic shop, supermarket, Chinese restaurant, gas station, rum shops, DVD shops, a hardware store, spare parts shops and the Casablanca Boutique, which sells designer clothing.
Letter Kenny also has two Christian churches, one of which operates an outreach service for underprivileged persons.
The children of the village attend school in neighbouring communities such as Auchlyne or Bush Lot, or else are sent to Port Mourant for their education. There are health centres too in nearby villages to cater to the needs of Letter Kenny residents, and for those with more serious complaints there are the Port Mourant and New Amsterdam hospitals.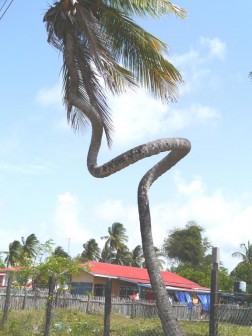 The village once had a lemonade factory which was abandoned after the owner passed away and his relatives migrated. This newspaper was told that many other residents have also migrated, something which was evident from the number of vacant and abandoned houses. The village once had a population of around 3000 persons, but that figure is now down to roughly 2,500.
Some of the overseas-based residents have left friends or relatives to live in their homes and take care of them, while others just close theirs up for when they return on vacation.
Mohanlall Sukhwa, 64, is one such former resident, although he is planning to re-migrate with his wife in a few years. When the Sunday Stabroek caught up with him he was washing his car before parking it in his garage because he was returning home to America the following day.
Although he left for the US about 30 years ago in search of a better life, he enjoys spending time in Guyana. He loves the peace and quiet of the village as well as the friendly people.  "When people tell me 'God bless America,'" he told this newspaper, "I would say, 'No, God bless Guyana' because we live free here."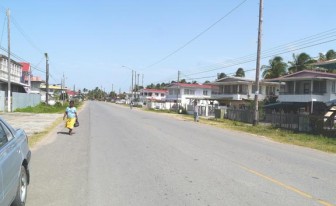 What he doesn't like about this country is that "I am paying for water but I am not getting the full flow of water and then we are getting lots of blackout." He complained too that "the drains and trenches are blocked up. We pay our rates and taxes but the NDC is not doing anything…"
A Commission of Inquiry was recently held at the Whim/Bloomfield Neighbourhood Democratic Council (NDC) after the Ministry of Local Government had received a petition from residents seeking its dissolution on the grounds that it was not functioning. Some present at the inquiry had said they would be happy if an Interim Management Committee could be set up to serve the people efficiently.  At the inquiry, Chairman of the NDC, Hardyal Seepaul had said that residents were not paying their rates and taxes and the council did not have funds to carry out projects.
Sukwha is also distressed that most of the young boys drink too much and do not want to work. He lamented too, "Everybody wants to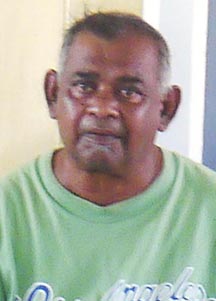 go to America; but to do what? If they don't want to work here what would they do there?"
The expatriate observed too that some parents cannot afford to send their children to school but could afford to purchase alcohol and wanted the welfare officers to address the issue. He hoped that when he returned he would be a volunteer to ensure that school dropouts returned to school.
According to him, parents keep the children home to work on their farm or to catch fish. He stressed that it is the duty of parents is to ensure their children have "a good education."
Before migrating 17 years ago, Sukhwa earned his living as a cane-harvester. At the end of that job he would "plant rice and catch fish" to supplement his income. He said that he did not engage in smoking or consume alcohol because he was committed to building a better life for his family.
During this newspaper's midday visit, workers of the rice mill belonging to Mohamed Hackim were having their lunch break. One of them, Roesh Martin O'Neil is also employed with GuySuCo as a labourer. He leaves home at 4 am for that job and gets home around midday.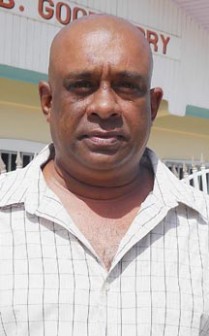 O'Neil said that for the rest of the day he works at the rice mill because he wants to "make ends meet."
Most of the other residents are employed at GuySuCo as labourers. Others work at business places in the village while still others have sought employment in entities like the Nand Persaud Rice Mill.
Across the road, Safraz 'Rishie' Beekham, a welder/mechanic was busy fixing vehicles in his workshop, assisted by an employee. Two customers were waiting for their work to be completed but he took a break to speak to this newspaper.
He learnt the trade 19 years ago, he said, during apprentice training with a businessman at Tain. Six years later he  developed his skills and decided to establish his own business.
At the Circuit Centre Hardware Store, the salesman, Khemchan Ramkellawan, said he quit his job as a labourer with carpenters to work with relatives who own the store. He does not depend on that job alone to maintain his family of three though. At home, he rears ducks and chickens and would always have ducklings to sell.
He described the village as "good… and quiet" and said "the people are friendly." The only problem he has is that the drains are clogged up and the "water rises during the rainy weather."
In another section of the village, Shrimattie Brijlall was checking the salted-fish she had put in the sun to dry. She purchased the fish in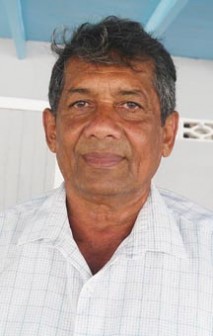 the market to process and was planning to give it to friends to take "overseas."
Two of her female neighbours had finished their household chores and had gone over to relax in her hammock and catch up on some 'gaff.' Her children were busy in the kitchen and when they heard about this newspaper's visit they came out to join the two women in teasing their mother because she was having her picture taken to "go in the papers."
Brijlall has been living in the village for 40 years and she said it is "quiet and peaceful" and that the "people are good to each other." She takes care of her two children and manages the home while her husband plants a cash crop farm in the backdam. He sells his produce in wholesale quantities to hucksters. Brijlall's said their farm was affected by flooding because of poor drainage but it was cleared last year.
In another section of the village, John Brijpaul Goorbarry called 'Bobby' sat in front of his business place, the Goorbarry Service Station, awaiting customers. He was the third generation in the family to operate the business. His late grandfather, JB Goorbarry, established the business 70 years ago and handed it down to his father following which it was passed to him. He also sells hardware products and auto spare parts and accessories. He spoke fondly of his grandfather who served as an overseer and who was "well-known and well-liked throughout the community."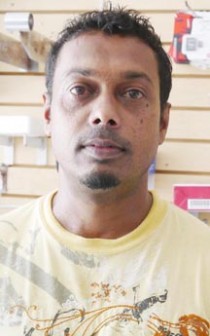 His relative, Richard Goorbarry was tending to a customer in his store next door. He spends most of his time overseas and would import items including tools and spare parts and declared that he offers the "best prices."
Nearby, oversees-based resident, Lionel Kharag and a cousin, Jaipaul Ramdihal were sitting by an old busshed that his late father had donated to the community. They were overseeing some repairs that a carpenter was doing to Kharag's home/business place and his fence. Ramdihal has been renting the Roadway Inn Liquor Restaurant & Bar from Kharag.
They were peeved that "wood-ants" from an old, abandoned house next door were coming over and destroying their property. According to them the owner of the building had migrated and they could not contact him to "pull the house down." The men said that the building was a "health and safety issue" and called on the authorities to dismantle it. They also see it as an eyesore and said it could affect their business.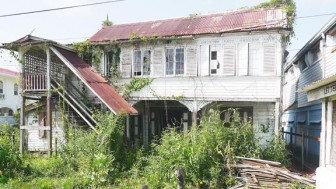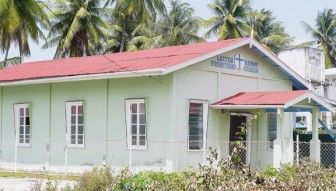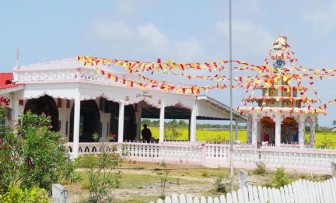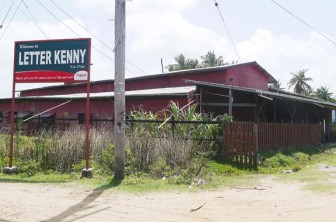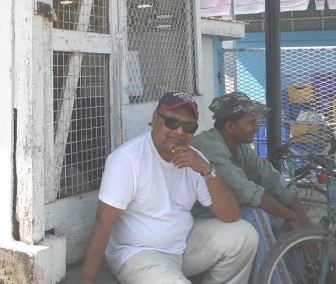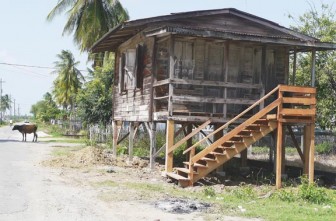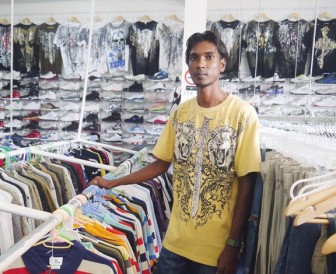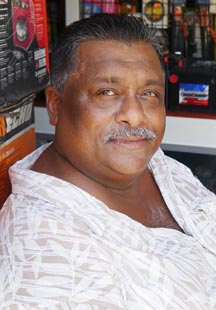 Around the Web