Whether she intended it or not, President Cristina Fernández de Kirchner's decision to nationalize Argentina's biggest oil company earlier this week has placed her nation in the camp of Latin America's radical populist countries — alongside Venezuela, Ecuador, Bolivia and Nicaragua — in the eyes of the world.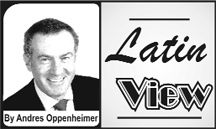 But, far from joining a rapidly expanding club, Fernández's expropriation of the YPF oil company will further isolate Argentina economically and diplomatically: It takes place at a time when the Venezuelan-led radical populist bloc of countries in the region seems to be fizzling, and when Brazil, Peru, Uruguay, El Salvador and other countries with left-of-centre governments are moving in the opposite direction.
Argentina had nationalized the country's post office in 2003, the Aysa water company in 2006 and the Aerolíneas Argentinas airline in 2009. Most recently, it had seized the country's private pension funds, and changed the laws to grab reserves from the formerly independent Central Bank.
But YPF, whose majority stock was owned by Spain's Repsol company, was by most standards Argentina's biggest company. In the eyes of foreign investors and most governments, Fernández crossed the line with the takeover, which requires the approval of the government-controlled congress.
In an article on the YPF nationalization titled 'Fernández Mimics [Venezuelan President Hugo] Chávez,' the Bloomberg wire agency said that Argentina's "similarities with Chávez's policies have increased since Fernández's re-election" in October. A day earlier, the Financial Times had said, "Argentina can kiss goodbye being treated seriously again by investors for another generation."
The Spanish government, which has traditionally led the 27-member European Union's policies toward Latin America, has issued a strong protest. The European Union is expected to put on permanent hold on-and-off negotiations for an EU-South American Mercosur bloc free trade agreement. Spain wants international sanctions against Argentina, perhaps even expelling it from the G-20 group of the world's biggest economies.
But even within Latin America and the emerging world, the timing of Argentina's move toward radical populism couldn't be worse. The days when oil-rich Venezuela's Chávez was touring the world building support for his narcissist-Leninist political model — announcing oil pipelines that would unite Caracas and Buenos Aires and other colossal projects — are long gone.
Today, Chávez is fighting for his life against a cancer that forces him to spend most of his time in therapy in Cuba, and faces an increasingly well organized opposition in Oct 7 elections. Even if he recovers and wins the election, his disastrous economic policies have left him without money to keep practising his checkbook diplomacy abroad.
And, with China's economy slowing down and world commodity prices not expected to rise, commodity-based populism is not likely to get a new economic boost any time soon.
Outside Chávez's bloc of radical populist countries, Brazil has — despite its rhetoric of support for Venezuela and Argentina — announced the privatization of its five biggest airports. Uruguay's credit rating was raised to "investment grade" earlier this month, joining Chile, Mexico, Brazil, Peru, Panama and Colombia.
Mexico's front-runner for June's presidential elections, Enrique Pena Nieto, has vowed to turn Mexico's state-owned oil monopoly Pemex into a company with larger private sector involvement, such as Brazil's Petrobras. The Brazilian oil giant embarked on a huge market capitalization plan two years ago.
The Fernández government says the Spanish-controlled oil company was more interested in siphoning money out of the country than in producing oil, and that its behaviour was driving Argentina to become an energy importer.
Much like when Argentina defaulted on its foreign debt in 2001, the YPF nationalization enjoys widespread popular support in Argentina, among other things because — thanks to high world commodity prices — the flight of foreign investors has not kept the country from growing fast in recent years.
Critics counter that Fernández grabbed YPF because she needs to shore up her popularity with high-impact nationalist measures. Argentina's economy is losing steam, and the government is running out of money to pay for massive subsidies.
"Argentines do this time and again: they break contracts, they don't pay debts," says Susan Kaufman Purcell, head of the University of Miami's Center for Hemispheric policy. "Unfortunately, while everybody's immediate comment is that investors won't come to Argentina any more, they keep coming back."
My opinion: Argentina won't have much trouble finding foreign investors to inject money as minority stakeholders in the newly nationalized YPF. Oil investors are used to working in unstable countries, and there will always be a new player — perhaps the Chinese — willing to invest in Argentina's huge oil reserves.
The problem — aside from the fact that state-ownership will make YPF more inefficient, as happened with Venezuela's PDVSA — is that while investors may move into Argentina's oil sector, they will flee away from the rest of the economy. Argentina will become even more dependent on commodities than today, deindustrialization will accelerate, and the country will become increasingly poorer.
© The Miami Herald, 2012. Distributed by Knight Ridder/Tribune Media Services.
Around the Web