Two years ago 54-year-old Lata Inderdeo witnessed the brutal murder of her only daughter, a tragedy that not only left her emotionally scarred for life but with physical scars as well, since the man who snuffed out her daughter's life also severely chopped both her arms.
At the time the mother of two was living with her daughter, son-in-law and their two children, and that March 27, 2010 attack, which saw her son-in-law killing her daughter and injuring her, resulted in her being without a roof over her head.
While she was grieving for her daughter, Liloutie 'Pinky' Seeram, 31, Inderdeo also had to cope with  moving from one relative to another in order to find a place to rest her head. Her sojourns with relatives became even more difficult as she is unable to use her arms which were chopped by her son-in-law and she was seen as a burden.
So one day even as she was haunted by the knowledge that her daughter's killer – Rooplall Boodhoo – remained free, she found that she had nowhere to go.
"They [her relatives] got fed-up of me; my mouth can work but the hands can't work," she told the Sunday Stabroek .
She turned to God after the incident and would go out and witness to others, and this she said angered her relatives because she was unable to help them with their house chores.
Earlier this year she had no shelter but fortunately for her she met Dianne Madray and Sukree Boodhram of the Caribbean American Domestic Violence Awareness (CADVA) organization, and they arranged for her to stay at the New Amsterdam based Transitional House, a drug rehabilitation and re-integration establishment.
"It is good here, they are kind people; before I did not have a place to have a bath and change my clothes," she said.
At this point the grandmother became very emotional and started sobbing as she said her hands still cause her pain, but the pain she carries in her heart is twofold, since she grieves not only for her daughter but is hurt over the fact that she is not allowed to see her two grandchildren.
Her former husband has custody of the children and because the two had an acrimonious relationship he has not been allowing her to see the two children, aged 16 and 12.
Right now she spends her days ministering, and even though she cannot do much she helps in whatever way she can at Transitional House. She has a son who lives overseas and he helps, but it is not enough for the woman to make it on her own.
"Thank God for Transi-tional House, they have treated me well and you know sometime I feel depress but they does help me," she said in tears.
Transitional House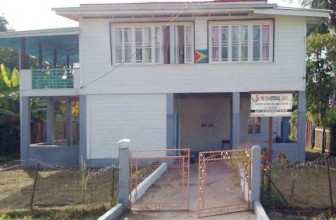 Initially when Transitional House was set up in 2008 its mandate was to help persons addicted to drugs and alcohol, but according to its Managing Director Eskar Adams, the man behind the establishment, he could not close his doors to women in need.
Adams, an involuntary re-migrant who endured years of sleeping on the Georgetown Seawalls "eating shrimp and dry coconut" and later being hooked on crack cocaine, was moved to open Transitional House to cater for deportees who find it difficult when they come back to Guyana.
He feels it is the "mercies of God" that saved him and drove him to provide assistance for other deportees and drug addicts, but he was forced to expand his services to include other disadvantaged persons, such as women and children who were exposed to domestic violence, and school dropouts.
He told the Sunday Stabroek they have had cases where it took almost 90 days to get addicts back on their feet. Following this the re-integration process  commences and the clients are taken out into the community to do community service. The money they are paid is given to them to spend as they see necessary. The clients are also assisted in meeting their short-term goals. Most of the clients are sponsored by their families, but Adams said there are a few who have no money and they are not turned away.
Since 2009, Adams said, they have been going into four secondary schools targeting students in their drug prevention drive. But this programme had to be discontinued as the Ministry of Education was unable to provide funding, but Adams said it is hoped it will recommence soon with assistance from CADVA.
While the organisation was not initially established to provide assistance to abused women Adams explained that following some work with Help & Shelter, women kept turning to Transitional House for assistance, and it did not feel right to turn them away or send them to Help & Shelter in Georgetown. His move to help the woman was also influenced by a decision by Help & Shelter to send a few women he referred to them to the Night Shelter, and he had "hell to get them back up."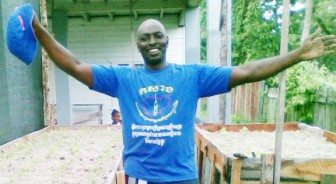 "We take them in because long gone are the days of putting band aid on a sore… and I said let me help to facilitate the needs of these women," Adams said.
He said the organisation provides shelter for the women and sometimes their children and in some cases they would attempt to support themselves. "We at least get them away from the abusive situation and try to give them a new start," he told the Sunday Stabroek.
New start
It is a new start 31-year-old Jenny is working on three years after she entered Transitional House with her two children. She was an abused woman and an alcoholic at the time, and while she has been clean for years she admitted that she continues to get cravings but now does meaningful things.
"I am not saying that it easy, but you can't just come here and go clean; you first have to want it and have the will power to stay away from it," she said.
Jenny revealed that she was sexually and physically abused since she was five years old and this drove her to marry very young, but her husband then began to physically abuse her. Alcohol was her escape, she said, stating that it gave her "a high" and she would forget about the beating. At one point in her life she almost committed suicide, but she was saved, and it was the turning point as someone asked Adams to speak with her. Adams, she said, moved her into Transitional House without asking her to talk about her personal life. He told her and her two kids that they can live there and he just wanted her to be a mother to them. He did not ask for anything and he gave clothes and food.
Today, Jenny works as a cook in a restaurant and she would be writing CXC for the first time. After her examination Jenny hopes to move out of Transitional House and find an apartment for herself and the children and start afresh.
At the moment on Jenny and Inderdeo are the only females at Transitional House.
Over the years Adams said that they have also taken in a few youths who were described as "wayward, and we would take them in for about three months and show them a new way of life and they would change."
It is only about four years since Transitional House came into existence, but Adams said they are heartened by the success it has had and the number of persons who have benefited, and he gave the figure of 1672 persons who have been helped with 80% of that number being deportees and other persons who sought drug rehabilitation.
"Transitional House is just three rooms, there is a downstairs with one open area and then there is another area but the thing is how God has done this thing is that we always have room, there is always a rotation," Adams said.
Many times the organisation has fund-raising activities to assist in its operations.
'Own situation'
Adams rents the building and he also lives on location, and when asked what prompted him to establish the organisation he quickly responded, "my own situation."
"When I got deported back to this country in 2004 after living in the US for about twenty something years I did not have the support and ended up on the streets," he said.
Initially he was helped by his relatives but was eventually put on the streets and "I was out on the seawalls for about three months eating raw shrimps and dry coconut."
An offer to gain some money by fetching sand did not improve Adams' life, but instead saw things getting worse, as he hooked up with his co-workers who introduced him to crack cocaine and got addicted.
"That was it; within thirteen months I wanted to know who I was, I was in a miserable state," he recalled.
Adams said while he was an alcoholic, he never did crack cocaine until he came to Guyana. His alcoholism resulted in him being involved in too many drunken brawls which saw him being placed on probation time and time again. In the case of the last incident, Adams said, he was being a "good Samaritan" when he fired off his gun, but after 18 months in prison he was deported.
It was a chance meeting with a man called Bristol Carter at a church that was a turning point for him. He had approached him for money and Carter encouraged him to meet him every Wednesday for a session. Initially his motive to go was the $500 given at the end of each session, but soon after the sessions made him realize that he had to change.
Comedian Kirk Jardim also met him and told him that a "free space" was being offered by the Salvation Army, and he grabbed it and never looked back. Another inmate took him under his wing and after nine months at the organisation he struck up a relationship with a woman who initially provided a home for him.
That relationship did not work out, but Adams said the woman was a great support to him and with various jobs he managed. The last job was at the Phoenix Recovery Project, where he worked as a security guard, but many times he doubled as a counsellor as many of the inmates sought him out for assistance.
It was there the idea to open up Transitional House was born, and he wrote up the constitution, and selected a few persons, including a couple from Canada and another recovering addict, to sit on his board. The recovering addict revealed that his family had a building to rent for free and the programme was started with one client and later moved to its present location after they outgrew the building.
The establishment has helped persons like 39-year-old Norris who has been living at Transitional House since 2009, and while he has been an alcoholic since he was a child the man said he has now been clean for over two years and he holds down a job as a mason.
He met Adams in 2009 when "I was at the end of my road,"  because even though he was clean on and off during the years when he was ready to try again, no one was there to help him.
"Mr Adams noted my skills as a mason and he encouraged me to join the house and make full use of my skills. I like it here because you don't feel confined; you are allowed to speak out, they treat you for anger management and coping skills," he said.
"First I use to behave very ignorant and everything got me angry. I would then get abusive to the people closest around me. I had many common law relationships and all ended because of my habit," the recovering alcoholic revealed.
Today he laughs at problems because he sees it as just a way of making him stronger. However, he said he is a work in progress because there are times when he feels that he is dropping back.
"I have to have a moral inventory of myself. I have to apply all the necessary tools, pray a lot, exercise and face my problems head on and don't run from it, and in a day or two I am back to my good old self," the man said.
He has two children from two different relationships, and while he has never been a father to the children aged 17 and 12, he is working towards being that person now and he wants his children to one day be proud of him.
"But funny, they remind you constantly of your transgression, that I was a ignorant drunk. Sometimes you look for encouragement from them and [what] you get is memories of the person you don't want to think about. So when I encounter them I try to make the conversation short," he said. He plans to one day have his children live with him and live a normal life.
Meanwhile, Eskar Adams said Transitional House works closely with the Berbice Chambers of Commerce and he said he has clients from around the country.
The 45-year-old Adams described himself as a "workaholic" and said he now focuses all of his energies on running the organisation.
Around the Web