The Brazil nut tree is a typically Amazonian tree that prefers non-flooded forest. It is not found throughout all Guianan forests. It is indicative of forest types composed mainly of Amazonian elements from southern Guyana and which have reached their northernmost limits in the Iwokrama Reserve.

There is a large international trade in Brazil nuts which are harvested almost entirely from wild trees. They contribute millions of dollars to the Amazonian region's economy. The United States imports approximately 10 tons annually.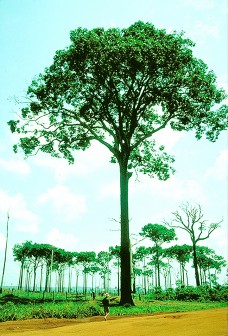 Brazil nuts are nearly 75% fat, and one of the best natural sources of selenium, an important antioxidant. They are also rich in sulphur-containing amino acids, such as cysteine, as well as arginine and glutamine, among others. Brazil nut oil has been marketed extensively in the production of soaps, shampoos, skin moisturizers and hair conditioning products.
The tree produces excellent timber but is little used due to its great value as a commercial source of seeds. The bark is used to make a dye for staining fishing nets and is thought to possess medicinal properties. The tree is also cultivated as an ornamental in tropical areas outside of its native range.
The seeds of Brazil nut tree are known to be an important dietary component for several Neotropical rodents, including the Acuri aka Agouti (Dasyprocta leporina), Acouchy (Myoprocta spp), squirrels  (Sciurus spp) and peccaries (Tayassu spp). Moreover, the Brazil nut tree appears entirely dependent on acuries and acouchies for the dispersal of its seeds.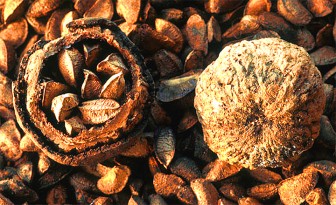 Rain forests are rich in biodiversity and are home to many different plants and animals as well as indigenous communities. Humans, even those who don't live in the rain forest, rely on it for resources such as building materials (wood and lianas), medicine and fruits. Rain forests also provide essential environmental services for life on earth; they create soil as well as prevent soil erosion, produce oxygen though photosynthesis, maintain clean water systems, and are a key defence against climate change. 
The Iwokrama Rain Forest is 371,000 hectares, located in the heart of Guyana. Our mission is to develop strategies for conservation and sustainable development for local people in Guyana and the world at large. We are involved in timber, tourism and training.  Come and visit us in the rain forest or at http://www .iwokrama.org.
Around the Web