Outgoing World Bank President Robert B Zoellick, who is being mentioned as a possible candidate for US Secretary of the Treasury or State if Republican presidential candidate Mitt Romney wins in the November elections, is trying to resurrect an ambitious idea: a hemispheric free trade area.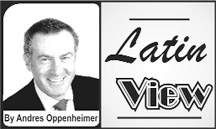 Sounding at times as if he were already on the Republican campaign trail — although he told me he won't talk about his political future until after he leaves the World Bank — Zoellick is calling for a "new agenda" for US/Latin American ties.
In an interview earlier last week, he expanded on proposals to revive plans for a regional trade agreement he made during a June 7 speech before the Inter-American Dialogue think tank in Washington. The idea has been virtually dead since Latin American countries rejected the Bush administration-proposed Free Trade Area of the Americas (FTAA) at a 2005 summit in Mar del Plata, Argentina.
The United States should play "a catalytic and leadership role [in reviving hemispheric trade negotiations], and it hasn't been doing that,'' Zoellick said. "Our trade agenda has been stalled. It would be a strategic mistake [not to re-engage with the region], because part of the US revival depends on its effective integration with the world, including our hemisphere."
'A new phase'
I asked him how it was possible to revive regional trade negotiations when few in Washington pay attention to Latin America, and when many countries in Latin America don't want to improve ties with the United States.
"We are moving into a new phase, where globalists in the United States traditionally focused on Europe and Asia and to some degree the Middle East, also need to include Latin America in their assessments," Zoellick said. "This is an area of great promise.''
Regarding many Latin American countries' reluctance to improve economic ties with the United States, Zoellick said some of the resistance may have waned because the United States has begun to reduce agricultural and ethanol subsidies that Brazil and other Latin American countries have long criticized.
Zoellick said that Washington could start by creating a trade bloc with those countries that already have free trade deals with the United States, such as Mexico, Canada, Colombia, Peru, Chile, and the Central American countries and the Dominican Republic and later expand it to others. In other words, it could start with an "FTAA of the willing."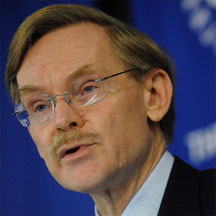 "I believe that there is a possibility to integrate these individual agreements,'' Zoellick said. He added that existing free trade deals between the United States and countries in the hemisphere already cover 54 per cent of the gross domestic product of the Americas not including that of the United States.
Asked how these existing trade agreements could be unified, he said that it could be done by allowing members of the bloc to use components from other members' countries for their exports to the US market. Right now, with few exceptions, countries with free trade deals with the United States can only export duty-free goods that originate within their borders.
"If you organize this 'FTAA of the willing,' you could also start to reach out to some in the Brazilian business community,'' Zoellick said. Down the road, the United States could sway Brazil's decision to join the deal by continuing to reduce US restrictions on Brazil's ethanol exports, he added.
Worth noting
My opinion: Zoellick's call to revive plans for a regional free trade bloc is noteworthy, because I would not be surprised if the Romney campaign adopted it as part of its foreign policy platform.
It will not do much to help the Republicans win Hispanic voters — a new Gallup poll shows that 66 per cent of Hispanics plan to vote for President Barack Obama, while only 25 per cent for Romney — because Romney's virulent anti-immigration rhetoric during the primaries has alienated too many Latinos.
But it would be great if the Republicans introduce the issue of improving economic ties with Latin America into the presidential race, because it would force the Obama campaign to come up with its own plan.
At a time when China is negotiating a free trade deal with its Asian neighbours, both the United States and Latin America need to create cross-border supply chains, so that their companies can more effectively compete with their Asian rivals. This is an issue that Washington's political leaders cannot afford to continue ignoring.
© The Miami Herald, 2012. Distributed by Knight Ridder/Tribune Media Services.
Comments

By Mark Leonard LONDON – Over the last few weeks, media around the world have been saturated with stories about how technology is destroying politics.
CARACAS/HOUSTON (Reuters) – Venezuela's unraveling socialist government is increasingly turning to ally Russia for the cash and credit it needs to survive – and offering prized state-owned oil assets in return, sources familiar with the negotiations told Reuters.
By Carl Bildt CHICAGO – We are now in the final days of the industrial age.

During Men's Health Week, the man/woman in the street were asked to speak on their lifestyles and what they do to maintain their health or to encourage their significant others to lead healthy lifestyles.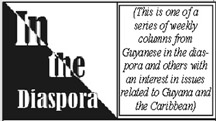 By The Caribbean Voice There are no reliable statistics on the amount of persons engaging in the use of illegal drugs or those described as addicts.