The conventional wisdom is that Venezuela was the big winner at last week's Mercosur summit when the country officially joined South America's trade bloc. But for me, the big winner was Brazil.
Granted, Venezuelan President Hugo Chávez, alongside Brazilian President Dilma Rousseff, Argentine President Cristina Fernández de Kirchner, and Uruguayan President José Mujica, was the centre of attention in Brasilia as he signed Venezuela's official incorporation into Mercosur on Tuesday.
It was Chávez's first official trip abroad not related to his cancer treatment in Cuba in more than a year and a major propaganda victory in his campaign to win his country's October 7 election.

Chávez's smiling picture alongside the presidents of South America's biggest countries not only helped him disarm critics' claims that he is not physically fit to run for president but also aided him in making the case at home that he is not an international pariah whose only foreign friends are the dictatorships of Cuba, Syria, Iran, and Belarus.
What's more, Venezuela's incorporation into Mercosur gave the Chávez re-election campaign a new theme to raise hope among Venezuelans at a time when the country is suffering from galloping inflation, constant power outages, and record crime rates.
"This is Venezuela's biggest historic opportunity in 200 years," Chávez said at the Mercosur ceremony. "Mercosur will, without a doubt, be the biggest engine to guarantee our independence and accelerate our development."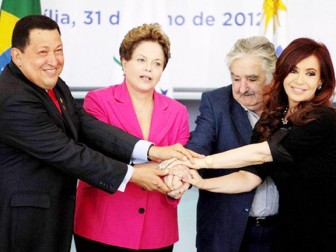 With Venezuela's addition, Mercosur will be the "the fifth world power," with a combined economy of $3.3 trillion, 83 per cent of South America's economic output and 270 million people, he said.
But a reality check into the grandiose claims made by Chávez and the other presidents at the Brasilia ceremony shows that Mercosur, far from a rising economic giant, is threatened with following in the steps of previous ill-fated Latin American free-trade groups, such as Alalc in the sixties, and Aladi in the 1980s.
To begin with, trade among Mercosur members has been dropping steadily in recent years. According to the United Nations Economic Commission for Latin America and the Caribbean, intra-Mercosur trade has fallen from 25 per cent of the group-member countries' worldwide trade at the peak of the group's success in 1998, to 15.2 per cent last year.
The decline is not only due to the fact that Mercosur members have dramatically increased their trade with China, but also because they are placing growing trade hurdles up against each other. Argentina earlier this year added nearly 200 goods — including laptops and motorcycles — to its list of worldwide imports requiring non-automatic import licences, blocking dozens of imports from Mercosur countries.
Brazil retaliated by blocking automatic imports of several Argentine products, including wines and potatoes. Trade between Brazil and Argentina, the trade bloc's biggest members, is expected to drop by 10 per cent this year.
As for Chávez's claim that with Venezuela's addition Mercosur will be the "fifth world power," the fact is that Brazil alone is already the world's fifth- or sixth-largest economy.
Asked whether Venezuela's entry into Mercosur will give the group a new lease on life, most trade experts are very sceptical.
They say that after 12 years of disastrous Chávez economic policies, oil-rich Venezuela has been left with virtually no competitive manufacturing industries and must import about 70 per cent of its food. Therefore, it has almost nothing it could possibly export to its fellow Mercosur members.
For most experts, Mercosur's expansion is mostly "political theatre." Venezuela's state-run economy is so out of step with Mercosur's rules that the document Chávez signed this week contains hundreds of exemptions. As years go by, Venezuela will have to add hundreds more, they say.
My opinion: If there is any winner in Venezuela's entry into Mercosur, it will be Brazil, and to a lesser extent, Argentina. They will both be able to sell food and manufactured goods to Venezuela at preferential tariffs.
Already, at the meeting in Brasilia, Rousseff and Chávez signed a deal for Venezuela's purchase of six Brazilian-made Embraer E-190 commercial planes. It is part of an even larger deal that could include Venezuelan purchases worth $900 million.
They could have done it without the whole Mercosur show, but Chávez wanted the choreography in order to sell voters at home the dream that they will be joining a booming South American trade bloc. That may be good for Chávez, but not necessarily for Venezuela.
© The Miami Herald, 2012. Distributed by Knight Ridder/Tribune Media Services.
Comments
Since the festival of Christmas commands a pre-eminent position – of observance and celebration – on Guyana's Annual Calendar of National Events, I thought I'd pen a few lines to provoke thought and meditation relevant to the "Real Reason for the Season".

To mark the anniversary of Martin Carter's passing on December 13, 1997, Gemma Robinson looks at Carter's Poems of Succession, published 40 years ago this year.
By Naicelis Rozema-Elkins It is about time, past due in fact, that the problem of sexual assault by teachers in our school system is addressed.

Focus on Guyana's National Budget 2018 represents the twenty-eighth edition of this Ram & McRae annual publication which highlights, reviews and comments on the major issues surrounding and raised in the National Budget.

By Mark Leonard LONDON – Over the last few weeks, media around the world have been saturated with stories about how technology is destroying politics.