Introduction
Starting with my column on April 1 this year, this is the twenty-first and concluding one in a series, which may be broadly described as an appraisal of the political economy of the National Budget, 2012. My purpose today is to briefly recapitulate and seek to place the previous weekly columns into a perspective, from which readers might become clearer about what I have been attempting to do.
Tasks
At the outset I had set myself four essential tasks in order to be in a position to take the annual ritual of budget debates and commentary beyond what I have characterized as the noise that has been generated budget-time for the past several years. The first and most obvious of these tasks was to evaluate Budget 2012 in the context of current economic, social, political and cultural situations. While attempting this task, I have based my evaluation on the three necessary components of all national budgets, namely 1) a review of performance during the previous Budget period (taking into account regional and international developments); 2) an assessment of policies, programmes and projects which are planned to be implemented in the coming Budget period; and 3) to analyse proposed fiscal and financial targets and the desired funding, after taking into consideration the overall Budget target (whether surplus, balance, or deficit).
The second task I sought to accomplish was to advance the case for an independent, non-partisan National Assembly Budget Office (NABO). As I have been arguing for several years now, this proposal is designed to enhance the economic, financial, and other competences of the National Assembly.  This remains, to my mind, potentially, the single most important innovation, which can be made to the budgetary process in Guyana.


Thirdly, I have appraised the size of public spending in Guyana, out of deep concern that in relation to national output or GDP, this is much too large for the capacity of the state to effectively handle. Consequently, today much of the public spending in Guyana has become dysfunctional, inefficient and wasteful. Further, because public spending is mainly financed by taxation, the implications for the tax system are, as I have pointed out, huge!
Fourth, I sought to draw attention to the continued secular decline of public sector financial management. I merged this observation with raising an alarm over rising public indebtedness. Worryingly, the government debt to GDP ratio had risen from 60 per cent in both 2007 and 2008 to 70 per cent in 2011. A similar phenomenon has also been occurring in several other Caribbean countries, where research efforts are now being directed at accounting for, or as economists term it, decomposing the factors, which have led to rising sovereign indebtedness.  I presented a brief effort in this regard for Guyana.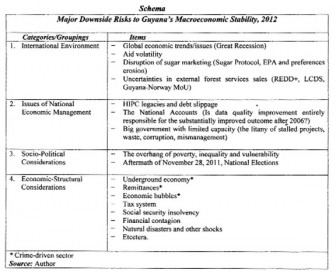 Challenges and threats
As of July 1, I turned to address the final topic in my budget evaluation.  This was to evaluate the challenges and threats to macroeconomic stability over the near to medium-term. I had organized these risks into four categories or groupings. These were 1) the international environment; 2) issues of national economic management; 3) socio-political considerations; and 4) economic-structural considerations. For the convenience of readers I have consolidated these risks into the Schema presented above.
Observations
A few concluding observations are warranted at this stage. One is that, while the items under each grouping are listed individually, they are not necessarily independent of each other. Basically, this is because all the items are situated in the same economy, where various sections operate interdependently. A second is that, as a consequence of this, there might even be synergistic effects, which would occur when individual items operate with others so that their combined effects could become greater than the sum of their individual effects.
Thirdly, neither the groupings nor the individual items
indicated in the Schema are intended to be exhaustive.  Because of time and space limitations, I have only provided what I believe is a representative sample of these. Thus in particular, the role of natural disasters (floods, drought, pests and diseases) is a distinct omission.  Surely this is a highly probable source of exogenous shock, interrupting economic performance in Guyana.
In conclusion, I want to openly recognize that Budget 2012 is being implemented during the course of the 2012 fiscal year. Therefore, its full effects will only be determined during the course of this year. Already, the 2012 fiscal year is proving to be highly contentious and fraught with unprecedented occurrences. However, for now, I have completed my evaluation of the Budget 2012 but would return to further commentary and analysis, if warranted.
Comments
CARACAS/HOUSTON (Reuters) – Venezuela's unraveling socialist government is increasingly turning to ally Russia for the cash and credit it needs to survive – and offering prized state-owned oil assets in return, sources familiar with the negotiations told Reuters.
By Carl Bildt CHICAGO – We are now in the final days of the industrial age.

During Men's Health Week, the man/woman in the street were asked to speak on their lifestyles and what they do to maintain their health or to encourage their significant others to lead healthy lifestyles.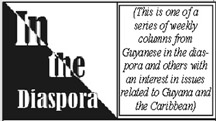 By The Caribbean Voice There are no reliable statistics on the amount of persons engaging in the use of illegal drugs or those described as addicts.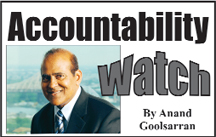 In last week's article, we referred to the two recognized methods of accounting for costs relating to the exploration, development and production of crude oil and natural gas: the "successful efforts" (SE) method and the "full cost" (FC) method.