Dr Goolsarran himself needs no introduction to Guyanese for his work as a respected local public servant and later UN official.  He has distinguished himself through qualifications, work history, and professional ethics.  He is most qualified to pen a tome of this nature and density.  It is one that has the potential to be a textbook in any course dedicated to the fundamentals and foundations of good governance, with all its interlinked tendrils of accountability and transparency.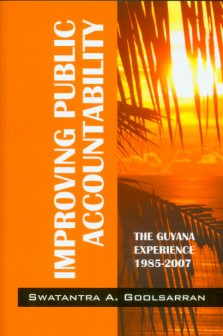 The writer's main purpose, as stated in the Introduction is "to review the state of public accountability in Guyana in 1985 and compare it with international best practices."  All of this is achieved in sometimes numbing detail and frequency, with both the commendable and cumulative disappointments dutifully recognized.  It is a stirring account of public accountability (or lack thereof) that is at once revealing as it is damning.  It is a record of how Guyana was, where it is now, and where it should be.
While the focus is on the last twenty-five years, there is no attempt to spare what went before in the earlier post-independence years, which could best be described as unorthodox and unprecedented, and highly unacceptable.  Among the questions posed are: How are monies spent? Has government been open, compliant, and forthcoming?  Are reporting requirements followed in spirit and letter?  What can be said about those in watchdog capacities, inclusive of their professional standing, delivery record, and all important independence?  And what about the record of those in stewardship roles in terms of good judgment, ethical rigour, and transparent candour where the business and monies of the state are concerned?
Solid, incontestable answers are furnished for each of these questions in a methodical and measured approach, whether writing of projects or the Auditor General's responsibilities or the Public Accounts Committee activities.  In clinical terms, Dr Goolsarran provides the linkages between poverty and corruption; democracy and accountability and development; and the need to go beyond the paper of legislation and quickly move towards the reality of sturdy implementation.
The groundwork laid out in Part I titled 'Theoretical and Conceptual Framework' is done in a smooth and comprehensive manner that would be appealing to most readers.  Of particular interest to Guyanese near and far would be Part II which is captioned 'The Guyana Experience.'  This is a cautious evaluation of the pre-1992 years of alleged electoral fraud, Consolidated Fund (and other) bank account abuses, and legislative audit failures. The writer displays an executive's eye for scope and detail.  He is careful without being condemnatory, and scholarly instead of scorching.  Readers are able to identify with the sweep of the narrative and revisit the sharp disagreements surrounding responsibility, timeliness, and substance of various accounting reports; the uphill struggle to bring credibility to the Audit Office of Guyana; the short-lived advances commencing in 1992; and then the extended period of decline. Further, the haze around the Integrity Commission and the Public Procurement Commission, to name two near non-existent bodies, is lifted.
This book has its share of supporting numbers, tables, charts, and excerpts from recognized authorities.  There is the astonishing disclosure that 89 out of every 100 of those educated at the tertiary level in the period 1965-2005 have migrated; that narcotics is believed to account for upwards of 20% of local GDP.  And there is the irrefutable track record on financial reporting, which speaks for itself.  Admirers will praise the writer's unswerving dedication to a relentless parade of facts and circumstances. On the other hand, local partisans, anticipating the crackle and glare of the incendiary, will bemoan his cool detachment and studied caution.
Improving Public Accountability: The Guyana Experience 1985-2007 finds Dr Goolsarran writing from a professional perspective on the way matters ought to be; how the laws require that things should be; and of the stark realities on where those very matters, so crucial to the forward progress of this nation, really stand.  This book is part exposé, part history, and all reality.  It is for the serious reader, the concerned citizen, and the hopeful patriot.  Indeed, this is a sterling effort, and a work of rare substance and sustained scholarship.
NB: Transparency Institute Guyana in collaboration with Dr Anand Goolsarran will launch this book on Tuesday, October 9 at Marian Academy, Carifesta Avenue at 5pm. Members of the public are welcome.
Comments
CARACAS/HOUSTON (Reuters) – Venezuela's unraveling socialist government is increasingly turning to ally Russia for the cash and credit it needs to survive – and offering prized state-owned oil assets in return, sources familiar with the negotiations told Reuters.
By Carl Bildt CHICAGO – We are now in the final days of the industrial age.

During Men's Health Week, the man/woman in the street were asked to speak on their lifestyles and what they do to maintain their health or to encourage their significant others to lead healthy lifestyles.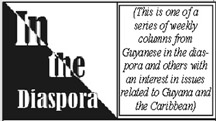 By The Caribbean Voice There are no reliable statistics on the amount of persons engaging in the use of illegal drugs or those described as addicts.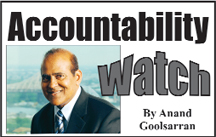 In last week's article, we referred to the two recognized methods of accounting for costs relating to the exploration, development and production of crude oil and natural gas: the "successful efforts" (SE) method and the "full cost" (FC) method.