There is a plausible scenario that even if Capriles loses by a narrow margin, a good showing in today's election will allow him to keep the opposition unified, and to become a viable alternative to a president who may have terminal cancer, and who has no successor who could beat Capriles.
Under Venezuela's constitution, if the president dies within the first four years of his term, new elections must be held within 30 days.

If Capriles emerged as a strong opposition leader from this election, he would have a good chance of becoming the next president before Chávez's term expires.
Many analysts see change in the air. In a September 26 report entitled 'Now or in a little while,' Barclays Bank told its clients that "even in the event of a Chávez victory, we think that given the signs of his weak health conditions, if not now, political change could come in just a little while."
While Chávez looks better than a few months ago and says that he is free from cancer, there are serious doubts that he has fully recovered.
There are some reasons to believe that he now looks better not because he is cured from cancer, but because he has interrupted his treatment.
A study of Chávez's daily public appearances by ODH, a Venezuelan consulting firm, shows that the president's average daily television appearances during the first three weeks of September were significantly shorter than during the same period in August, and also shorter than his public appearances during the same period before the 2006 elections.
That would be hard to explain unless Chávez is ill: It doesn't make sense for him to reduce his public appearances in the final stretch of the campaign.
And it doesn't make sense for him to have campaigned much harder in 2006 — when he enjoyed a huge lead in the polls — than nowadays.
As for today's vote, Chávez enjoys a clear advantage thanks to a combination of slanted electoral rules, intimidation of opposition voters, massive use of government petrodollars and a virtual control of television time.
As Capriles told me in a recent interview, "this is a fight of David versus Goliath, where I'm running against all of the state's resources" and "against a government that controls all the institutions, and plays dirty." Still, Venezuelans are suffering from Latin America's highest inflation levels, record crime rates, food shortages and power outages, and are eager for change, he said.
Several polls give Chávez a 10-point lead, although a recent poll by the respected Consultores 21 and others show Capriles winning by a 3 per cent margin.
But most pollsters agree that they have never seen the Venezuelan opposition as energized as today. While in the 2006 presidential elections Chávez won 63 per cent of the vote and opposition leader Manuel Rosales got 37 per cent, most expect a much closer result today.
Barring a Capriles upset victory — much like happened in Chile in 1989 or in Nicaragua in 1990, where the opposition won despite facing equally unfair election conditions — he is likely to get closer to 50 per cent of the vote. If he gets close to that, he will be seen by many as a president-in-waiting.
Skeptics say the "Capriles now-or-a-little-later" scenario is too optimistic, because Capriles has generated so much enthusiasm among his followers that a defeat today would demoralize them, paralyze the opposition and perhaps even divide it. Millions of anti-Chávez Venezuelans would conclude there was fraud, and that there is no hope for democratic change, the argument goes.
My opinion: I'm somewhat more optimistic. If Capriles gets close to 50 per cent of the vote, he will play his cards well, and will not allow his political momentum to evaporate.
He is not likely to cry fraud if he loses by a margin that he can't dispute, because doing so would encourage a widespread perception within the anti-Chávez movement that Venezuela's elections are rigged, and that would lead many to stay at home for the December 16 governors' elections, and for the April 2013 mayoral elections.
The odds are against Capriles, but he has better chances than any previous opposition leader to succeed Chávez. Win or lose today, he could still win in the end.
© The Miami Herald, 2012. Distributed by Knight Ridder/Tribune Media Services.
Comments
CARACAS/HOUSTON (Reuters) – Venezuela's unraveling socialist government is increasingly turning to ally Russia for the cash and credit it needs to survive – and offering prized state-owned oil assets in return, sources familiar with the negotiations told Reuters.
By Carl Bildt CHICAGO – We are now in the final days of the industrial age.

During Men's Health Week, the man/woman in the street were asked to speak on their lifestyles and what they do to maintain their health or to encourage their significant others to lead healthy lifestyles.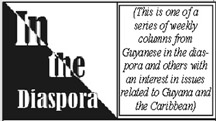 By The Caribbean Voice There are no reliable statistics on the amount of persons engaging in the use of illegal drugs or those described as addicts.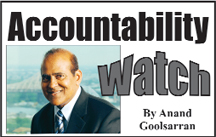 In last week's article, we referred to the two recognized methods of accounting for costs relating to the exploration, development and production of crude oil and natural gas: the "successful efforts" (SE) method and the "full cost" (FC) method.