There are some things that keep out the darkness that continually threatens in anyone's life. Indeed there are some things that allow us to hope that darkness many never fall. An unshakable faith in a just and compassionate God, I believe, allows such hope but such faith is given to few and is incalculably hard to maintain through a whole lifetime when so much is sent to undermine even the strongest faith.


One thing I am sure of keeps out the dark. That is the deep and abiding love between a man and a woman who are fortunate enough to find one another.
Love that is sweet and passionate is part of this. There is nothing in life, surely, that is more enchanting. The exchanges between passionate lovers through the ages are an endless delight. Ignace Gelb in his History of Writing tells us that in Eastern Turkestan, a young woman sent her lover a message consisting of a spray of tea leaves, a shoot of grass, a red fruit, a dried apricot, a piece of coal, a flower, a tablet of sugar, a pebble, a falcon's feather and a nut. The message read: "I can no longer drink tea, I'm pale as grass without you, I blush to think of you, I shrivel in your absence, my heart burns as a coal, you are as beautiful as a flower and as sweet as sugar but is your heart of stone? I'd fly to you if I had wings, I am yours like a nut in your hand."
How lovely is such all-consuming passion! The slings and poison-tipped arrows of fate can make no dent on the shining armour of such love. And how grey and boring and heavy would be the annals of history without that fire which lights upon men and women in every age and in every landscape.
But it is when first passion is transformed gradually into enduring love which possesses the whole being of both lovers, it is then that a defence against life's shadows truly forms. "No ill or wrong will overmaster this."
There are many famous poems which seek to capture the essence of deep, true love but there is one, not so well known that comes as near as any I have read to describing a very ordinary situation which comes in the telling to symbolize a relationship which protects us to the end of time. The poem is by Galway Kinnell. I love it.
Insomniac
I raise my head off the pillow and study
the half-frosted windows and the clock
with its reluctance to tumble robotic digits
to check on how the night is proceeding.
By the clock's green glow and the light
of the last quarter moon the snow
shines up into our bedroom, I see
that the half of the oceanic comforter
apportioned to her side of the bed
lies completely flat. The words
of the shepherd in "Tristan," "Waste
and empty the sea," come to me.
Where is she? Sprouting in the furrow
where the comforter overlaps her pillow
Is a hank of brown hair – she's here, sleeping
somewhere down in the dark underneath.
And now in her sleep she rotates herself
a quarter turn – from strewn all unfolded
on her back to bunched in a bulky Z
on her side, with her back to me.
I squirm closer, taking care not to
break into the immensity of her sleep,
and lie absorbing the astounding
quantity of heat a slender body
ovens up around itself, when need be.
Now her slow, purring, sometimes snorish,
perfectly intelligible sleeping sounds
abruptly stop. A leg darts back
and hooks my ankle with its foot
and draws me closer still. Soon
her sleeping sounds resume, telling me,
"Come, press against me, yes, like that,
put your right elbow on my hip bone, perfect,
and your right hand at my breast, yes, that's it,
now your left arm, which has become extra,
stow it somewhere out of the way, good.
Entangled with each other so, unsleeping one,
together we will outsleep the night.
Comments
CARACAS/HOUSTON (Reuters) – Venezuela's unraveling socialist government is increasingly turning to ally Russia for the cash and credit it needs to survive – and offering prized state-owned oil assets in return, sources familiar with the negotiations told Reuters.
By Carl Bildt CHICAGO – We are now in the final days of the industrial age.

During Men's Health Week, the man/woman in the street were asked to speak on their lifestyles and what they do to maintain their health or to encourage their significant others to lead healthy lifestyles.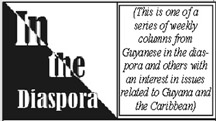 By The Caribbean Voice There are no reliable statistics on the amount of persons engaging in the use of illegal drugs or those described as addicts.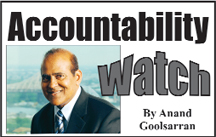 In last week's article, we referred to the two recognized methods of accounting for costs relating to the exploration, development and production of crude oil and natural gas: the "successful efforts" (SE) method and the "full cost" (FC) method.