It is more or less agreed that the human race had its beginnings in Africa. That made us all Africans, until the earliest ancestors journeyed across land and great waters to have the climates and environment(s) fashion different physical features. Scientists even defined three early categories of ethnic mankind – Africoid, Caucasoid, Mongoloid. From Africa arose so many mixtures and admixtures. Differences developed through the ages dictated more contention than co-operation. Quickly, discrimination soon promoted racism.
Race in Guyana
A mongoloid group made their way to this part of the planet we now know as Guyana. Erroneously, we named them Amerindians. Europeans came, colonized and introduced other race–groups.
Today, even though their descendants realize that the Europeans originated and exploited racial differences, we seem to perpetuate those differences for selfish or collective gains.
One Prime Minister attempted to placate socio-cultural/racial differences by allocating national holidays to complement the existing Christian celebrations. Hindus and Muslims seem pleased. But besides staying at home and hearing, understanding and tolerating one another's religious festivals, it is moot that additional racial tolerance takes place. Still, however, we Guyanese do live together more peacefully than many elsewhere.
I am no great fan of the Kaieteur News columnist who produced (his) work titled "Ethnic power and ideological racism: comparing presidencies in Guyana". And whilst I am not yet persuaded about Bharrat Jagdeo's,  alleged racism or race-oriented policies, I have to applaud the former University Lecturer/Columnist for catapulting into national discourse, the whole issue of one group dominating various elements of this country's life. Sometimes I would wonder "where are our Afro-Guyanese these days?"
Race-based promotion policies, political discrimination may all contribute to emergent entrenched racist nepotism – in turn manifested by control, authority and power throughout our country's life-blood. Whether mooted in one leader's "ideology" or an ethnic group's penchant for acquisition and position through sacrifice, initiative, cultured hard work – or corruption – Indo-Guyanese just seem to predominate. Many times to the exclusion of our other groups. The reasons can be easily explored and discovered. For years and dozens of columns I have questioned why this government never comes "out of the box" regarding top appointments – racially or politically.
Whilst I tended to be facetious in my serious queries, the lecturer/columnist's findings remain powerful, whether the learned judge eventually finds, regarding Mr Jagdeo's "ideology".
As a footnote, I smiled on Sunday morning when the young census-taker asked me about my "race". So you see class, there are times when race is an official/statistical consideration, as in American elections. However, boys and girls, don't forget now: "We are all one"(?)
Sandy – from Manhattan
to Mahaica
This is to record my admiration of New York, USA Governor Cuomo's realization that global climate change now impacts everywhere on this planet. Including coastal America, or inner-city New York.
I was impressed as Governor Cuomo told Rachel Maddow about the composition of the super storm/Hurricane Sandy, its impact on Manhattan's Rivers and how climate-change has to be accepted – even as he contemplated re-designing New York's defence infrastructure.
Meanwhile, our own Civil Defence Commission, the Georgetown City Council, the RDC's authority might dare tell us of their "preparedness" for disaster along our long coastal belt,  Seawalls? Canals? Drainage? Garbage Disposal? Medical/Evacuation Readiness? Here?
I suspect that an itsy-bitsy piece of Sandy would have demolished Georgetown and our coastal communities as we know them. What is to be done? Discuss.
"Happy Election day!"
It was so pleasant, sometimes amusing to hear the American television anchors and correspondents wishing one another a "Happy Election Day" this past Tuesday as America voted.
Read the US post-election serious stuff elsewhere, as I leave you with my tid-bits: James Carville and Mary Matalin are a prominent husband – and – wife political duo. He is a fierce Democrat and she a loyal Republican. They share heated public political discourse – then a happy home. The lesson there?
I suppose it does matter who is the American President. Even though he can catch hell convincing the opposition congress. I'm confident that President Obama will serve the millions who supported Governor Romney in the popular vote. Pity the best of each party's programmes can't be implemented forthwith.
At last! At last! Donna Brazile, the beautiful, brainy matured Democratic analyst supported my strange, minority view. Said she on Monday(?):  "Four years ago we elected our first bi-racial President". (The world's most powerful mulatto!)
So noteworthy…
The major local trade union grouping FITUG convened a Delegates Conference on Wednesday. The GPSU, the GTU and the ATGWU attended the opening. Hopeful? Some semblance of unity, I mean.
But FITUG should share its views on national issues much more, I suggest. Lincoln's GTUC often utilizes this right.
But did I hear a FITUG leader declare that there is no institutionalised corruption here? Tell me I am wrong attendees.
Rumour has it that when Bharrat Dindyal from GPL asked to retire, another Bharrat forbid him to! Parallel President?
Name three semi-official responsibilities former President Jagdeo still fulfils.
'Til next week!
(Comments? allanafenty@yahoo.com)
Comments
CARACAS/HOUSTON (Reuters) – Venezuela's unraveling socialist government is increasingly turning to ally Russia for the cash and credit it needs to survive – and offering prized state-owned oil assets in return, sources familiar with the negotiations told Reuters.
By Carl Bildt CHICAGO – We are now in the final days of the industrial age.

During Men's Health Week, the man/woman in the street were asked to speak on their lifestyles and what they do to maintain their health or to encourage their significant others to lead healthy lifestyles.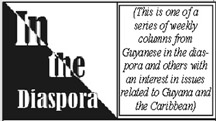 By The Caribbean Voice There are no reliable statistics on the amount of persons engaging in the use of illegal drugs or those described as addicts.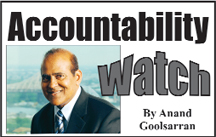 In last week's article, we referred to the two recognized methods of accounting for costs relating to the exploration, development and production of crude oil and natural gas: the "successful efforts" (SE) method and the "full cost" (FC) method.