Last week we mentioned that the main cause of infertility in the bitch is an infection in the womb (uterus) or in some other area of the reproductive tract.  In fact, many of these infections are a result of some hormonal imbalances (very often originating in the ovaries) which create a fertile ground for germ invasion and multiplication. Some of these hormonal imbalances also result in abnormal heat (oestrus) cycles.  Two hormonal causes for a disturbed oestrus are hypothyroidism and hypoestronism.
Hypothyroidism:
Thyroid hormone
deficiency – (THD)
This ailment is caused by inadequate output of thyroid hormone from the thyroid gland (situated in the neck of the animal).  This hormone deficiency causes the animal's coat to become thin and scanty; the hair is coarse and brittle and falls out easily; the skin itself becomes thick and tough and dark in colour.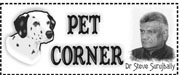 Since the rate of metabolism is under the influence of the thyroid hormone, a deficiency of this hormone in the system slows down energy production.  In the dog, the signs of thyroid deficiency are lethargy, obesity, drooping of the eyelids, mental dullness, and irregular heat cycles.  These signs develop gradually and may take months to become evident.
In passing, I should mention that dogs suffering from this ailment always seem to seek out hot places in which to sleep.  Normally, a dog will always seek out a cool place to lie down (since dogs do not possess sweat glands to help them keep a balanced temperature), but thyroid hormonal deficient dogs have a problem in maintaining a normal body temperature, and so they are compelled to seek warm spots.  Sometimes excessive shivering may be observed.
If your dog has a mild thyroid deficiency, he may show little or no signs of it.  You might begin to suspect that a problem exists only in connection with the bitch's inability to become pregnant.  Diagnosis requires a thyroid blood test. In any case, one should consider seriously not mating such a deficient female.  Actually, it must be noted that females with THD don't show much sex-drive anyway.
Treatment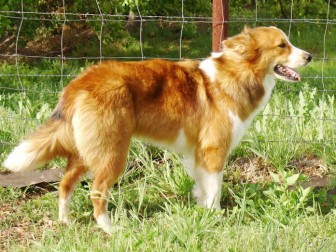 Hypothyroidism is easy to treat with thyroid hormone given daily.  Usually, it is permanent and requires lifetime treatment.  Of course, this is another reason for having an in-depth discussion with your veterinarian, relative to the continued existence of your pet.  It would be very stressful for a family to maintain this daily schedule for years on end.
Hypoestronism:
Estrogen deficiency – (ED)
This condition is due to the failure of the ovaries (where the eggs are and where the tissue which produces hormones important to reproduction such as estrogen, etc, is located) to develop in size to maturity.  Their functionality is therefore impaired, in fact, often non-existent. The dog's breasts and vulva (the tissue at the entrance to the vagina) remain small and underdeveloped.  Since the ovaries are not producing estrogen, the animal will not come into heat.
I would suggest that you consult your veterinarian, if your bitch doesn't come into heat by 18 months of age.  Your vet, after some serious discussions with you, might opt to try to induce heat (estrus) by special hormone injections.  I myself very seldom advocate this procedure.  If, after the injection(s), the bitch comes into heat, this means that the ovaries are responding (they are not 'dead') to the hormone treatment.
Next week we'll deal with endometritis as the main cause of infertility in female dogs.
Please implement disease preventative measures (vaccinations, routine dewormings, monthly anti-heartworm medication, etc) and adopt-a-pet from the GSPCA's Animal Clinic and Shelter at Robb Street and Orange Walk, if you have the wherewithal to care well for the animals.  Do not stray your unwanted pets, take them to the GSPCA's Clinic and Shelter instead. If you do not wish your pet to have puppies or kittens, you may exploit the GSPCA's free spay and neutering programme. If you see anyone being cruel to an animal, or if you need any technical information, please get in touch with the Clinic and Shelter by calling 226-4237.
Comments
Since the festival of Christmas commands a pre-eminent position – of observance and celebration – on Guyana's Annual Calendar of National Events, I thought I'd pen a few lines to provoke thought and meditation relevant to the "Real Reason for the Season".

To mark the anniversary of Martin Carter's passing on December 13, 1997, Gemma Robinson looks at Carter's Poems of Succession, published 40 years ago this year.
By Naicelis Rozema-Elkins It is about time, past due in fact, that the problem of sexual assault by teachers in our school system is addressed.

Focus on Guyana's National Budget 2018 represents the twenty-eighth edition of this Ram & McRae annual publication which highlights, reviews and comments on the major issues surrounding and raised in the National Budget.

By Mark Leonard LONDON – Over the last few weeks, media around the world have been saturated with stories about how technology is destroying politics.