While many of us were focused on the elections in Mexico, Venezuela and the United States in recent months, a dangerous trend has gone almost unnoticed in the region — the slow death of the region's human rights system.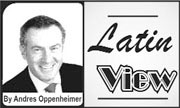 Earlier this week, Latin American countries elected Venezuela as a new member of the Geneva-based United Nations Human Rights Council. Yes, you read right, Venezuela, whose authoritarian President Hugo Chávez to this day defends late Libyan dictator Moammar Gaddafi, Syria's butcher Bashar al Assad, Cuba's Castro brothers, and almost any other dictator you can name.
Under UN rules, countries picked for the 47-member Human Rights Council must "uphold the highest standards in the promotion and protection of human rights." Yet, Latin American governments happily voted for Venezuela under a regional voting system in which each regional bloc picks its own representatives at the Council.
While European countries presented five candidates for their region's three rotating seats at the Council, Venezuela, Brazil and Argentina ran uncontested bids for Latin America's three vacant seats. No Latin American country presented a candidacy to challenge Venezuela's bid.
"We did encourage other Latin American countries to enter the elections, but no state stepped in, which was very unfortunate," Peggy Hicks, a senior UN analyst with the Human Rights Watch advocacy group, told me after Monday's UN vote. International human rights groups are furious — but not surprised — about Venezuela's election to the Council.
While the UN Human Rights Council occasionally looks into flagrant human rights violations in Syria or Iran, it is often hard to take seriously. China, Cuba and other police states have been active members of the Council, which in the past has often acted as a mutual protection club for some of the world's worst dictatorships.
According to Freedom House, a rights advocacy group that releases an annual index of freedom in the world, Venezuela is a "partly free" country. In a statement on Venezuela's election to the Council, Freedom House said in a statement that "while the act of voting is relatively free and the count is fair" in Venezuela, "the separation of powers in nearly non-existent," and its media are routinely intimidated by the government.
But Latin American governments' collective vote for Venezuela's Council membership is only a symptom of a much more serious problem — the regional diplomatic movement to dismantle long-established Organization of American States' institutions to protect human rights.
At the request of Ecuador and Venezuela, Latin American countries have begun an official revision of the 34-country OAS Human Rights Commission aimed at curtailing its powers.
Under the misleading pretence of "strengthening" the OAS commission, the OAS has been holding hearings in recent weeks to, in effect, weaken the OAS Commission's independence, and to limit the powers of the OAS Special Rapporteur of Freedom of Expression. Both offices currently enjoy independence to investigate victims' complaints of rights abuses and issue reports about member countries.
The Commission and the Special Rapporteur's office have been by far the most valuable OAS agencies. Contrary to Chávez's claims that the OAS rights commission is a "tool of the US empire," the monitoring group last year issued more human rights complaints against the United States than against almost any other country in the Americas, except Honduras.
Amazingly, Ecuador and Venezuela's anti-human rights offensive to weaken the commission may get tacit support from Argentina, Brazil, and other countries that owe the OAS Commission gratitude for having stood up against their countries' military dictatorships in the 1970s. Foreign ministers of OAS member countries are scheduled to meet in March to decide on whether to approve changes on the Commission and the Special Rapporteur's office mandates.
"The Inter-American Human Rights system is in serious danger," Human Rights Watch director for the Americas Jose Miguel Vivanco told me this week. "They want to take away its investigative powers to look into government abuses, and turn it into a forum for conferences and seminars."
My opinion: The little-noticed Latin American governments' move to erode the powers of the inter-American human rights system that emerged after the military dictatorships of the 1970s is nothing but scandalous.
One can understand that narcissist-Leninist leaders like the presidents of Venezuela, Ecuador and Bolivia want to dismantle the region's human rights system as they seek to accumulate absolute powers.
But the tacit complicity of Brazil and Argentina, which suffered bloody military dictatorships and today claim to be defenders of human rights, is mind-boggling.
Barring an urgent move by other countries in the region to stop the anti-human rights offensive, Latin America will soon be deprived of its best line of defense against current and future human rights abuses.
© The Miami Herald, 2012. Distributed by Knight Ridder/Tribune Media Services.
Comments
CARACAS/HOUSTON (Reuters) – Venezuela's unraveling socialist government is increasingly turning to ally Russia for the cash and credit it needs to survive – and offering prized state-owned oil assets in return, sources familiar with the negotiations told Reuters.
By Carl Bildt CHICAGO – We are now in the final days of the industrial age.

During Men's Health Week, the man/woman in the street were asked to speak on their lifestyles and what they do to maintain their health or to encourage their significant others to lead healthy lifestyles.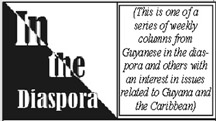 By The Caribbean Voice There are no reliable statistics on the amount of persons engaging in the use of illegal drugs or those described as addicts.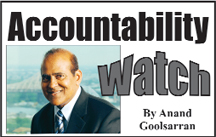 In last week's article, we referred to the two recognized methods of accounting for costs relating to the exploration, development and production of crude oil and natural gas: the "successful efforts" (SE) method and the "full cost" (FC) method.