It is generally thought that all conscious practices proceed from some kind of theoretical construct and that if the theory is wrong, the practice will most likely prove insufficient. The recent publication of the 2012 Corruption Perceptions Index, which positioned Guyana at 133 out of 174 countries surveyed, has again proved controversial. The Kaieteur News headlined Guyana as the most corrupt country in the English speaking Caribbean: a situation that is not new for Guyana as it has been in this position since its first inclusion in the Index in about 2005. And, as we have come to expect, rather than focusing on utilising the existing theories to tackle the problem, the government has sought to denigrate the Index with some rather uninformed and unhelpful utterances as to its usefulness. The likely outcome, therefore, will be a suboptimal response.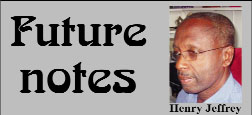 We have, however, made some progress for it appears to me that all parties are now agreed that corruption is a major problem, although, as I will suggest later, they might not be in agreement as to its precise nature. Here though, I will attempt to focus on the utility and place of this kind of Index in the general fight against corruption.
Firstly, in politics perception is reality: people vote for political parties largely because of their perception of what the given party has done and can and will do for them, and every modern political party, even in totalitarian states, uses all manner of surveys to elicit how their citizens perceive them. Therefore, it appears to me somewhat absurd to argue that when it comes to corruption, a perception index is useless. Why should the population's perception of how corrupt a state is not also act as a useful policy barometer?
Secondly, to trot out the normal institutions of a modern state, such as the reinstatement of the national audit, the establishment of the integrity commission or the institutionalisation of financial regulatory laws, as proof of one's anti-corruption commitment after two decades in office appears to me unhelpful. Even if the controversy that surrounds some of the above institutions did not exist, some of the most corrupt states have all these usual arrangements. Indeed, Guyana itself is a good case in point.
The PNC regime should be and is usually condemned for not having had these instruments of accountability in place, yet a vast army of citizenry now believe that even with all the above institutions now established, Guyana is the most corrupt it has ever been! What this at least teaches is that more than the normal arrangements of state are sometimes necessary if corruption is to be successfully tackled.
Thirdly, notwithstanding the views of some in government circles that the study of perception is not empirical, in a 2006 World Bank paper, "Measuring Corruption: Myths and Realities," Daniel Kaufmann, Aart Kraay, and Massimo Mastruzzi began by stating that: "Over the past decade measuring corruption has become an ever-growing empirical field [of study]" and proceeded to debunk half a dozen myths, which I will briefly attempt to present as they are very much related to the criticisms made in official circles almost every year when the Perceptions Index is published.
Kaufmann et al claimed that the notion that corruption cannot be measured is a myth and the fact is that corruption can and is being measured in three ways. The first way is by surveys, which combine views from many sources – stakeholders, public officials, individuals and relevant outsiders – over many years.  "These are the only available data sources that currently permit large-scale cross-country comparisons and monitoring of corruption over time." Another approach is to investigate the institutions of a country to see what possibilities of corruption could be associated with them, and finally, careful auditing of spending against output can show possible misconduct in individual projects.
The last two however have limited coverage and are not suited for global comparisons.
The second myth is that "subjective data reflect vague and generic perceptions of corruption rather than specific objective realities … Since corruption usually leaves no paper trail, perceptions of corruption based on individuals' actual experiences are sometimes the best, and the only, information we have." Culture might affect how people view corruption but correlation of perceptions of corruption from cross-country surveys suggests that this is not very important. Indeed, "Survey-based questions of corruption have also become increasingly specific, focused, and quantitative" when dealing with both the frequency and quantities of bribes that individuals must pay to do business.
Another myth is that subjective data is too unreliable for use in measuring corruption. Of course, no efforts to measure corruption using any form of data will be 100% precise and not even a detailed audit of a project can always conclusively distinguish between corruption, incompetence, etc.  because of measuring errors. As with all surveys, efforts to measure corruption perception must seek to reduce measurement errors and be open about their limitations.
Kaufmann et al argue that yet another myth is that to fight corruption we need hard objective measures.  Since corruption is usually clandestine it is difficult to devise such methods but "[t]here should be no presumption that objective data is necessarily more informative than reports from experts, citizens or firms on the ground – irrespective of their extent of perception or subjectivity."
The fifth myth is related to that already mentioned above and states that that: "Subjective measures of corruption are not "actionable" and so cannot guide policymakers in the fight against corruption." Kaufmann et al contend that tracking even the most general perception of corruption can be a useful way of monitoring whether a government's anti-corruption strategy is being successful.
The final myth is that we need not monitor corruption closely because many countries with high corruption have grown comparatively quickly. Kaufmann et al claim that such countries are exceptions and that there is strong empirical evidence that corruption adversely affects growth in the medium and long-run. "One widely-cited study found that an improvement in institutional quality from levels observed in Nigeria to those in Chile would translate into a seven-fold difference in per capita incomes in the long run. This type of evidence suggests that policymakers ignore corruption, and the institutional failures that permit it, at their peril."
What all this suggests is that rather than simply attacking methods when we have nothing better to put in their place, now that we have agreement that corruption is an important problem we should seek to use the existing approaches to reach national consensus on a practical way forward. This will however only be possible if we also have a common understanding on the nature of our specific problem, and my next article will suggest that perhaps we do not!
Comments
CARACAS/HOUSTON (Reuters) – Venezuela's unraveling socialist government is increasingly turning to ally Russia for the cash and credit it needs to survive – and offering prized state-owned oil assets in return, sources familiar with the negotiations told Reuters.
By Carl Bildt CHICAGO – We are now in the final days of the industrial age.

During Men's Health Week, the man/woman in the street were asked to speak on their lifestyles and what they do to maintain their health or to encourage their significant others to lead healthy lifestyles.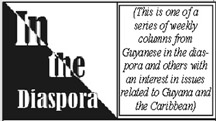 By The Caribbean Voice There are no reliable statistics on the amount of persons engaging in the use of illegal drugs or those described as addicts.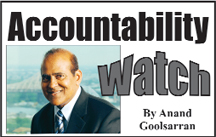 In last week's article, we referred to the two recognized methods of accounting for costs relating to the exploration, development and production of crude oil and natural gas: the "successful efforts" (SE) method and the "full cost" (FC) method.