This week I shall conclude my discussion of the reform of Guyana's sugar industry started on September 2, 2012. For convenience, today's presentation is organized under three general headings, namely: the carve-out of the Skeldon Sugar Industry Modernization Project (SSMP), (to be treated as a separate area of concern); the creation of a special task force on sugar reform; and, the disposition of those remaining GuySuCo's assets that do not fall within the ambit of the SSMP.
Carve-out area
As earlier advanced in Stabroek News columns, I remain convinced that, those GuySuCo assets presently tied up in the SSMP should continue to remain so, under the control of a reformed GuySuCo corporation. At the very least, the reform of GuySuCo is expected to lead to the installation of a new, inclusive and professional Board of Directors. By inclusive I mean that the test of political loyalty to the PPP/C administration should be made distinctively subservient in the selection of the Board, to an emphasis on skills, ability to think out-the-box, professionalism, and excellent practical and/or analytic familiarity with the sugar industry.
The rationale for making this recommendation is two-fold. First, the billions of dollars, which have been already spent under the SSMP, should be treated as sunk costs that can never be realistically recovered. Second, the SSMP constitutes, potentially, the least cost unit area for sugar and cane production, because of its favourable agro-geographic features. Further, it is recommended that, as far as it is commercially feasible, sugar cane production in this area should be left to independent cane farmers, even if it entails the rental of GuySuCo's lands to private farmers and/or a reduction of estate output.
From the available data this carved-out area is potentially profitable because it is capable of satisfying all of the industry's known premium sugar markets: domestic, Caricom, other regional, and the USA tariff-rate sugar quota market.
Special task force
A special task force on sugar reform should be established to administer both the SSMP carve-out area identified here, and the proposal described in the next section of this column, for the handling of GuySuCo's remaining assets. This special task force should comprise a broad spectrum of experts, stakeholders (including the unions), and political-social interests. It should have both the capacity and authority to undertake the tasks identified below, with some dispatch.
Step-wise process
In order to provide details on the structure of the sugar reform that I have in mind, it is convenient for me to present this as a step-wise process made up conceptually, if not operationally, of six discrete markers, as provided below.
Step I: Re-bundling GuySuCo's assets
The most crucial element of my proposal is the recognition that, while a centralized state-owned GuySuCo made sense in 1976, such a model has become dysfunctional today. Having outlived its usefulness, this model is now an albatross on the back of the economy, impeding growth and constraining the diversification of prime agricultural assets. It is imperative therefore, for GuySuCo's assets to be deconstructed and re-assembled into flexible, innovative, and dynamic units or bundles or clusters of assets which are publicly auctioned for producing whatever is best (as dictated by market opportunities), and not necessarily tied to continued sugar production.
Step 2: New bases
Potentially therefore, these new bundles of assets could be constructed around either: 1) existing estates; 2) carefully designed geographic and settlement areas; 3) nodes of ongoing or proposed economic activities; 4) entrepreneurial – investor interests; or 5) some combination of 1-4. These units should then be commercially packaged and sold to suitable investor groups, based on their capacity and proposed business plans. As indicated these plans may or may not include full or partial continuation of sugar production.
Step 3- Carve-out
As stated above the Skeldon project area is defined as a definite carve-out from the assets re-bundling and disposal exercise. However, to ensure the continued strength of social interests in the ownership of the country's prime agricultural assets, every effort should be made to encourage cooperative formations and worker bodies to pool their resources to acquire investable opportunities through bidding for ownership of one or more of these asset bundles.
Step 4: Business profiles
The bundles or units put up sale should be supported by government undertaking the preparation of specific business profiles and pre-feasibility project appraisals, designed to encourage investors/entrepreneurs to think creatively about the best possible alternatives for using the assets they may wish to acquire, particularly given that there is no stipulation they continue in sugar production. It would definitely strengthen the attractiveness of the new bundles of assets (or 'sweeten the pot') if these business profiles provide professional guidance on the potential for diversification.
Already in this regard, a number of creative diversification options have been indicated in the media, including: aquaculture; 'other' agricultural produce; housing; agricultural tourism; and a variety of recreation activities. It should constantly be borne in mind, the estates command an extraordinarily rich mixture of assets situated on the rural-coastal belt, which are well-drained and irrigated with a network of waterways whose alternative commercial uses have still not been explored: housing; electricity; community and recreational facilities (parks, horse-riding trails and so on).
Step 5: Potential investors
One question readers may ask at this stage is: should there be any limitations as to the type of potential investor? The straightforward answer is no. The potential investor pool could include local, regional and international investors, stakeholder groups (such as farmers and worker organisations, both inside and outside the industry); as well as the general public (as shareholders in public companies!)
Step 6 Detailed study and caveat
The proposal outlined here, as well as all the others to be placed before the public should be thoroughly evaluated by the special task force on sugar reform identified above.
This wraps up the series of columns on the political economy of GuySuCo's sugar industry, started on September 2, 2012.
Comments
CARACAS/HOUSTON (Reuters) – Venezuela's unraveling socialist government is increasingly turning to ally Russia for the cash and credit it needs to survive – and offering prized state-owned oil assets in return, sources familiar with the negotiations told Reuters.
By Carl Bildt CHICAGO – We are now in the final days of the industrial age.

During Men's Health Week, the man/woman in the street were asked to speak on their lifestyles and what they do to maintain their health or to encourage their significant others to lead healthy lifestyles.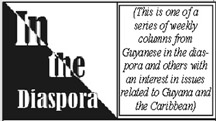 By The Caribbean Voice There are no reliable statistics on the amount of persons engaging in the use of illegal drugs or those described as addicts.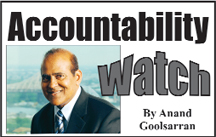 In last week's article, we referred to the two recognized methods of accounting for costs relating to the exploration, development and production of crude oil and natural gas: the "successful efforts" (SE) method and the "full cost" (FC) method.