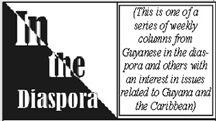 By Bethan Fisk
Bethan Fisk is a doctoral candidate at the University of Toronto
Last Saturday's Stabroek News editorial raised important questions about systemic racism in the United States. In an article that appeared in the British Guardian on March 21, columnist Gary Younge observed that the public outrage over Trayvon Martin's death is finally "raising the lid" on the underbelly of US society. But Britain also has an underbelly, as recent incidents in that national pastime, football, have made patently clear. In Britain we don't know how to talk about race. This British fear is exemplified by the awkward terms used to describe people of colour. In the mid-2000s, the phrase 'mixed race' was replaced by the equally unsatisfying 'dual heritage', which Black British Baroness Oona King remarked, "sounds like a stately home off a minor motorway." King wrote in 2006 that 'dual heritage' is "completely wrong, but it'll do, at least until the 2012 Olympics. Why 2012? Why link race and identity to sport? Because no matter what language we speak, sport speaks to us all."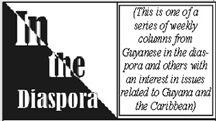 King believed that the Olympics and the South African World Cup in 2010 would "provide a once-in-a-generation opportunity to help forge a new model of British multiculturalism." It is now clear that sport has failed spectacularly to realize this anti-racist potential. Two recent high profile cases of player-on-player racism in the English premier league have demonstrated that use of racist language within football is sadly commonplace. Worse still, the official reactions to the racism revealed by these cases have been astonishing.
On October 15th 2011, Liverpool Uruguayan player Luis Suárez told Manchester United French player Patrice Evra that he had kicked him "Porque tu eres negro" (Because you are black"), to which Evra said "say it to me again, I'm going to punch you." "No hablo con los negros" ("I don't speak to the blacks"), replied Suárez and "Dale, negro, negro, negro" (Bring it, black, black, black). Suárez vehemently denied any wrongdoing and based his defence on the claim that his words were not racist in Latin America.
Incredibly, the British Football Association (FA) felt the need to consult outside experts on the cultural and political meaning of the word negro in South America. On November 16th, the FA charged Suárez with misconduct for making "reference to the ethnic origin and/or colour and/or race" of Evra. The same day Sepp Blatter, Swiss president of FIFA (International Federation of Association Football), stated: "There is no racism [in football], there is maybe one of the players towards another, he has a word or a gesture which is not the correct one, but also the one who is affected by that." Blatter blamed black players for racism on the pitch for being offended. He said they should just shrug it off: "We are in a game, and at the end of the game, we shake hands."
On December 20th 2011, the Independent Regulatory Commission upheld the FA's charge. Suárez received an eight-match suspension and a £40,000 fine. The British press has hailed this as a successful resolution and failed to critique the frankly absurd line of enquiry that the investigation took. It does not require expertise in Latin American racial discourse to notice that Suárez was not in Latin America at the time of the incident. Having played in Europe for six years, he would have known what he said was racist. The Independent Regulatory Commission claims that the word negro could be seen as offensive or inoffensive in Uruguay depending on context and that it is acceptable "when used to address relatives, friends or passers-by." They conclude that the use of the term was misconduct because of the lack of "rapport" between Evra and Suárez, although not because of the innate meanings of negro in Spanish itself.
Nevertheless, racial terminology is offensive to people of colour in Latin American Spanish. The use of negro derives from centuries of political and social inequalities, rooted in a history of bondage, and these inequalities continue today. Negro and its derivatives are markers of difference and inequality. The widespread casual use of negro is endemic – as indio ('indigenous American') once was – but the ubiquity of such terms does not mean that they do not offend. On the contrary, their frequent use is a sign of the extreme political and social marginalization of people of colour, who have little real space to voice discontent. In general, afrolatino (or usually more specifically afrocubano, afrocolombiano etc.) or moreno (brown) are the preferred and more polite terms of reference, to oneself or others.
The FA's consideration of usage of the term in Rio de Plata, a region notorious in South America for racism, is even more problematic given that it had a large population of African descent well into the nineteenth-century. This presence declined once Republican governments engaged in an intentional, and relatively successful, process of 'whitening' through European immigration. These are not the norms to which the governing body of the world's most popular sporting league should be making deference.
The day after the Commission's decision was announced, the entire Liverpool squad – controversially including an African-Caribbean player – warmed up for a match against Wigan in t-shirts with 'Suárez 7' on the back and the player on the front. On February 11th 2012, when the two sides met again for the first time since the incident, Suárez refused to shake Evra's offered hand. Liverpool manager Kenny Dalglish denied the refusal, shifting the blame to Sky News interviewer Geoff Shreeves: "I think you're bang out of order to blame Luis Suarez for anything that happened here today." Finally, Liverpool condemned their player's refusal to shake Evra's hand, and Suárez apologized the next day. The apologies of both the player and the club were for Suárez's rejection of the handshake alone and did nothing to address the original wrongdoing. Suárez had only crossed the line of what the Liverpool Board of Directors considered acceptable behaviour when he disregarded good old English manners. It seems that racial abuse was not quite impolite enough for them.
These events have been accompanied by a simultaneous and more publicized case of Chelsea's John Terry's alleged racial abuse of Queens Park Rangers's player Anton Ferdinand on October 23rd 2012. It appears that John Terry shouted "You f**king black c**t" at Ferdinand (you can see the footage and decide for yourself http://www.guardian.co.uk /football/video/2011/oct/24/john-terry-anton-ferdinand-video). Terry defended himself, claiming that he thought Ferdinand accused him of saying these words and had simply repeated them verbatim. Maybe that one would have worked in secondary school. Ferdinand did not even know what had happened until he was informed after the match.
The Terry-Ferdinand case has received more press and public attention than the Suárez-Evra case, partially because Terry is such a high profile player. What is more, both players are English and as such the case has been seen as a 'British' issue. In the weeks after the event, there was considerable pressure from the British press on Anton Ferdinand to reveal what Terry had said to him. Then-England manager Fabio Capello declared, along with his decision to keep John Terry on the English national squad as captain, that "racist problems between the players do not exist."  Responsibility for this abuse has been placed on the player of colour, as somehow partially culpable just for being there. Ferdinand has received death threats via Twitter, required increased security and his football club received a bullet in the post.
In November, the Metropolitan Police announced that it would launch a formal investigation and on 1st February it was announced that Terry would stand trial. The FA then decided to strip the player of his captaincy, prompting the resignation of England manager Fabio Capello on 8th February. The FA's failure to take any responsibility for dealing with these allegations until the police laid charges is indicative of a wider lack of concern about racism within the institution. The FA and the Metropolitan Police – the latter surely eager to score points after the disturbances that spread across the country last summer – have decided to make an example of the players, but there has been little real interest in addressing the issue in a wider sense, either in English football or society.
The denial of racism in football (despite incriminating video footage) is an attempt to silence opposition to, and even conversations about, racial and ethnic discrimination in the game. The denial of wrongdoing in both cases was focussed around the argument that the player was not 'a racist.' This is rooted in the misguided belief in the UK that racism is a problem of the few – whether 'the racist' or people of colour for simply being there – rather than a fundamental structural problem in British society. Instead, being 'a racist' is thought of as a kind of permanent and individualized state of being, rather than understanding racism to be an institutional, pervasive and shifting set of relationships with deep historical roots.
Racism in football has been discussed far more since the creation of the Kick It Out campaign in 1993. However, the recent scandals suggest that these conversations have made little real difference. Rio Ferdinand, Manchester United player and Anton's brother, responded to Blatter's comments that "I feel stupid for thinking that football was taking a leading role against racism – it seems it was just on mute for a while."
It was not until mid-February that the government picked a side, declaring that it would hold a summit on racism in football. Culture Secretary Jeremy Hunt stated that the last couple of months have shown us that "you can never be complacent." Yet the government that Hunt is part of is rapidly dismantling the welfare state and pushing through a radical political agenda under the guise of 'austerity measures' in the face of economic crisis. Already these policies are making the poor poorer and yet the link between racism, social exclusion and poverty is one that Cameron's government does not seem to consider. Complacent indeed.
Recent events have revealed the veiled racism that lurks just beneath the surface of English society. These incidents of racism on the pitch came shortly after the riots of August 2011. Taken together, the riots and the football scandals reveal the absence, from British public life, of any tradition or space for constructive public conversation about how the country's imperial past haunts modern British society. The first riot, in Tottenham, occurred after a peaceful protest over the police shooting of a young black man, Mark Duggan, and as a whole, the riots demonstrated the strength of feeling about continuing police persecution of black communities. The looting and breakdown of police control that followed the initial protest was quickly framed in racist terms, as evidence of a link between blackness and criminality. The ultimate example of this was 'historian' David Starkey's claim on the current affairs programme Newsnight: "the problem is that the whites have become black."
For many, football is England and England is football. The silencing of and complacency towards racism in English football reflects a wider denial of structural racism in English society, which has very real consequences. Sport speaks to us all and it is telling us something terrifying.
Around the Web