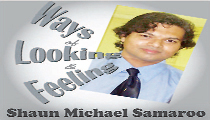 Given our history, geography and the context of our world today, what's possible for the Guyanese nation?
We are about to become an oil and gas producing country, from all indications. Our neighbours include the emerging global giant Brazil and the oil goliath Venezuela. Our Caribbean friends, in Jamaica, Trinidad and Tobago, Barbados and all the others, lead the way in how developing nations rise to developed status.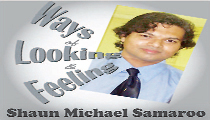 This country is such a peaceful land, sunny, fertile and with the right balance of water, forests and agriculture land.
In fact, anyone contemplating our country would be astonished that the gross domestic product remains so terribly low, that our people remain undeveloped, that 85 percent of skilled Guyanese migrate.
What's wrong? Could we ever get it right?
One of the problems may be the fact that we do not consider our country from the vantage point of what's possible for the nation. We don't dream of a great future for us. We don't aspire and strive to reach beyond ourselves.
Yet, we have had grand dreamers as leaders.
Forbes Burnham with his programme to feed, house and clothe the nation, and to develop self-sufficiency and sustainable living, in retrospect, was a visionary of the highest order.
Dr Cheddi Jagan developed his grand vision for a New Global Human Order, launched lean, clean governance, and drafted a National Development Strategy that succeeded in unburdening us of a grotesque international debt load.
Desmond Hoyte saw a Guyana of economic prosperity, democratic institutions and an equal playground for everyone. His Guyana Prize for Literature put us on the world map as a people who love books – a literate citizenry. His open governance that saw the establishment of the history-defining Stabroek News transformed this nation.
David de Caires dreamed of transforming our land, and did through his outstanding leadership in Journalism.
After these visionaries passed on, we seem left to drift aimless, without focused leadership, without great aspirations.
Out of Parliament we see no great, stirring speech, no outstanding leadership, no one talking to us to lift us out of drab ordinariness, no one painting a new future for the Guyanese nation.
House Speaker Raphael Trotman's efforts to bridge the political divide is commendable and worthy of national applause. But these remain just half hearted efforts rather than a concerted action plan to heal the insecurities that cripple the nation.
Why do we suffer from ghettos and slums bedevilling Georgetown, defacing a wide swath, covering the western part of the city? The slums along Lombard Street, all across Albouystown and Charlestown, along the D'Urban Street/Smythe Street area around Central High School, including Breda and Leopold, and in Tiger Bay, ought to provoke shame and remorse among our leaders. Our country should never allow any local community to deteriorate to such an extent. It's the worst of social degradation, akin to any African, Indian or Saharan war-torn slum.
West Ruimveldt also presents a shocking eyesore, with tiny dwelling shacks literally on the parapet of the roadway. This forms an entire community of citizens, not just an anomaly.
Out of these communities what can we expect but another generation of poverty-stricken, destitute citizens?
These communities feel isolated, alienated from the national fabric.
We are such a small population. So every individual should be important, and should receive the kind of care, mentoring, counselling and coaching to live a worthy life. No single person should fall through the cracks, in a society as blessed as ours, in a population so small and easily manageable.
We should be able to easily take care of the folks who suffer from severe mental problems.
What's possible for us as a nation?
When we gained political independence, our national leaders then saw what's possible for us, even as a global player. Burnham and Jagan dreamed big. Hoyte, too.
But today we continue to suffer from a deluge of poor leadership, of people who grab positions of power, but who lack the character to lead our people.
Our city suffers shameful mismanagement from such abject poverty of leadership.
Our government, 20 years after Dr Jagan promised his Party would run an accountable State machinery, continues to bleed taxpayers, mercilessly draining public money away, with shameless personal gain resulting. Recently, this newspaper reported on several illegal financial transactions of Government Ministries, presented to Parliament by the Auditor General's office, with no remedial action taken.
We suffer these things because we don't see what's possible for us.
How much more inspiring and rewarding it would be to run a clean government, to lead for good governance to prevail?
If we care for each citizen, each and every Guyanese in every community, and work through the health care and education systems to connect with each person in a caring, nurturing way, we would make such a difference. We would be a world class nation.
We must start to see the possibilities of the Guyanese nation. And work to make these real. A people dream. And we, too, ought to dream: of becoming a great nation, of developing a distinct identity on the world stage – a nation that makes a defining mark. Burnham, Jagan and Hoyte gave us that gift. They showed us how to dream. Now, in the 21st century, having grown up, and with technology and a thriving economy, we could make our dreams real.
As a nation we need to see visionary business leaders, caring politicians, conscientious social leaders, philanthropists, and selfless community volunteers rise up across the country to make a difference. We need to start seeing what's possible for us as a people – both as a nation of the 21st century global village, and as local communities.
And all it may take is for one strong leader to start speaking to us about a national dream, a la Burnham, Jagan, Hoyte.
Who has the character to become that leading Guyanese citizen, to awaken in us a new dream, for a new possibility?
Around the Web