By the year 2020, our current primary school kids would be young adults and the new working generation. A few hundred of these would be furthering their studies at the University of Guyana.
What kind of society would this 2020 generation be living in? As a Guyanese nation, how far along the road of development would we be?
When we won free and fair elections in 1992, the ruling party proclaimed a "new dawn", and stirred the hearts of Guyanese all over the world with new hope for a new path of progress, prosperity and national pride.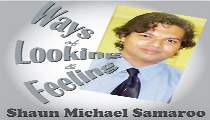 Now, 20 years later, we lag behind all of the Caribbean, South America and, again, neighbouring Suriname.
While our neighbour, Brazil, soars ahead as an emerging global power, we remain stuck in a rut, sinking into awful social decay. We used to blame those "28 years of rigged elections" for our plight. Now, over four decades after political Independence, why can't we get our act together to develop our people?
The year 2020 is just eight years away. To expect any major, dramatic transformation of this society in that time seems farfetched. The average Guyanese looks to the immediate future with a terrible depth of despairing pessimism. It's born out of our historical experience as a nation.
The fact is, we fail our children, generation after generation.
Politicians invent grandiose schemes and impose these half-thought out development plans on a tired population. All folks want is to live a decent life, safe and secure in their homes, with their kids educated and healthy.
Yet, from experimenting with Cooperative Socialism to today tackling an environmental agenda, our politicians neglect the most fundamental of the development task: creating the groundwork for the development and progress of the individual Guyanese person.
The most popular option for personal development is still migration, for most of our young people.
Generation after generation, we fail our kids.
Take, for example, the street robbers, who stalk and harass shoppers in Georgetown, so much that the streets are unsafe to walk. In some areas – notably Albouystown, Tiger Bay, Charlestown and the wide swath from Broad and Lombard streets all the way across to D'Urban Street extending into Lodge – the average citizen of this country would never dare walk the streets at certain times of the night.
These areas have become the worst of urban crime infested ghettos, with semi-literate, grossly poor, desperate-to-survive hooligans lacking any sense of good conscience towards society.
News early this week of two of these unfortunate souls caught with knives attacking a young teen on city streets barely made a ripple in this country. We may be becoming numb to our decay.
How could we continue so terribly to fail our kids?
As a nation we tried so much. Free education from nursery to university was once a reality, along with free universal health care, active community centres where our cricketers and national sports stars developed, and a vocational system that produced competent carpenters, electricians and our tradespeople. Our Agriculture school produced competent vets.
Where did we go wrong? Where has this national curse entered into our soul so that today we rank among the poorest and most undeveloped of nations in the Americas?
We've produced world class statesmen, visionaries, novelists, poets, musicians, cricketers, and scores and scores of world class citizens. Why is our nation failing generation after generation of our children?
It's a lament that causes us to hang our heads in shame.
Who could walk among the shantytown of West Ruimveldt without feeling a deep sense of shame and regret at how we've under-developed our people?
For the individual Guyanese to self-develop, he or she needs a society that encourages, fosters and cultivates personal initiative. Instead, too many of our sons and daughters suffer from a broken spirit.
The major difference between Georgetown and any other city where Guyanese have migrated to in the world is that their adopted city provides a more fertile ground for them to dream, strive and work hard to achieve their dreams.
Too many Guyanese at home feel that their country lacks the social climate for them to grow and produce worthy fruit for their life's labours.
This is a lament, and it must be told, because too many souls are lost, generation after generation.
We solved the public transportation crisis of the 1980's, when former President Hoyte liberalized the economy to allow these cheap re-conditioned Japanese minibuses to operate as our only public transport system.
And since then, we've lost an average 200 lives a year to road accidents, many of them because of an ad hoc system for these minibuses and their operators. Were we simply to follow the model of how these minibuses are controlled in Barbados and other Caribbean nations, we would have done a lot to ease the headache that this solution generated.
Minibuses may have been a temporary quick-fix, but the system has remained now for a quarter century. And after these 25 years of operating this system, we still cannot manage it with efficiency. Recently, two minibuses slammed into each other, injuring scores of people.
Generation after generation our society seems stuck in mediocrity, under-development, lack of efficient management, and chaotic planning.
Even when we achieve success, like in the area of housing, where this ruling party solved the crushing housing crisis of the Hoyte administration, we see ad hoc housing scheme planning, questionable development deals, and accusations of corruption, graft and nepotism become the order of the day.
The rich among us may look away from the decay of West Ruimveldt and Albouystown and Linden, but we cannot ignore the fact that generations of our people are lost in our continuing social rut.
And as we look to the future with hope – for we must hope – what kind of society are we planning and designing to hand over to the new generation of Guyanese adults in 2020?
Comments

We now mark the fifth anniversary of this column in this exemplary, nation-defining newspaper, and it's been an inspiring, beautiful journey.

We experience life, see our days, hear emotion and meaning when we interact with others, according to our presupposition, that unconscious window through which we see the world, each person's point of view unique, each one's frame of reference of a different shade than any other.

Our nation's main wealth lies in the human capital of Guyanese; the skills, talents, knowledge, energy, initiative and creativity of each individual.

So easy it is to fall under an oppressive cloud in this society, focused on inconsequential stuff, ignoring the beauty of our human potential.

Word on the streets is that people across this nation react with caution and pessimism to the political backdrop existing in the country.