Prime Minister Sam Hinds said last week in Parliament that violence pervades this society.
The goodly gentleman used that as a means of contextualising the fatal shooting of three citizens in Linden during protest action in the troubled mining town.
Hinds, a Linden native himself, said those shooter cops merely imitated the violent ways of the society.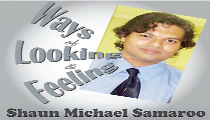 People commenting on Hinds' surprising observation ridiculed him as talking nonsense in the name of an excuse for his government's failure to manage law and order during the protests.
Hinds is serving his 21st year as Prime Minister. Two decades of leadership from this genial gentleman sees him showing up in the National Assembly to declare that the society he governs as Prime Minister is prone to violence.
If the cops were imitating the society in their exercise of law and order through deadly violence, what excuse would our Prime Minister proffer to explain the fact that the society he governs is prone to violence?
What kind of governance caused us as a society to become a violent one? After two decades of governance, the Government must take responsibility for the state of the society.
How has Hinds' government governed over 20 years, if the result today is that we are a violent society?
Does this concern cabinet? Did Hinds discuss this state of the society with his cabinet colleagues?
His pronouncement in Parliament should alarm us all. If we are a violent society, then we have a very serious problem, as we work to shape our national social space.
Is the Prime Minister concerned that we are a society prone to violence?
If so, what plan has he drafted to counter this crisis?
If not, why not? Having seen the problem, does he just sit there doing nothing about it?
On the face of it, the Prime Minister may have a point. Even in our talk, and in how we share our public spaces, in our interaction at Bourda and Stabroek and other markets, we see the harsh way we talk to each other. Our language is harsh and rugged. Our social interactions are abrasive and almost rude most times.
Our leaders in Parliament mirror this harsh way of talking, with acrimony, strife and angry verbal battles quite the norm in the House.
Our talk shows that we may indeed be prone to act in aggressive ways. We are not a gentle, kind, mannerly people.
And Hinds, as Prime Minister serving for two decades, must go before the nation and perform his mea culpa, taking full responsibility for the state of our society, and for the state of Linden.
When he became Prime Minister in 1992, he was the flag bearer for Linden. He was supposed to light the torch for the mining town, and show the way to a new dawn. The new dawn was the slogan of the government back then.
Twenty-one years later, not only have the governments that Hinds served failed to bring a new dawn to Linden, but, under four presidents, Hinds has failed to initiate a Linden development plan for the people.
Now, we find ourselves in a state where Guyanese in the diaspora show up at candlelight vigils around the world – in the US, Canada, England and so on – to remember three persons killed in brutal protests in the town.
At such a vigil in Toronto, at the foot of the Ontario Parliament in Toronto, Dr Richard Van-West Charles and Dr Alissa Trotz spoke to a group of Canadian-Guyanese, gathered in the dark night to express their outrage at what happened at Linden.
Why does our nation mourn today? Why such devastating news? After the national shame of the Linden crisis, we watched helpless and depressed this week as another Regent Street fire consumed four businesses, leaving four persons hurt and one dead of a heart attack.
Where are we as a nation?
What has happened to us?
Where are the leaders inspiring us and stirring our hearts with hope, with the belief that as Guyanese we are winners?
Our nation suffers, and who cares?
Hinds observes that after 20 years as Prime Minister his society is prone to violence but refuses to speak to the root cause of that shocking state of national being. How do we become a people NOT prone to violence, Mr Prime Minister?
When we see great Guyanese, of accomplished and internationally recognized intellectual capital, such as Dr Trotz and Dr Van-West Charles, reverting to late night vigils to express their concern for their homeland, we must know how far we have fallen as a people.
Both these Guyanese could be doing so much more in contributing to the uplift of Linden, of our nation.
Instead, the State shuts them out. And they revert to playing a token role, as migrant Guyanese, reacting to the chaos of the social order at home.
Does this national despair touch the heart of the Prime Minister?
Hearing the wrenching heart cry of Dr Van-West Charles and Dr Trotz last Sunday night at the candlelight vigil, one is left with a deep despair for the state of our nation.
And we must look for the root cause of our shameful state today. Why are we where we are at today?
Why?
Prime Minister Sam Hinds is in a position to start to answer some of these questions.
How has he, as Prime Minister, performed over the past two decades? What role does he, as leader and Prime Minister, play in the destiny of our nation, in shaping the public space of our land?
How has the Prime Minister led our society so that, after two decades, we are a society prone to violence, to killing three protesters, to cops shooting to death a disabled person protesting higher cost of living through electricity rates?
How responsible is the Prime Minister for our state as a society?
Comments

We now mark the fifth anniversary of this column in this exemplary, nation-defining newspaper, and it's been an inspiring, beautiful journey.

We experience life, see our days, hear emotion and meaning when we interact with others, according to our presupposition, that unconscious window through which we see the world, each person's point of view unique, each one's frame of reference of a different shade than any other.

Our nation's main wealth lies in the human capital of Guyanese; the skills, talents, knowledge, energy, initiative and creativity of each individual.

So easy it is to fall under an oppressive cloud in this society, focused on inconsequential stuff, ignoring the beauty of our human potential.

Word on the streets is that people across this nation react with caution and pessimism to the political backdrop existing in the country.