Our nation watches astonished and in absolute consternation as the Linden crisis unfolds. One wonders what really is going on at the Office of the President, as Government seems to mismanage one crisis after another.
President Donald Ramotar seems clueless on how to manage the Linden chaos, as the protests disrupt and paralyse the vital mining sector. News yesterday hit the Internet that protesters had ripped up a major roadway into the hinterland.
The Government seems unable to manage this part of the country.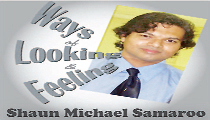 News that an official at the President's Office was charged and convicted of assault could not have come at a worse time.
Since those ground-breaking elections last November, the Government has stumbled along from one crisis to another.
Now it faces severe Opposition anger over its refusal to act against its own Home Affairs Minister, Clement Rohee, who was sanctioned in the opposition-controlled Parliament over the deadly Linden shootings.
Citizens look at the events unfolding and see a President mishandling just about every crisis that shows up at his doorstep.
Not only does the President have the Rohee fiasco to deal with, but now his own information officer is convicted in court, and the Linden crisis worsens every day.
In what must be a cry of desperation, the President pleaded with the nation for "new ideas" to manage the Linden crisis.
His open letter to the people of Linden, in place of a personal visit and dialogue in the town itself, smacks of poor leadership.
Government in recent weeks took flak for the racist editorial in the State newspaper, for clear conflict of interest in the Minister of Finance's wife being appointed to a senior post at the Auditor General's Office, and for its near contempt of Parliament, with Speaker Raphael Trotman publicly expressing his disappointment at the way Government handles business in the National Assembly.
President Ramotar's plea for "new ideas" shows that his cabinet could not provide him with a strong action plan to bring peace and stability to Linden.
His press office also clearly fails at the task, with one of its own officers convicted in court this week.
What's the President to do, surrounded with what seems to be grossly incompetent public officials, who may not even be capable of good ideas to solve a social crisis?
The tentative efforts to dialogue with Lindeners through the regional chairman, and the failed tripartite talks with the Opposition, show that Government lacks the ability to reach consensus, to manage its need for national cohesion, and to reach across divides to heal wounds.
The Ramotar regime fails miserably in its information management.
Despite Dr Roger Luncheon's rather circuitous pronouncements at those press conferences, so short on news but long on rhetoric, Government seems to lack the necessary ability to manage its public relations. Such a failure for any government is devastating. Not only is the State media – newspaper, TV, radio and Internet – failing the President, but his own public relations and press officers seem either not to work at all, or to be suffering from a severe case of incompetence. President Ramotar may be well advised to seek international help in the State's information management and public and media relations competency.
Nearly a year into his administration, the President faces a nation suffering from one piece of bad news after another, including corruption in the State media and the worst social disruption in his Party's two decades in office.
No news comes out of Government offices about development projects. The Amaila hydro project continues to suffer from poor management and delays, and is now disrupted by the Linden protests.
The One Laptop project has gone into limbo.
In fact the nation has seen absolutely no new initiative or ground-breaking leadership from any of the Ministers in President Ramotar's administration. The Government seems to be stumbling along without a clear sense of direction, vision or development strategy.
And the consequence of it all is that the citizen feels the enormous weight and burden of a society suffering severe wrongs at the hands of its own State.
People crave for good news. People want to wake up feeling inspired and motivated to dream that their tomorrow would be a good day.
Government, in failing to manage the national story, demoralizes the nation, and even its own members.
We suffer from this demoralized condition that the Ramotar administration fuels.
What could turn things around?
President Ramotar needs to take a serious look at the State's ability to manage information, to mediate with various groups and communities in the society and to work hard to heal wounds. Instead of its perceived arrogance and bullying attitude, the Government would do well to humble its officials and Ministers.
Cabinet needs to take a hard look at itself, and realize that the Government is failing, alarmingly, in the most fundamental aspect of managing the affairs of state. In failing to manage its relationships with others, and in failing to manage information flow, the State cripples its own ability to govern effectively.
The State media continue to embarrass the nation. Writers of obvious bias and commentators who lack any sense of journalistic integrity pervade poorly written, prejudiced letters and comments with no professional rein to keep them in check.
Government's poor information management and weak leadership thus fuel citizens' sense of depression and demoralization.
The nation would be much healthier psychologically if we see the President managing a State that knows how to communicate, to dialogue, to reach out and care for its people.
The Linden crisis needs just one new idea, Mr President: reach out and talk to the people, walk in their footsteps, feel their pain, embrace their dreams, and hold their hands to see a tomorrow where their children could achieve something of worth as Guyanese citizens.
The solution to the Linden crisis is very simple: the Government must learn to communicate effectively, from a heart that cares for the people of the nation.
Comments

We now mark the fifth anniversary of this column in this exemplary, nation-defining newspaper, and it's been an inspiring, beautiful journey.

We experience life, see our days, hear emotion and meaning when we interact with others, according to our presupposition, that unconscious window through which we see the world, each person's point of view unique, each one's frame of reference of a different shade than any other.

Our nation's main wealth lies in the human capital of Guyanese; the skills, talents, knowledge, energy, initiative and creativity of each individual.

So easy it is to fall under an oppressive cloud in this society, focused on inconsequential stuff, ignoring the beauty of our human potential.

Word on the streets is that people across this nation react with caution and pessimism to the political backdrop existing in the country.