How could a ship with goods from Guyana end up in Malaysia with US$7M worth of cocaine?
News floated around the world this week that Malaysian police snagged a ship with cocaine-laced coconut milk from Guyana. The illicit haul carries a street value of US$7 million, the reports said.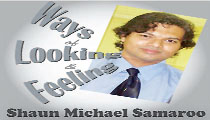 Where in this country did someone dilute all that cocaine into coconut milk? Who here controls the technology and knowledge for such sophisticated ways of smuggling illegal drugs?
How could a small society like this harbour such secrets, to be discovered in distant Malaysia?
In fact, the reports said the shipment was heading to Mozambique, in Africa.
From Guyana, we ship cocaine to Africa? That's incredible to imagine.
Our Government cannot establish legitimate trading with Africa, but drug lords could organize a sophisticated cocaine operation?
Illegal drugs hauls at the Cheddi Jagan International Airport and on human carriers travelling on flights out of Guyana to the US have become common place. Several high profile cocaine smuggling shipments out of Guyana have also been busted in Canada.
What's going on with our country?
These things hit the global news rounds, damaging our international image, and both Government and local cops maintain stony silence, or issue a token promise that "investigations are ongoing".
This land has descended to such unethical lows that the average citizen no longer feels shock and dismay that the image of what it means to be Guyanese continues to take a global battering.
Our nation suffers this immense blow to our national psyche, and Government seems to care less about such things.
How does cabinet feel hearing such news? How do the Ministers of Home Affairs, Foreign Affairs and the Attorney General feel when they read such news?
If we cannot manage what goods are shipped out of our ports, or what passes through our international airport, then how could the Government claim to manage effective governance? How could the law enforcement authorities of this country explain this absolute lapse of their duty to protect us from these dangerous practices?
Illegal drugs interceptions around the world, originating from our shores, have now become a habit.
What kind of leaders do we have for our society to have descended to such hellish lows?
Talking to people across this land, one sees the complete lack of confidence in their leaders.
People see lack of ethics in our leaders. And so they blame the state of this country, including our law enforcement situation, on these leaders, whom they see as lacking ethical leadership.
The perception on the street in villages, the city and towns across Guyana is that our leaders are unethical and do not care to transform the image of Guyana as a haven for global cocaine smuggling.
The people blame the state of their society on the shoulders of leaders they see as unethical, and therefore unable to manage effective governance – even at our ports.
Unethical leaders damage a society.
The local media are filled with story after story of unethical leadership in this country. This year we saw several high profile corruption cases revealed at State entities, including the State media.
Sadly, our country disregards the role of the Ombudsman, and ignores numerous alarming warnings of accounting malpractices in the annual Auditor General's report.
State corruption is such a common practice that we take it for granted now.
The citizens go about their lives in this country burdened with the feeling that their leaders lack the kind of ethics to build a sound society. The citizen throws up his or her hands feeling helpless and unable to make a difference.
So when the Guyanese in a poor village of broken roads, frequent blackouts and nasty potable water hear of a ship busted for US$7M worth of cocaine diluted in coconut milk from Guyana, he or she, baffled and bewildered at the incongruity of it all – of this rich haul vs their poor country – they resign themselves to the despair of being "just a poor Guyanese".
How do we explain the fact that our ports and international airport have become known around the world for narcotic smuggling?
The citizen sees the problem as a result of our unethical leaders. Guyanese see their leaders as freely taking from the Public Treasury, as bulldozing their way to wealth and riches and lavish houses with massive swimming pools; as unethical in the extreme.
Talk floats around this country of leaders living ugly lifestyles, including having multiple extra-marital affairs. Such behaviour would be under intense scrutiny in a democracy like the United States.
Here in Guyana we talk about it on the street, laugh it off, and carry on in disgust. The leaders who live such lifestyles feel untouchable, powerful beyond rebuke, and scornful of public perception.
The result? We harbour a society that festers and our international image rots.
We harbour a nation that continues to suffer from a poor international credit rating, which limits international investments here. International reports paint us in terrible ways. Who cares? Our leaders?
When such reports as the Malaysia drug bust shows up, does anyone call an emergency session in Parliament to demand answers, and to fix the gaping hole at our ports?
We sink as a society in continual social decay. And our leaders do nothing about the corruption, the unethical public behaviour that pervades our institutions, including in how we spend State money, and the international image of our country.
If we had leaders of ethics and sound morals among us, we would see them caring. We would see Government leaders standing up and speaking out about the collapsing national literacy rate, the worsening law enforcement situation, the unprofessional slackness that demotes our State media to a piece of rag.
No Government Minister publicly expresses shock or concern about our poor literacy rate or our lax law enforcement situation.
Who cares that a ship could sail out of Port Georgetown and be snagged in Malaysia with coconut-milk laced with cocaine worth US$7M, headed for Africa? Who is the leader of ethics and compassion and conscience among us who cares for our people to effectively manage this awful state we find ourselves in?
Comments

We now mark the fifth anniversary of this column in this exemplary, nation-defining newspaper, and it's been an inspiring, beautiful journey.

We experience life, see our days, hear emotion and meaning when we interact with others, according to our presupposition, that unconscious window through which we see the world, each person's point of view unique, each one's frame of reference of a different shade than any other.

Our nation's main wealth lies in the human capital of Guyanese; the skills, talents, knowledge, energy, initiative and creativity of each individual.

So easy it is to fall under an oppressive cloud in this society, focused on inconsequential stuff, ignoring the beauty of our human potential.

Word on the streets is that people across this nation react with caution and pessimism to the political backdrop existing in the country.