The man widely regarded as Guyana's most accomplished sports commentator, launched his book Living My Dream on Monday March 19 in St Vincent and the Grenadines.
A former Guyana Government sport official and one-time Director of Sport with the Organization of Eastern Caribbean States, "Reds" earned the respect of Guyana and the Region for his consummate knowledge of various sport and here in Guyana for his sport broadcasting skills, particularly his cricket commentaries.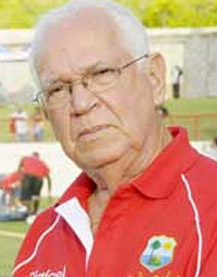 Living My Dream, according to a brief review taken from The Vincentian "is a chronicle of the life of Reds Perreira, beginning with his early life in his birthplace, Guyana," which "traces his travels in Europe and his life as a sport commentator.  It also includes references to the period when he served as OECS Sport Director, a period during which his association with Vincentian Ormiston "Ken" Boyea, blossomed into tangible support for OECS sporting activities from the East Caribbean Group of Companies, of which Boyea was then Chief Executive Officer.
At the launch ceremony, former West Indies wicket-keeper/batsman Michael Findlay who served as Master of Ceremonies for the event, reflected on personal encounters with Reds during his visits here as part of the Combined Islands cricket team. Findlay, according to The Vincentian, "identified the book as a source of inspiration for the youth of the Caribbean."
Boyea provided an overview of Reds's book recommending it as a "must read" and, "as a demonstration of the value he attaches to it, purchased twenty copies of the book which he will donate to a youth club in the East St. George area."
Vincentian Sports Minister Cecil Mc Kie, also addressed the function, "endorsing the value of the book as a teaching tool for young persons and committed himself to working with the Ministry of Education to ensure that the book is made available at school libraries and the national library."
In his own remarks Reds remembered those who had prompted him into "putting pen to paper" but had particular recognition for the people of the OECS to whom, he said, he would be forever grateful for the opportunity given to serve them.
Around the Web