One doubts that there is any international cricketer who has been more maligned than West Indies captain Darren Sammy though from the way he handles his critics you might think that they simply do not exist.
The West Indies Cricket Board (WICB) must surely have known that the choice of the 28 year-old St Lucian to lead a jaded West Indies team would attract criticism among Caribbean cricket fans who hold the view that the team's decline has been due in large measure to an absence of strong leadership. Having tried just about every experienced player whom it was felt could hold his place in the team the Board obviously felt that despite the 'in and out nature' of his presence in a final West Indies eleven that it had little choice but to turn to Sammy.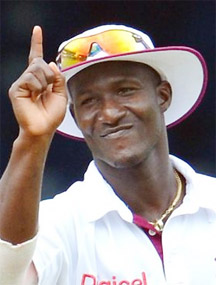 Captains' retention of their places on international cricket teams is tied to their on-field performance with bat or ball or both. Not so, it seems, with Sammy. Were he not captain it is probably unlikely that his form with either bat or ball would have won him such a protracted run, hence the now frequent criticism that he occupies a place that could be taken by either a batsman, a bowler or a better all-rounder.
The truth of the matter is that Sammy is not and perhaps will never be a 'top shelf' performer with either bat or ball. He comes across as more of a persistent trier, someone who usually gives even if that, frequently, is not enough to make a difference.
His particular role in the team is unclear given his lack of any real consistency as a lower middle order batsman and while his position as captain has allowed him to do much more bowling that he would otherwise have been allowed to do, his reputation for lengthy spells of military medium bowling have nevere been known to wreak havoc among opposing batsmen.
More than that many of Sammy's critics believe that his own cricketing does not extend beyond providing support for the front line performers and that, they say, is not the stuff that captaincy is made of.
Nor can it be said that Darren Sammy's rise to the highest on-field job is West Indies cricket was either meteoric or because his performances had stood out. Rather, it came in the midst of a crisis, a  2009 pay dispute between the players and the Board that saw the selection of a seriously under-strength side for a series against Bangladesh. Nine of the fifteen players selected were uncapped and Sammy was named as Vice-Captain of the team.
It would have come as no more than a mild surprise when, in October 2010, Sammy was named captain of the test team for its tour to Sri Lanka, replacing Chris Gayle and having up to that time played a more eight tests and four ODI's. By then strange decisions had become par for the course for the WICB though it has to be said that withn both Gayle and Dwayne Bravo refusing to sign contracts, the Board had few viable options available. For Sammy, personally, it was a dismal tour that generated even higher levels of criticism against him, his performance in Sri Lanka seemingly giving credence to the that he was unworthy of selection as a member of the team and, by extension, undeserving of the captaincy.
Since then Sammy had done little to impress as captain though drawn recent twenty/20 and ODI against Australia would not have hurt his credentials. Now, having lost the opportunity to return the Sir Rfrank Worrell Trophy back to the Caribbean, Darren Sammy must find another mountain to climb if he is to win a more generous measure of recognition from his critics.
Around the Web