I feel privileged to join my Colleague Heads of State and Government here in St Lucia at this Thirty Third Regular Meeting of the Conference of Heads of Government of the Caribbean Community and I am pleased to reaffirm Guyana's commitment to the integration process. I pledge my Government's full support to the continued efforts of regional Governments and the CARICOM Secretariat to work towards the attainment of a more integrated, more resilient and more prosperous Caribbean.
We are meeting in a year in which two of our Member States are celebrating fifty years of political independence. This is a remarkable achievement for our Region as a whole, and I wish to congratulate the Governments and peoples of Jamaica and Trinidad and Tobago on this significant milestone.
Colleagues, Ladies and Gentlemen, of all of the vulnerabilities facing our countries today, none poses a more direct threat to our very existence than that of climate change. We are meeting immediately after the Rio + 20 Conference. It is imperative that our Region continues to leverage our extreme exposure to climate change in forging and advocating a common position on the matter. The international negotiations are going much too slow, while emissions are on an unacceptably high trajectory and finance for adaptation and mitigation woefully inadequate. We recognise that the Durban meeting established an Adaptation Mechanism, a Technology Mechanism and a Green Climate Fund. But it is essential that agreement is reached this year on the new and additional sources of financing for the Fund, and that a REDD plus window be established to reduce deforestation and incentivize forest conservation and sustainable forest management. While we support a process to achieve a long term global agreement through the Durban Platform, we must uphold the principle of historical responsibility of some Parties, and the concomitant principle of common but differentiated responsibilities between developed and developing countries.
In much the same manner, our Region exists today in an international economic environment that is increasingly unpredictable and unhelpful to the circumstances of small states such as ours.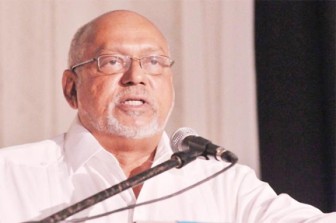 As countries in Europe struggle to find solutions to their economic and financial crises, it is appropriate that we will be discussing the status of our own Regional economy. We have no control over international actions and events that can impact on our Member States and we are still trying to surmount the challenges to our economic vulnerabilities. It would seem imperative that CARICOM Leaders find some inspiration in St Lucia to address issues that are critical for the Region's economy. At their Eighth Special Meeting here in 2002, Heads adopted a Framework for Stabilising and Transforming Regional Economies. In 2009 following their deliberations in Guyana at the Thirtieth Meeting of the Conference on the effects of the global economic and financial crisis, Heads of Government issued a Declaration on a New Framework for Financial Regulations and Supervision in the Region. Three years hence, we are back in St Lucia where the Regional Economy is still a main item on the agenda. Are we satisfied with the progress we have made – particularly since we had identified the main reforms that were necessary? We should not as a Region, have to react to situations, but ensure that preventative measures are put in place. We must as a Region, be more earnest in our efforts to define a development agenda that is responsive to the evolving global circumstances we face and the domestic realities of our smallness and our vulnerabilities.
Our main trading partners are experiencing grave economic and financial difficulties that are impacting on us and in many cases creating much hardship on our people. This situation demands that we find solutions and pursue a path to further the all-round interests of the people of the Region.
In the first instance, I am of the view that we can take measures to minimize the impact of the crises that are causing such havoc in Europe and also in North America.
In the past we have built strong relations with Europe, the US and Canada. This is only natural when we consider our history. Our origins in this region are linked to Europe and our geographic location has naturally seen us having very close relations with the North.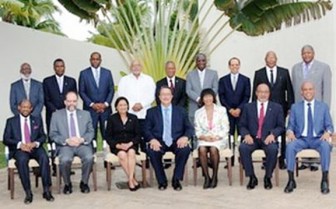 We should continue to promote and build on those relations in our mutual interest. However to minimize the economic and social impact which we experience when those areas find themselves in difficulties we must begin to broaden our relations.
In this regard we should consciously develop stronger relations with countries in the South. The global economy is undergoing rapid structural changes including the fact that growth is driven today by new and emerging centres of economic activity. These include countries that are geographically proximate to ours such as Brazil and with which we have historically strong relations such as China. Our region must respond to these realities by developing closer ties with these countries and also by exploring new frontiers of opportunity for beneficial bilateral relations.
Developing these relations is important in minimizing any social and economic dislocation that could result from problems in the North or South.
I know that it is expensive for small countries like ours to establish and maintain overseas diplomatic missions. To minimize this cost, CARICOM countries should seriously consider sharing diplomatic missions and other services so that the Region's outreach could be wider, more diverse and more beneficial. This proposal was made before, but I think it is an idea whose time has come, indeed even long overdue.
As Leaders of our Region, we have to also look ahead and anticipate other global issues that are bound to impact on us. One of these relates to food security. Colleagues, we are seeing the volatility of food prices throughout the world. It should be noted that many economically strong countries are moving into lesser developed states and buying large tracts of land in response to their own food security challenges.
Our Region is diverse. It has many varied products and much under-developed potentials. We know that our food import bill is huge, even though we have most of the resources to guarantee our own food supply. The more than three billion dollars that leave our Region every year could be put to productive use within our Region to improve our peoples' lives. It is therefore an indictment of our entire Region that we are still to make a significant dent in our food import bill. We have to become more self-sufficient. This can be achieved if more impetus is given to the regional agricultural transformation programme which, through the 'Jagdeo Initiative' would encourage production and productivity, strengthen our competitiveness and secure better market access. I am encouraged that the Caribbean Agricultural Health and Food Safety Agency has been established and I urge the support of Member States to ensure that the Agency becomes fully functional as soon as possible. As the Lead Head for Agriculture, I will be initiating discussions on the priority actions in the agricultural sector with key regional stakeholders. Across our Region, we must invest more in food production.
Just as we need to make greater progress in advancing the regional programme on agriculture so must we accelerate momentum in our regional institutions and other regional initiatives.
Colleagues, regional integration implies that people must be able to move freely through all our territories. Since the meeting of the Conference of Heads of Government in Grand Anse, Grenada in 1989, Heads of Government have constantly been re-committing to hassle-free movement of people in order to promote a greater sense of community. I regret to say however that implementation has been lagging for the most part.
My firm belief is that advancing the regional integration enterprise in all of its dimensions does not collide with our individual national interests. In fact without regional integration, our individual national survival can by no means be assured. Indeed it is this recognition that inspired the birth of this movement almost forty years ago. This conviction must once again permeate thinking at all levels of society –political leadership, private sector, organized labour and the population at large. With greater political will and purpose we can make this happen. If we are to survive and prosper, we must make this happen.
As has been acknowledged before, strong regional institutions are indispensable to the success of our regional integration process and to the integrity of our regional identity. How can we, half a century into our lives as independent nations, be content with reposing in Judges far removed from our regional and domestic realities, the right to be final arbiters in our justice system? Let us muster the political will to ensure that the intended jurisdictional boundaries of the Caribbean Court of Justice are realized. To do otherwise would be consciously or unconsciously fostering doubt in our abilities. This is not the time for that; it is a time to take these steps confidently.
This brings me to that other great Caribbean institution – West Indies Cricket. It is more than just a game to us; it is the essence of regional pride and accomplishment even if those days might sometimes feel bygone. It has been the source of many serious academic and social works, the most famous being "Beyond the Boundary" by C L R James.
Cricket is one of the first truly regional institutions that has fostered the confidence that we can successfully integrate. It has given us heroes and role models and is perhaps the best emblem we have of our regional identity. I know much has changed over time including the huge amounts of money involved in the sport. It has fostered self-interest and even greed. Some administrators of the sport seem not to care about the importance of this institution but more about perpetuating themselves at any cost. Governments have invested millions of dollars in building facilities to enhance the game and to promote the growth of the sport. However, today we face the abomination – key matches are now being taken out of the Region while some of our territories are deliberately deprived. This must be of great concern to us. West Indies Cricket is not the private property of some administrators but it is a regional public good.
We, while recognizing and respecting the autonomy of the sport, cannot be oblivious to the problems in the administration of the game. We therefore call for the full implementation of the recommendations of the Patterson Commission.
Colleague Heads, Ladies and Gentlemen, I have sought to highlight just a few areas where I feel we could concentrate our efforts. Of course, there can be no question that the many issues identified over time on the Region's agenda are all important, but given the need to have a defined focus, we must prioritise the priorities. I look forward to our deliberations over these next few days confident that if we focus on the successes that the Community has been able to achieve in the last thirty nine years, we can find the right degree of optimism to look forward to the sustainability of this regional integration movement.
I must pay tribute to the Secretary General of CARICOM and the staff of the Secretariat who continue to work beyond the call of duty and under several constraints. I want to assure you Ambassador LaRocque that you can count on my full support and that of the Government of Guyana as you carry out the mandate of restructuring the Secretariat to meet the growing demands of the Community.
Comments

This article submitted by the Guyana Sugar Corporation (GUYSUCO) contends that tackling the challenges facing the sugar industry has broader implications for the Guyana economy as a whole.

On the eve of the second anniversary of the accession to office of the APNU-AFC administration, President David Granger talks with The Guyana Review about his administration, his presidency and his vision for the future of Guyana ________________ Guyana Review: You are the only President of Guyana ever to have served in that office without the benefit of any prior Cabinet experience.

University of Guyana Vice Chancellor Professor Ivelaw Griffith talks with The Guyana Review about the challenges that inhere in the transformation of the University of Guyana Guyana Review: Perhaps we can start by trying to secure an insight into your vision, your priorities for the University of Guyana.

By Raphael Trotman MP, Minister of Natural Resources Many adjectives and superlatives can be used to describe today's happenings not just what is unfolding at this instant at the Georgetown Marriott, but overall, I am speaking about what is taking place within Guyana and around the world following on the announcement of a 'significant' discovery 200 km offshore Guyana's territorial waters – "historic", "transformational", "transcendental", "outstanding", "stupendous", and "exciting" are some words which spring to mind and have been used.

Earlier this year The Guyana Oil and Gas Association (GOGA) hosted its first Conference and Exposition under the theme, "The Initiation of a Transformative Industry".