Zola Efuru Maison graduated with Honours with a Bachelor of Arts Degree  in Education and also gained the President's Award at the University of St Maarten, Netherlands Antilles on the 16th June, 2012.
Congratulations from your parents Mr and Mrs Jeffrey of 192 Thomas Street, Kitty, relatives and friends.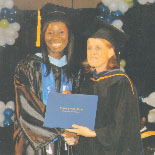 Zola is grateful for the inputs of the late brother Pryor Jonas and  his wife Dr Joyce Jonas.
To God be the Glory
Comments

Congratulations are extended to Sydacia Bunbury, who was awarded a Master of Science Degree with distinction in Rehabilitation and Mental Health Counseling from Hofstra University, Long Island, New York in December 2012.

Congratulations to Jennifer Cumberbatch who graduated with a Master of Education Degree from the University of Guyana.

Congratulations are extended to Mohan Samwaru aka 'Sir Mohan' of Area 'Y' Cummings Lodge on his completion of a Masters Degree in Business Administration (MBA).

Congratulations to our beloved son Richard Brendon Kansinally who graduated with a BSc Degree in Civil Engineering (distinction) We are proud of you.

Guyanese Louise Blenman was recently appointed to the position of Justice of the Appeal Court – Eastern Caribbean Supreme Court, after serving nine years as High Court judge in the Eastern Caribbean Supreme Court.