Acting Chief Magistrate Priya Sewnarine-Beharry yesterday remanded three of six men accused of armed robbery committed at the Hollywood Bollywood Night Club.
The Georgetown Magistrate's Court heard that on January 2, at Georgetown, Rayan Hing, Damian Boston and Kerwin Higgins, while being armed with a gun, allegedly robbed Club owner Irene Gooding, 62, of a quantity of gold jewellery, a quantity of rum and $600,000 cash all to a total value of over $2M. They are also accused of robbing her employees: Rakesh Narine of $60,000 belonging to Gooding and one Blackberry cellular phone valued $49,000; Rudy Narine of one Coral cellular phone valued $5,000 and over $100,000, property of Gooding, and Wendy Beckles of one Coral cellular phone and one Samsung cellular phone along with cash totalling $65,000. The accused were not required to plead to the indictable offence.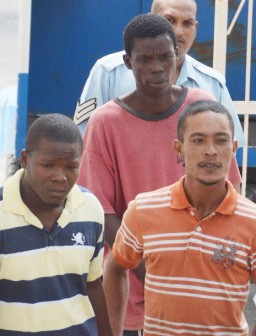 Prosecutor Stephen Telford told the court that on the said day, at about 8.40pm, six men, two masked and armed with handguns robbed Gooding and four of her staff at gunpoint and were about to flee when four of them were arrested. Two cellular phones, a rifle and an air pistol were recovered several house lots west of the club, Telford said.
In his submissions, Higgins's attorney Glenn Hanoman applied for bail on the grounds that his client had made a report at the East La Penitence Police Station that his car which he operates as a taxi, had been hijacked. He said that when his client made a second report on Wednesday officers arrested and charged him with the offence. Hanoman pointed out to the court that his client was never identified during an identification parade and as such he should be granted bail.
However, the prosecution objected to bail on the grounds that Higgins's car was found at the scene and on the grounds of the seriousness of the offence. Telford also said the accused posed a flight risk. The two other accused, who were unrepresented in court, were remanded as they had been positively identified as the perpetrators. The matter will be called again today.
Around the Web